Felicity Aston - Polar Explorer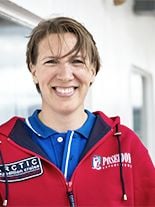 Felicity Aston is a British Polar Explorer living in Reykjavik, Iceland. In 2012 she became the first person in the world to ski alone across Antarctica using just muscle power (no kites or machines). The journey of 1744 km took her 59 days and gave her a place in the book of Guinness World Records. More than a decade previously, her first journey to Antarctica was as a meteorologist with the British Antarctic Survey to monitor climate and ozone. She went on to complete numerous journeys in Antarctica and other cold regions of the world including Greenland and Siberia.
Felicity regularly speaks to a variety of audiences around the world about her expedition experiences as well as more generally about Polar Science, Antarctica and Meteorology, and has written three books about the polar regions which have been translated into several languages.
Felicity was appointed MBE in 2015 for services to Polar Exploration and in the same year was awarded the Queen's Polar Medal — one of only 10 women ever to have been recognized in this way.