About Iceland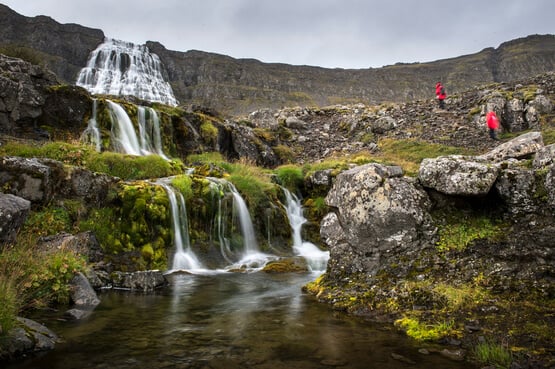 Geography
Iceland is located right below the Arctic Circle with a coastline of 4,970km featuring numerous fjords and a landmass of 100,329 km2. The island is volcanic and geologically active with many volcanos, geysers and hot springs. The climate is subarctic with the North Atlantic Current generating warmer temperatures than at similar latitudes elsewhere on the planet. Average temperatures in the summer months range around 13 °C.
Flora and Fauna
Iceland is mostly covered by grassland. Native trees include the northern birch, aspens, rowans, willows and junipers, while other species have been introduced for reforestation. The local wildlife includes Arctic foxes, mink, mice, rats, rabbits, reindeer and polar bears that occasionally travel on sea ice down from Greenland. Livestock includes the Icelandic sheep and sheepdog, cattle, chickens, goats and the Icelandic horse.
Top Things to see
On the cruises to Svalbard and Greenland, we depart or return via Reykjavík, Iceland. Depending on your chosen cruise, you can see the following gems of the Arctic:
Nanortalik (Greeland)
This quaint town on the southernmost point of Greenland (Cape Farewell) is surrounded by steep mountains that flank an intricate fjord system. Visit the local open-air museum to learn about Viking and Inuit history from past to present.
Hvalsey, Whale Island (Greenland)
Explore the largest and best-preserved Norse ruins of Greenland here. Stroll the beautiful area and learn about ancient farmsteads surrounded by fjords and a granite stone Christian church dating back to the early 14th century.
Qassiarsuk (Greenland)
Follow in the footsteps of Eric the Red when he founded the town back in the 10th century after being exiled from Iceland for murder. Explore the picturesque Eriksfjord and the remains of his manor house, which is now a sheep farm.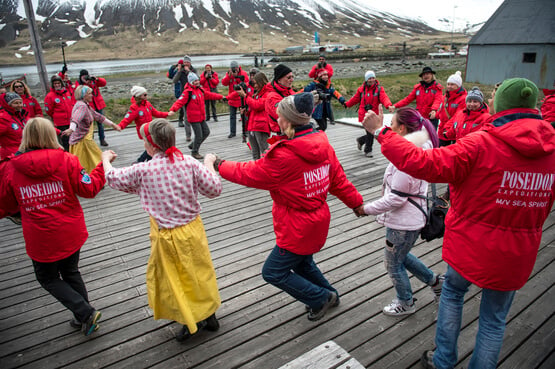 Disko Bay (Greenland)
Discover the "city of icebergs" Ilulissat in West Greenland and see the unimaginable amount of icebergs in the bay. Hike to the historic settlement Sermermiut and enjoy spectacular views. Visit the local museum dedicated to the life of famous Danish explorer Knut Rasmussen. See local people who live from fishing and hunting in the small village of Itilleq above the Arctic Circle. With only 120 inhabitants, this quaint little settlement has more sled dogs than people!
Longyearbyen, Svalbard (Norway)
Choose your cruise to Svalbard and you will depart from this small Arctic town. Visit the museum, shops, cafes and restaurant and get a glimpse of how people live on the remote Arctic archipelago.
Spitsbergen (Norway)
As the biggest island of the Svalbard archipelago, it's a great place for wildlife viewing and scenery. Immerse yourself in landscapes with fjords, snow-capped mountains, glaciers and icebergs. Stroll through the blooming tundra and spot reindeer, Arctic foxes and polar bears.
Northeast Greeland National Park (Greenland)
Discover the Franz Josef Fjord and Kong Oscar Fjord in one of the world's largest national parks. Explore Scoresby Sund, the largest and longest fjord system in the world, with breathtaking views and some of the world's best northern scenery.
Westfjords (Iceland)
Explore the remote coastline of Iceland with its waterfalls and rugged mountains that few visitors coming to Iceland get to see. This area is also perfect for whale watching, seals and birds.
Plan your Iceland Tour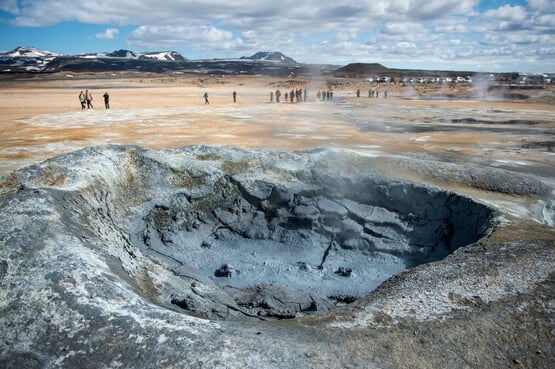 How to get to Iceland
Airfare to and from the departure port of Reykjavík, Iceland (or Longyearbyen, Norway if applicable) is paid and organized by travelers themselves. We'll pick you up from the airport and provide one night prior to departure in a local hotel.
Visa control
You may require a visa to reach the departure port in Reykjavík, Iceland and, if applicable, for Greenland and Norway (for our Svalbard cruise). Please check with the relevant consulate before your cruise. Contact us for further information; we'll be glad to assist.
Iceland Ships
Our small expedition cruise ship, the Sea Spirit, is perfectly suited for cruising the Arctic. With only 114 travelers, it offers a maximum level of comfort for your adventure. Choose from various cabin categories and enjoy the comfortable amenities. The ship features a restaurant, bar, outdoor bistro, 24-hour coffee and tea facilities, library, lecture hall and gym.
When to visit Iceland
We cruise during the beautiful Arctic summer months (May – September). We'll have maximum daylight during the polar day and temperatures will be mild at around 10 – 13 °C in Iceland and Greenland.
Facts about the Iceland
Iceland has a population of around 371,580 with two thirds living in the capital, Reykjavík. Europe's largest glacier, Vatnajökull, is located in Iceland (it's larger than all other glaciers in Europe combined). It's the youngest country geologically and has the most active volcanos in the world. Try Iceland's famous bread, which is baked by burying the pot in volcanic ground near a hot spring!