Greenland Cruises, Expeditions & Tours
About Greenland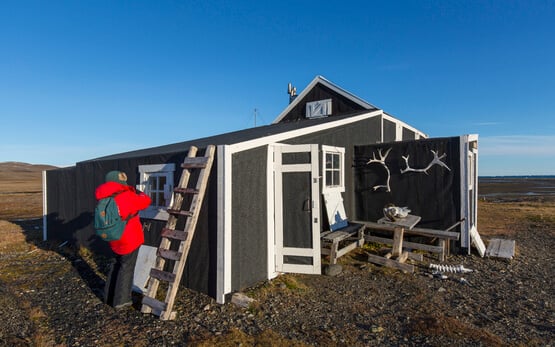 Before embarking on your new adventure, check out this fascinating info about Greenland!
Short History
Inuit were the first inhabitants of Greenland. They are known to have lived there in the period of 2500 BC till around 900 BC. For the next four centuries, Greenland was abandoned. The Dorset people came in 500 BC or so. In the 10th century AD, the Thule people came and stayed.
Erik the Red led Vikings to Greenland. He is also believed to give the county its name in the hope of attracting more settlers. Back then, Greenland wasn't as cold as it is now, as the climate on our planet was different. In the 14th century AD, the Earth cooled, and many Viking settlements died out.
In 1380 Norway joined with Denmark, and Greenland came under Danish rule. Now the queen of Denmark is still officially the queen of Greenland as well. The official language is Greenlandic, but people can speak Danish and English as well.
Climate
The world's lowest temperature record (in the northern hemisphere) belongs to Greenland. In 1991, the temperature reached -69.6 C. The average temperature in Greenlandic capital Nuuk varies from around -5 C to +10 C. During summer, the air can warm up to +21 C, but that is true only for the coastal region. In the center of Greenland, the temperature is hardly ever higher than 0.
The east part is considered colder as hard winds blow there. Their speed can be 60-70 meters per second. Have this in mind when you are choosing an expedition in the center of the country or a cruise around it in winter. The west coast can seem warmer.
The precipitation quantity on the south is 1080mm per year. In the north, it can be only about 100-200 mm.
Geography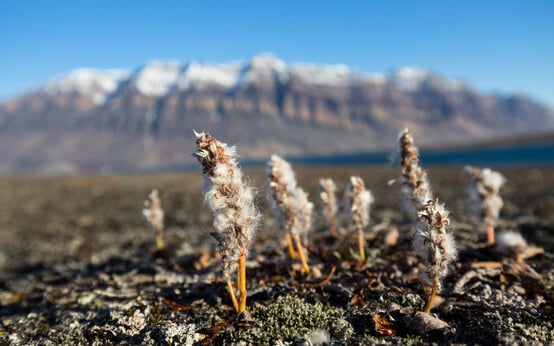 The highest point on Greenland is Gunnbjørn Fjeld of 3,700 m. It is situated in the Watkins Range in the east. If you are eager to see it, ask our managers about a Greenland travel itinerary which includes this sight. The rest of the mountains are rarely higher than 1500 m.
The northernmost point of Greenland is Cape Morris Jesup, discovered by Admiral Robert Peary in 1900. Natural resources are sparse. There are zinc, lead, iron ore, coal, and platinum. The total area is 2,166,086 km2, but only 410,449 km2 are not covered with ice.
How People Live in Greenland Now
The main industry of Greenland is now fishing. This country is rich in minerals. The sphere of travel has great potential and fills in the budget. In 2017, new sources of rubies in Greenland were discovered, promising to bring new industry and a new export from the country.
Greenland has primary and secondary schools. Many locals choose to go to other countries to attend universities; Nuuk is the one and only town that has a university. Only a few classes are taught in Greenlandic; the majority of them are in Danish, and some of them are held in English. In 2021, there were 14 academics and a little fewer than 300 students.
Plan Your Greenland Tour
If you are unsure of what expedition to choose, contact our specialists. They will hear you out and give you possible options for cruises.
How to Get to Greenland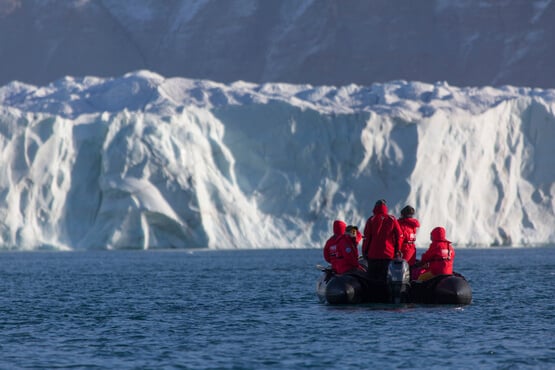 The airfare is not included in the cost of any trip. You can buy tickets by yourself or ask for recommendations. You can arrive at the expedition starting point via the Kangerlussuaq Airport. It is situated in central-west Greenland and is the only international hub for Air Greenland. That is the only place where you can land if you fly in a big aircraft. Our company can help you to choose the most convenient flight. The managers pick the Greenland tour that answers your demands and book flights for you. If you have any questions, feel free to ask.
Visa Control
Depending on what destination and expedition you choose, you might need to get a visa. Our company will inform you about all the documents you have to possess in order to make your vacations unforgettable.
Note that if you live in the USA, you should consult the USA embassy. For UK citizens, it is better to visit the visa application center. Otherwise, check country-specific visa requirements.
We provide help with the embassy or the consulate in your town or city. Getting all the necessary papers may seem puzzling and time-consuming, but our staff will always be there for you and make this process as quick as possible with no stress.
Greenland Ships
We can take you to places where very few ships can. We have a gorgeous Sea Spirit ship to take you to Greenland. It is 90 meters long with a maximum speed of 15 knots (28 km per hour). The ship may take up to 114 passengers and 72 crew members.
It has a triple, main deck, classic, superior, deluxe, premium, and owner's suites. The owner suite is a real pleasure to stay in. It is a 43 square meters room on the Sun deck with a separate living room, a game space, and a meeting area. You will be able to enjoy a stereo and a plasma TV along with a private deck, a king-size bed, and luxurious en suite bathroom facilities.
Whatever Greenland cruise you choose, you are sure to spend time with style.
When to Visit Greenland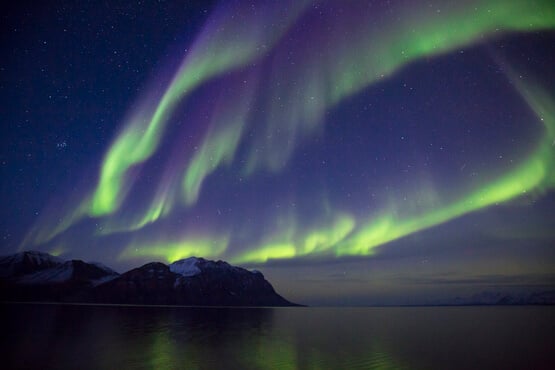 The summer months from June to September are the warmest, so this time is probably the best for a cruise around Greenland. But be aware that from the end of May till the end of July, the sun never sets in some parts of Greenland. On average, the temperature is from -4 to +10. This time is perfect for outdoor activities.
Winter is severe, with short cold days. This period is not for everyone to travel– the temperature can be up to -30C and lower. But this is the best time when you can see the northern lights. Travelers can also enjoy dog-sledding in winter.
Warm clothes are essential during all seasons, especially winter. In cold months you will need special tourist clothing, including hiking boots. Ask our managers for details, and they will advise you what you should take according to the arctic cruise you have chosen.
Facts About Greenland
Here are some amazing facts about Greenland:
The Greenland ice sheet covers 81% of the whole land.

In March, golf lovers can attend the Ice Golf World Championships in Uummannaq. The event takes two days. The competition is held between icebergs in the snowfields.

Greenland's currency is the Danish krone.

According to a nature climate change study, by 2022, the ice sheet will have lost more than 10 billion tons of ice.

"Kayak" and "igloo" are Greenlandic words that have been adopted directly by other languages.