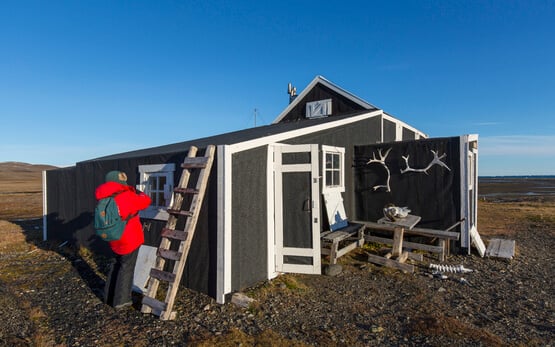 Wildlife
Greenland is a paradise for wildlife lovers! Expect to see iconic animals in their natural habitat such as reindeer, musk oxen, walruses, arctic foxes, arctic hares, humpback and bowhead whales, as well as majestic polar bears. While we always keep a safe distance from the animals, you'll still get to see them up close. During the polar day, you will have a maximum amount of daylight to explore and view wildlife.
Get the best photo ops from the deck of our small expedition ship and during Zodiac cruises, hikes ashore and while kayaking. Our professional photographers will help you get that perfect shot so you can bring home the best pictures to remember the adventure.
Birders will be excited to spot great northern divers, barnacle geese, pink-footed geese, common eiders, king eiders, gyrfalcons, snowy owls, sanderlings, ptarmigan and ravens. Ask our expedition team and onboard specialists everything you ever wanted to know about your favorite animals and learn about their unique life in the Arctic.
About Greenland
Breathtaking wilderness, charming towns and contemporary Inuit culture – Greenland is a unique place with its very own charm. It's the prime destination for any Arctic explorer. History buffs will love the Viking heritage of the region, nature lovers will appreciate the untouched and rough beauty of the island and wildlife lovers will appreciate its rich fauna. Did you know that Greenland is the best place to see the Aurora Borealis? On our late summer cruises, we hit the best spots around the coast to see this majestic spectacle.
Short History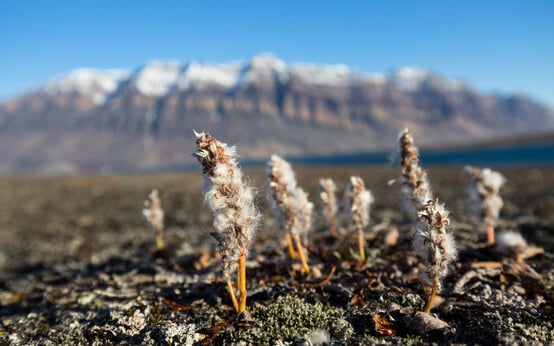 The first inhabitants of Greenland were the Inuit, who settled from around 2500 BC until about 900 BC on the island. After a period during which Greenland was abandoned, the Dorset people arrived around 500 BC, and from the 10th century AD the Thule people came and settled. It's believed that Viking Erik the Red gave Greenland its contradictory name to attract more Viking settlers, thinking that it would make this northern land sound more fertile, attractive (and greener) for newcomers.
Greenland at that time was not quite as cold as it is now because the Earth's climate cooled in the 14th century and the Vikings eventually disappeared from the island.
Since 1721, Denmark held colonies in Greenland and in 1953 the island became part of Denmark. Since 2009, Greenland has been an autonomous country within the Kingdom of Denmark. The official language is Greenlandic, but people also speak Danish and English.
Climate
The world's lowest temperature record (in the northern hemisphere) of -69.6 °C (-93.3 °F) was recorded in Greenland in 1991. The average temperature in the capital Nuuk varies from around -5 C to +10 °C (23 to 50 °F). During the summer months, it can warm up to +21°C (70 °F), but only in the coastal regions. In the center of Greenland, the temperature hardly ever exceeds 0°C (32 °F).
The eastern part of Greenland is considered colder due to fierce winds. During the winter months, the weather can be harsh. That's why expedition cruises are usually scheduled during the warmer and more moderate summer months. The south and west coastal regions are generally warmer.
The precipitation quantity in the south is around 1,080 mm (43 inches) per year. In north Greenland, it may be as little as 100-200 mm (4-8 inches).
Geography
With a total area of 2,166,086 km2 (836,000 square miles), Greenland is the biggest island in the world. Only 410,449 km2 (158, 475 square miles) of it are not covered in ice. The highest point in Greenland is Gunnbjørn Fjeld at 3,700m (12,119 ft), situated in the Watkins Range in the east. Most of the mountains are covered by Greenland's ice sheet. Coastlines are predominantly rocky with numerous fjords.
How People Live in Greenland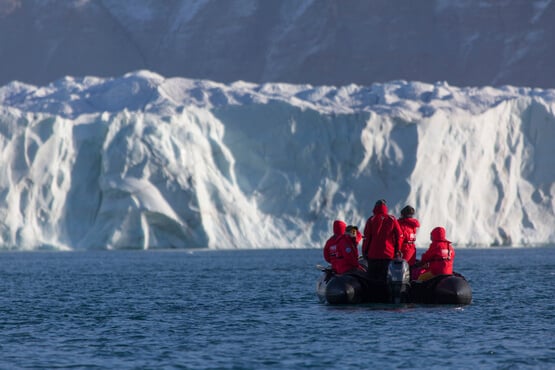 The island's main industry is fishing. Greenland is also rich in minerals, such as zinc, lead, iron ore, copper and oil. Its tourism industry is growing, and beautiful Arctic nature, cultural heritage and wildlife attract more and more travelers from all over the world. In 2017 a new deposit of rubies was discovered with promising global export potential for the precious stones.
While primary and secondary schools cover the basic educational needs of locals, many choose to continue their studies abroad. While Nuuk has its own university featuring a few classes in the native Greenlandic language, most classes are taught in Danish and English. In 2021 there were less than 300 students registered at the local university.
Plan Your Greenland Tour
Great expeditions need proper planning. Consider what your Arctic adventure should look like. Do you want to see incredible fjords and the biggest icebergs? Then consider a cruise to Northeastern Greenland. Northern lights are on your bucket list? Then a cruise to East Greenland in late summer is perfect for you. And if you are looking for the perfect Arctic odyssey, then choose a combined expedition covering Iceland, Greenland and Svalbard.
How to Get to Greenland
Book a flight to one of the departure ports ahead of time. Depending on which cruise you choose, you may embark/disembark in Longyearbyen (Svalbard) or Reykjavik (Iceland). After you board our expedition, you'll cruise in comfort and style on the Sea Spirit toward Greenland. Contact us for assistance with booking and choosing the right cruise for your adventurous spirit!
Visas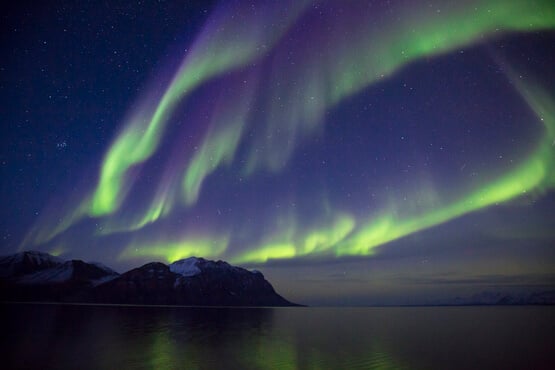 Depending on your departure/arrival port, you may need to get a visa. Please contact your local consulates ahead of time and reach out to us if you need assistance. We will be glad to help collect the necessary documents to apply for the required visas.
Greenland Ships
Most of the remote and tucked-away gems of Greenland are only reachable via small expedition ship. Aboard the Sea Spirit, perfectly suited for small expedition cruising with a maximum of only 114 passengers, we take you on the adventure of a lifetime. You can choose from various cabin categories to make your expedition comfortable and memorable. The ship also features a gourmet restaurant, large open deck, bistro, bar, lecture hall, gym and lounge with a 24/7 coffee and tea station. Feel like a real explorer, but with all the modern comforts!
When to Visit Greenland
The best time to visit Greenland on an expedition cruise are the summer months. June to September are warmer and the midnight sun gives you a maximum amount of daylight to explore, spot wildlife and see the beautiful landscape. Average temperatures in summer are around 0 °C (32 °F), with occasional highs around +10°C (50 °F). Be prepared for all contingencies and bring warm clothes. There are cases of snow even in the summer months!
If you're after prime opportunities to view the northern lights, be sure to book a cruise in late summer/early fall. At the beginning of September, the chances of seeing them are very high and we have a special cruise scheduled right around this time (one of our travelers' all-time favorite)!
Facts About Greenland
Ready to visit Greenland? Need a few more facts to be prepared for your expedition? Check out our top 5 favorite facts about this region:
A whopping 81% of the island is covered by Greenland's ice sheet!

Golfing amid icebergs and snowfields? Every March golfers flock to the Ice Gold World Championships in Uummannaq.

Krone is king – Greenland's currency is the Danish Krone.

Greenland was actually green, about 2.5 million years ago.

You're speaking some Greenlandic already! Kayak and igloo are in fact Greenlandic words that have been adopted by other languages.