Poseidon Expeditions' COVID-19 Health and Safety Protocols For the 2022-23 Season aboard the Sea Spirit
Update: August 30, 2022
Poseidon Expeditions is committed to providing our travelers, crew and staff the utmost in health security and peace-of-mind as they explore Antarctica and the Southern Ocean during the upcoming 2022-23 Astral summer season.
COVID-related travel requirements for Argentina have now been eliminated and no further protocols from Tierra del Fuego or Ushuaia are expected. Our Operations Team is constantly reviewing logistics and protocols to ensure maximum safety for our guests. Our Coronavirus-related protocols are supported by guidelines and recommendations from international health and cruise safety authorities.
As was the case pre-pandemic, travelers can book commercial flights into and out of Buenos Aires and Ushuaia. Most flights to and from Ushuaia are via Buenos Aires, and we recommend making your airline reservations as soon as possible.
Poseidon is also staying abreast of polar-specific guidelines and protocols related to the Antarctic ecosystem, through its affiliation with the International Association of Antarctica Tour Operators (IAATO). Our health and safety protocols are based on the above-mentioned guidelines and recommendations and as well as our own methodologies for ensuring the highest standard of prevention and care. These are further detailed below.
We are adopting current best practices as revised for this season compared with the last, for testing, screening, health checks, shipboard sanitation, as well as social distancing and other effective means of infection prevention, and to incorporate these relevant guidelines and procedures into the health and safety protocols for our Sea Spirit.
Rest assured that as health organizations and the cruise industry continue to fine-tune best practices and procedures for expedition vessels in the Arctic environment, Poseidon Expeditions will incorporate these into its standard protocols.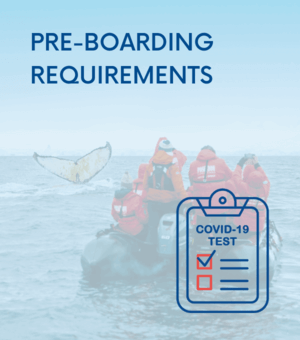 Pre-Boarding Requirements
In the 14-day period prior to travel, guests will be asked to self-monitor their health, conduct symptom checks and practice precautionary good hygiene.
Vaccination certificates (indicating final shot no later than 14 days before departure) must be forwarded to Poseidon Expeditions prior to departure – uploaded along with required personal medical forms – and available for inspection before boarding (printed copy). Minors under the age of 12 are not required to be vaccinated.
Poseidon accepts all types of vaccines, but passengers are obliged to confirm that their type is acceptable in the countries of arrival or departure.
At this time, no obligatory, preventative testing will take place aboard the Sea Spirit, but this could change depending on circumstances. Upon request, antigen or PCR tests are available and can be purchased onboard the ship.
A preliminary health declaration will be required before embarkation; this may include a temperature check. Pre-boarding screening of passengers with any COVID-like symptoms will be conducted by qualified health care personnel.
Travelers will not be able to embark if – within the past 14 days – they have:

Been in quarantine,
Had close contact with a suspected or known case of COVID-19, or
Tested positive for COVID.

Guests who were previously diagnosed with COVID-19 must present:

A certificate of recovery from a competent authority or medical professional, at least 14 days after the first PCR test confirming COVID, or
Negative test results from a PCR test at least 14 days before boarding.

For the 2022-23 Antarctic season, face masks are not required of guests while in the restaurant, bar or library when consuming food or beverage, and throughout the ship and on open decks when minimum social distancing can be maintained. The exception is when guests are in an enclosed area – e.g. the lecture theater and social gatherings where physical distancing is not feasible. These guidelines may change, depending on circumstances.
Should a guest and close contact test positive during the cruise, they will be asked to self-isolate in their cabin until they test negative.
Crew and Staff Readiness – Mandatory
100% vaccinated crew and staff
Periodic antigen testing
Self-monitoring and reporting for 14 days prior to embarkation
Effective, results-oriented COVID-19 testing and reporting prior to embarkation, and during the season on a regular basis.
Advanced pre-boarding health checks and screenings
Required completion of official WHO COVID-19 course for hygiene procedures and infection management
Medical Readiness
Well-equipped hospital suite with COVID-19 detection and testing capabilities
Onboard physician with field medical operations and emergency experience
Infrared temperature detection equipment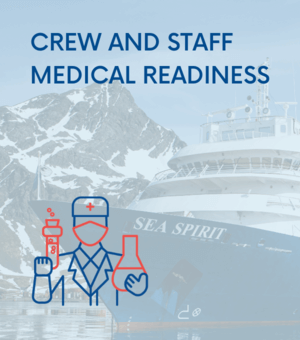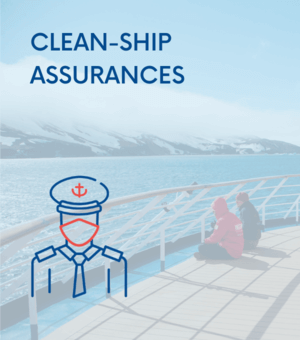 Clean-Ship Assurances
Regular and systematic checking of HVAC (heating, ventilation and air conditioning) system
Accelerated, higher-frequency schedule of sanitation, deep-cleaning and disinfection of all hard surfaces in cabins, lounges, restaurant & galleys, hallways, hand-railings – all high-touch points – with daily checklists maintained and recorded
Use of UV lamps for disinfection of public areas
Hand-sanitizing stations placed and accessible throughout the ship
Limited third-party, port agent and supplier visits onboard – only authorized, essential may board the ship in compliance with boarding requirements
Minimal crew and staff rotation during the season
All public areas on board will undergo periodic sanitization and disinfecting process with. thorough cleaning, fogging and wiping, as required
Passenger luggage may be disinfected upon boarding, if deemed necessary
Onboard Prevention and Hygiene
Over-crowding prevention: controlled/limited embarkation and disembarkation and queuing protocols
Social distancing guidelines will be encouraged onboard: 2-meter distancing from non-family cabin mates; controlled-capacity in library, lounge, presentation lounge; queuing protocols
Depending on current COVID situation at time of cruise, mask-wearing in public areas and Zodiac landing crafts may be required of passengers, crew, staff and expedition team
Frequent handwashing or sanitizing while onboard is strongly recommended
Restaurant seating will follow social distancing recommendations
The bridge will not be open for passenger visitation, due to COVID
Personal protective equipment (PPE) will be available at all times for guests and crew, if needed. PPE includes face shields, gloves, and face masks. Depending on current COVID situation at time of cruise, PPE may be required during certain events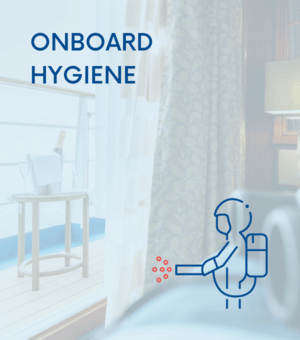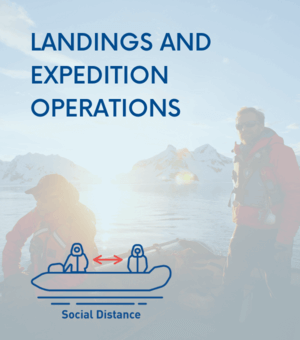 Landings and Expedition Operations
Unlike tourism in established, populated destinations, expedition cruising in the fresh air of the Arctic by its very nature is unshackled from public transport, hard-surfaced infrastructure and masses of local residents and other tourists. Hence, there is virtually no chance of contamination while exploring ashore with a minimal number of other guests. Another benefit of small-ship cruising!
Reasonable and precautionary social distancing protocols will be established while in Zodiac landing craft – which are used for both shuttling guests ashore and for more extended sightseeing of bays, inlets and coves – and while ashore with trained guides and expedition staff.
Exploration and landings in the Arctic will be conducted very much like they've always been done with Poseidon – albeit with more attention to crowding, queuing and the number of passengers per Zodiac boat.
Task Force continues to develop best practices and procedures or expedition vessels in the Arctic environment, Poseidon Expeditions will incorporate these into its standard protocols.