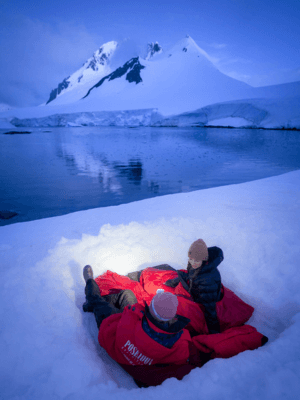 Imagine a pristine polar paradise, icebergs, penguins and the feeling of being far away from the civilized world…and yourself cuddled up in a warm sleeping bag in the middle of it all! Have you got what it takes to become a real polar expeditioner? Then sign up for camping in Antarctica! Swap your comfy Sea Spirit cabin for a night of polar adventure on the ice. And don't worry, we'll provide everything you need for an unforgettable adventure ashore.
Reasons to experience camping in Antarctica
Immerse yourself into the wild nature of Antarctica

Get a glimpse of how real explorers felt discovering the White Continent

Soak in the unique atmosphere of Antarctica from the comfort of your warm sleeping bag

Sleep under the sky of the Southern Hemisphere

Hear the sounds of the continent like squawks and honks from your beloved penguins

Beсome one of the very few who can proudly say they've camped in the open on the White Continent.
Camping details
Are you ready for camping in Antarctica?
You've booked your cruise and noticed the camping option – should you do it? Our answer will always be yes – trust us, this will make for extraordinary memories and is a highlight for many expeditioners! No prior camping or polar experience needed. You should be in good health with a reasonable level of fitness to participate in camping in Antarctica and we recommend checking with your physician beforehand if this activity is safe for you. Ensure that your medical emergency evacuation insurance does not exclude activities such as camping – this is important and we may check this prior to the trip.
How does it work?
We'll start with a briefing one day before your camping experience takes place. The briefing is mandatory so please don't skip it or else you'll have to stay behind on the ship. And what a pity to miss out on this adventure, having to hear all the amazing stories and experiences from returning campers at breakfast.
At the briefing we'll show you how the camping gear works, go through logistics, safety and rules ashore. Campsites need to be scouted by us beforehand and everything depends on weather conditions, so we'll usually know only a few hours in advance when we'll go ashore for our adventure. On camp day, you'll enjoy dinner aboard the Sea Spirit before starting your adventure. A Zodiac will then take you in a small group (max. 40 expeditioners) ashore and our team will help set up the campsite, assemble camp toilets (you are required to comply with our environmental rules and no-waste policy) and help you to get comfortable. There will be no transfer to the ship after your drop-off (only in case of an emergency). You'll be slumbering in mummy sleeping bags suitable for temperatures as low as -18°C (0°F). Outside temperatures will range around 0°C (32°F) with a little below freezing during the night. You can't bring any food or drinks except water, but we'll promise the hearty breakfast next morning back aboard will taste like no other!
What's provided by us?
We'll equip you with mummy sleeping bags (they're comfortable, water-repellent, connectable and designed for temperatures as low as -18°C/0°F), a freshly laundered cotton sleeping bag liner, an insulated foam sleeping pad and a waterproof nylon bivy sack (which slips over the sleeping bag). Members of our expedition team will camp out there with you, help you set up the sites and will be there all night in case you need any assistance.
What clothing is suitable for camping in Antarctica?
Dress like you're going on a Zodiac cruise! Warm base-layers made from polyester or merino-wool are perfect, followed by middle layers of fleece or wool and topped off with a hat, socks, gloves, waterproof outer gear like snow pants and your Poseidon Expeditions parka. We do not recomment cotton clothes (poor heat retention) and suggest that you choose wool and synthetics instead! Bring one change of thermal underwear in case you sweat during campsite set-up or while exploring so you'll start your night warm and dry. If you camp earlier in the season you'll experience plenty of daylight, but during late summer in Antarctica it may get dark early. We recommend packing a torch/flashlight to find your way around the campsite, as well as any medication you may require.
---
What are the weather conditions like?
We carefully select the place and day for our camping expedition and monitor weather conditions to make this a pleasurable and safe experience. Usually temperatures ashore stay around 0°C (32°F), but it can get below freezing during the night. Our equipment is carefully selected to keep you warm and comfortable even during cooler nights.
Please see our How to Join and FAQ pages for more information.
How much does camping in Antarctica cost?
Camping price per person:
$285 - A$385 - £220 - €275
Take a look below at our list of upcoming Antarctic voyages to discover when we offer camping adventure. Please contact our office for availability.