NOTE: There have been issues with Oslo and Longyearbyen airport ground handling for the past few weeks, with luggage did not arrive on time. These issues are ongoing. Please prepare yourself, by packing all important items into your carry on, including any medication and a change of clothes.
Our recommendation is to bring «arctic quality» clothes that will fit into a layered clothing scheme. For example, packing «arctic quality», light-weight long-sleeve t-shirts, turtlenecks, and a water-proof shell is better than packing five big, cotton sweaters and two huge «winter-down» coats. Three to five pairs of active-wear pants, and then a pair of waterproof pants such as ski or snowboard pants, which is designed to respond to temperatures variations, is much better than seven pairs of jeans.
Keep in mind that you may experience anything from t-shirt weather to arctic, sub-zero snow-squalls (if you are lucky), so, each day's temperature might change quickly without any time for you to change your clothes — layers are essential. Of course, your dinner clothes are your decision. Please read the following article designed to give you an understanding of how to dress. The tips and Packing List, below, will act as a guide in the packing process.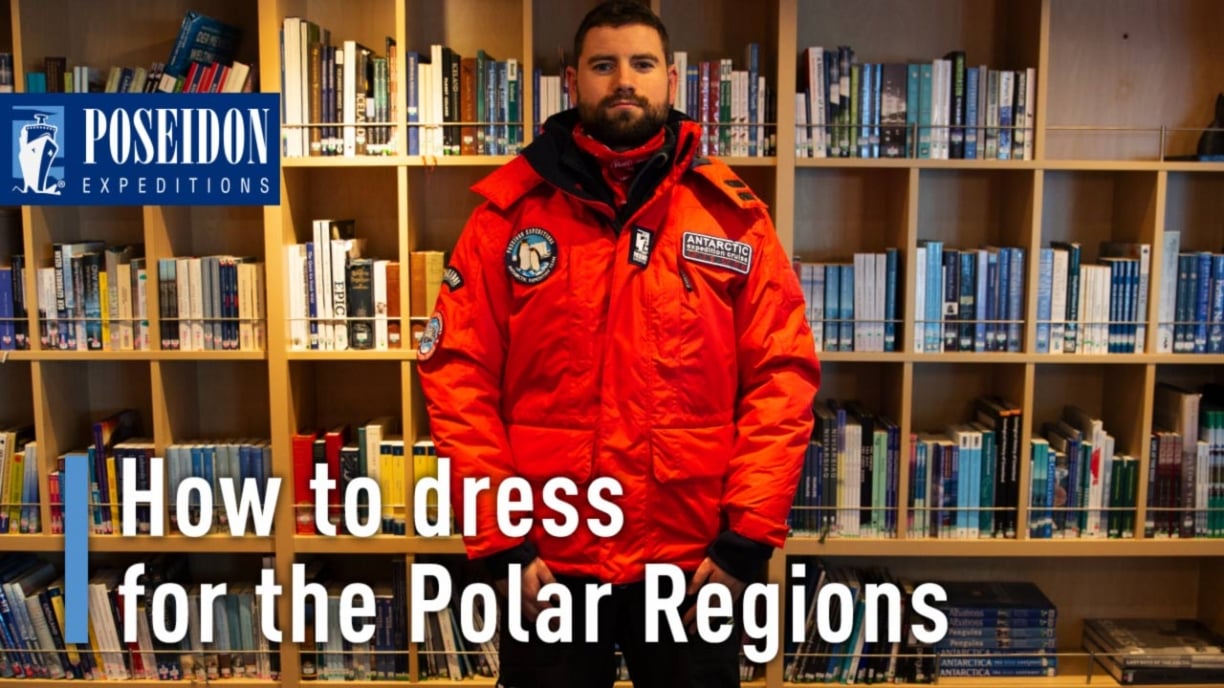 Why being layered is so important?
Temperatures may be warmer in the day than you expect, which will cause you to sweat. Your sweat will make for a cold feeling and once you get wet, your body will lose its natural temperature at a higher rate than before. If you are dressed appropriately, you can remove a light-weight layer and carry it with you. Second, your body works hard due the climate. The cold weather, snow, and natural adjustment of your body require a significant output of physical energy other than just walking. You will want to be able to take off and put on layers as needed. It can't be stated enough here; layers are the key to comfort in a Polar climate.
Being waterproof is also essential.
Although summer temperatures are generally mild, you should expect wind, clouds, and precipitation. It is also possible that water will spray up on passengers during Zodiac cruising. We can say with certainty that if your clothes are not waterproof on the outer layer, you will get cold. In this regard, we recommend being mindful of having waterproof shoes as well. Trust us, having a water-proofed outer layer can make or break your travel experience.
Beware of tight clothing that doesn't let your body «breathe».
Part of being insulated is a system of letting the natural warm air of your body counteract the cold air you encounter. If your clothes are too tight, and don't allow for insulation, you can get cold easily. Also, remember that cotton isn't really an insulator. So, we recommend more modern arctic designed clothing.
Finally, remember the «wind-chill factor» and plan accordingly.
A stiff wind on a polar plain can sweep away any generated body heat in a second, and it's important that your clothes are windproof. A good, warm wind-proofed shell will keep your chill to a minimum, so make sure any shell you bring is insulated, water- and windproof.
PACKING LIST
Expedition Clothes
Parka (usually provided by Operator). You should look for a lightweight, wind and weather-resistant shell with insulation. Bright colors are more visible, and safer in polar environments. Traditionally, Polar travelers wear red.
Warm trousers. Ski pants are suitable if you have them. Otherwise, bring any sturdy trousers that can be layered between your long underwear and rain over-trousers.
Waterproof pants (trousers). This is probably the most important clothing you can pack for a trip. А pair of water-resistant «rain-pants» made of coated nylon are essential. These are worn like shell for your legs. Look for Gore-Tex and other synthetic fabrics that are waterproof and «breathable». These materials keep out wind and water without trapping excess heat. Due to environmental reasons, it is strongly recommended to bring waterproof trousers with no Velcro at the ankle and backpacks with no mesh.
Thermal underwear. You should select medium to thick thermal underwear; long sleeve thermal top, trousers and socks. Most people prefer a lightweight version — but this depends on your personal thermostat. Polypropylene fibres are warmer when damp or wet, than silk or wool, although the CSIRO has recently developed a fine wool product called Sportwool.
Sweaters or polar fleece jacket. Wool sweaters or a polar fleece jacket of medium weight are recommended.
Dress in comfortable, loose layers. It is far better to wear layers of relatively light, loose clothing than one thick, heavy item. Between each layer there is insular air that, when heated by your body, acts as a natural insulator. It will also allow you to keep from overheating.
Body heat is most likely to be lost from hands and feet. Keep them warm and dry.

Onboard Clothes
Turtlenecks or t-shirts.Bring several practical turtlenecks or t-shirts for layering and use around the ship.
Ship Attire. Dress on the ship is informal. Clothing on board is usually jeans, corduroys, casual slacks or trousers, long sleeve shirts or t-shirts, fleece and a parka in hand during the day. Cruise wear should be lightweight and easy to care for.
Slightly dressier attire, such as sports jacket or blazer and collared shirt for men, and equivalent for women, is appropriate for the Captain's dinner.
Dressing for Gateway Cities
Don't forget this important aspect of your trip — your personal style is our best advice.
Hats and Gloves
Mittens and under-gloves. Keeping your hands warm and dry is an important challenge. Thin polypropylene gloves should be worn underneath warm mittens so you can take off your mittens to operate your camera and maintain some level of protection against the cold. These should be loose enough to permit good blood circulation. It's a good idea to bring an extra pair of wool mittens to wear if your other pair gets wet or lost.
Woolen cap or fleece cap. A warm cap to protect your ears.
Scarf. A warm scarf can help you to protect your neck.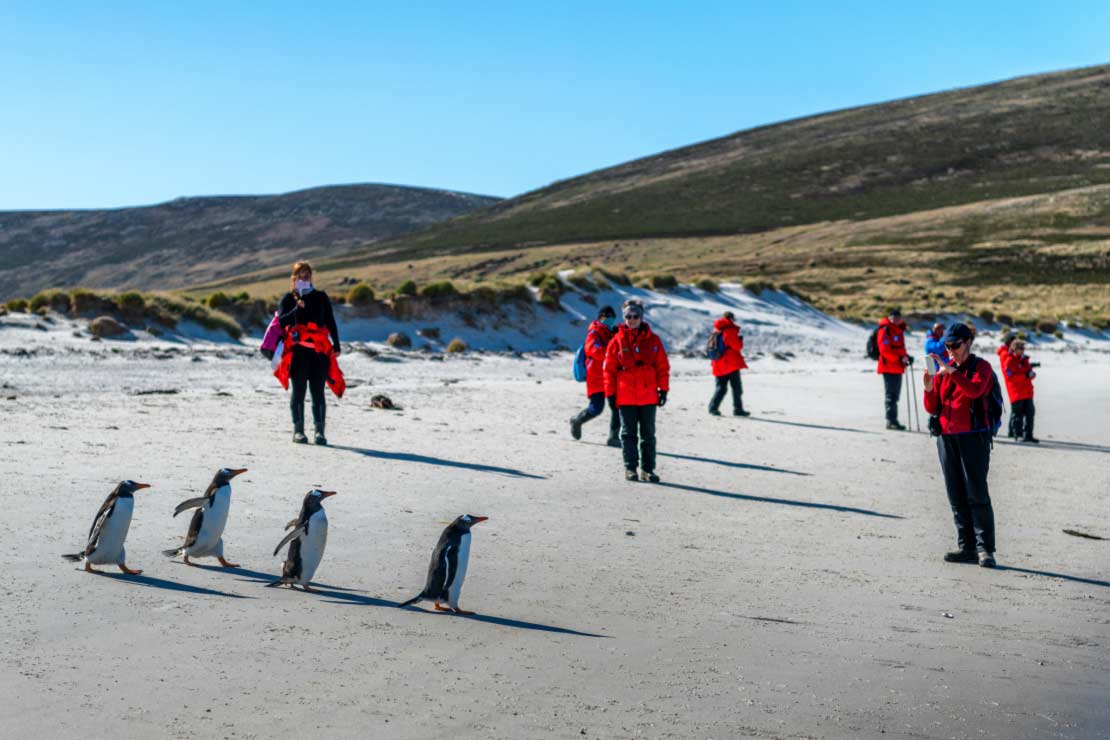 Modern «arctic design» clothing is best — Polar fleece is a good example. Also, wool and silk are superior to cotton because they trap warm air. When damp or wet, polyester is a better insulator than goose or duck down.
If the rest of your body is covered, as much as 30% of the heat you lose will come from your head; be sure to wear a cap.
Expedition Footwear
Warm socks. Sturdy, tall wool (or other thick material) socks should be worn over a thin pair of silk, polypropylene or cotton/wool socks which provide enough insulation for your feet. Bring several pairs of outer socks, as your feet will inevitably get wet.
Insoles for gumboots. They will keep your feet warmer when sitting in the Zodiac for long periods.
Rubber boots (usually provided by Operator, please check at the time of booking). A pair of pull-on rubber, unlined and completely waterproof boots that are mid calf or higher (12-16″, 31-41 cm high) with a strong, ridged non-skid sole is essential for landings. You may have to step from the Zodiac into icy water up to 10″ (25 cm) high on some landings. Also, expect poor footing on the ice and ashore. Do not bring heavy, cumbersome boots that make it difficult to walk. Boots with waffle soles like those on a hiking boot or running shoe tend to give the best footing. Ideal boots are «Wellies» or «Viking» boots. Remember that you will be wearing these boots a lot. So they must be comfortable for extended wear and walking. The boots should not be too tight or too sloppy. If they are too tight you will get cold feet.
For maximum warmth, wear loose-fitting boots and two pairs of socks. Try out your boots before the voyage.
Onboard Footwear
Lightweight walking shoes/boots are comfortable and some people like to take them ashore.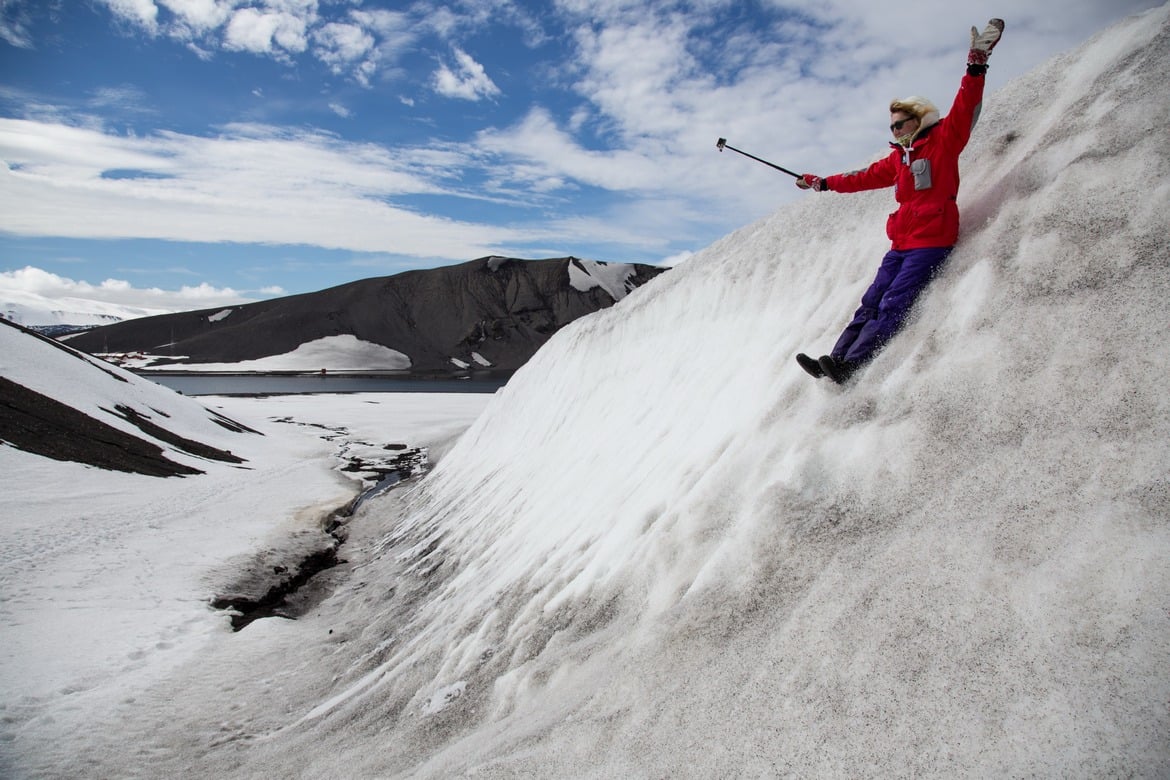 Accessories
Backpack. A waterproof nylon backpack, rucksack, or similar bag for carrying your camera and other gear. Make sure your primary shore-landing bag has shoulder straps so that your hands are free, when boarding the Zodiac. It is very important that you have some way to keep your camera dry, particularly while you are on the Zodiacs.
The use of Zip lock plastic bags to keep cameras and electronic equipment dry is discouraged for environmental reasons, and is prohibited while ashore on South Georgia. Invest in a waterproof camera bag or rucksack for your valuables when going ashore.

Sunglasses. High quality sunglasses with U.V. filter are recommended even on cloudy days, as the U.V. reflects powerfully, even when you don't expect it. We do not require «glacier glasses»; your normal sunglasses will suffice, but polarized sunglasses are most effective. Tinted ski/snowboard goggles are also be useful if conditions are windy, snowy, etc.
Sun-block lotion. Protective sun-block lotion for your lips, hands and face. The reflected glare from water, snow and ice can be intense and will burn the skin of passengers in certain conditions. In any regard, it is highly recommended.
Camera, battery charger. It is advisable to bring an extra camera in case of malfunction or accident.
Extra pair of prescription glasses. Extra pair of prescription glasses.
Bathing suit. For hotels, aboard some ships and (just maybe) a polar plunge.
Medicines. Prescription medicines and other remedies such as seasickness medication. Be prepared for rough water — also, please bring a signed and dated letter from your physician stating any health problems and dosage of medications, for emergency use.
Binoculars. A pair of binoculars for spotting whales and seabirds from deck is highly recommended.
Earplugs. Earplugs may be useful if you are sharing a cabin with a snorer.
Avoid overdressing and reduce perspiration.
Wear water repellent outer layers that will keep you dry on the outside and still able to «breathe» enough that moisture from your body can escape
Mittens are better than gloves.
Application for polar travelers.
Before the voyage you can download the free
iOS
and
Android
app -
Polar Guide: Antarctica
- designed for those with an interest in the white continent. The tool is a helpful resource for anyone keen to learn more about Antarctica. It makes quick and easy access to essential information for users on-the-go in the field, without the need for a phone signal. The application provides guidelines for wildlife watching, visiting specific sites, being a responsible Antarctic visitor.