Ryan Hope-Inglis - Expedition Leader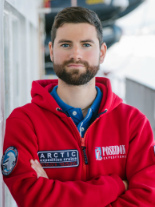 Ryan was born in Poole, South West England in 1991. He first discovered his love for the outdoors at a young age when introduced to Scouting, quickly moving through the roles to Scout Leader. As an avid mountain biker and climber, he is frequently travelling north to Snowdonia and Cairngorm National parks. In 2011 Ryan qualified as an aerospace engineer but soon realized this wasn't for him. He changed his working field and ventured to the Ardèche National park in South France working for an outdoor adventure company. Here he honed his skills climbing, kayaking and canoeing in the Ardèche Gorge. Hungry for more, Ryan moved much further south becoming a Zodiac technician and driver onboard expedition vessels in Antarctica and South Georgia. In this position he found the real deal for him. He is thrilled to be back on board, this time exploring the European Arctic and Greenland together with you.

Ryan is also a qualified scuba diver and has 3 star white water canoe qualifications.