About Iceland
Expeditions to Greenland and Iceland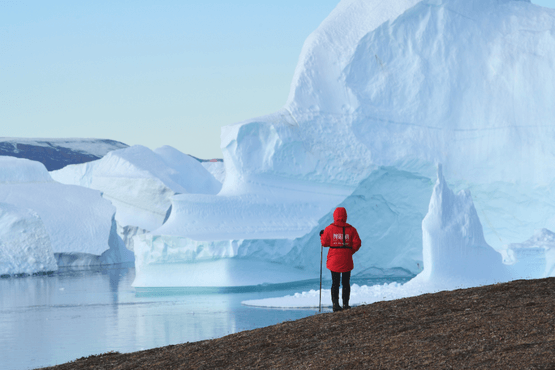 East Greenland (Fjords and Northern Lights)
Board your expedition in Reykjavík (Iceland) and cruise toward East Greenland. Spot iconic marine mammals and join onboard lectures and workshops. Visit Northeast Greenland National Park, famous for its giant icebergs, and spot wildlife in the blooming tundra. Explore spectacular fjords and narrow passages bustling with marine mammals like seals, walruses and narwhals at Scoresby Sund and learn about contemporary Inuit culture in Ittoqqortoormiit. En route back to port, we'll stop at Iceland's rarely visited Westfjords and explore the Dynjandi waterfalls.

South & West Greenland and Disko Bay (Welcome to the Land of Vikings)
This cruise embarks at Reykjavík (Iceland) and disembarks in Kangerluusaq (Greenland). Cruise by Cape Farewell (Greenland's southernmost point) and visit the geothermal hot springs at Uunatorq before heading north. See contemporary Inuit villages and get to know their unique culture. Discover some of the best preserved Norse ruins at Hvalsey (Whale Island) and walk around the ancient farmstead of Erik the Red's ancestors dating back to the 10th century. See the beautifully colored houses of Qaqortoq and discover ancient Viking remains. One of the highlights is Disko Bay, where you'll see the biggest icebergs at Ilulissat (the "city of icebergs").
Svalbard, Greenland and Iceland (Arctic Odyssey)
This cruise combines three gems of the Arctic! Start in Longyearbyen (Svalbard) and disembark in Reykjavík (Iceland). Discover Svalbard's blooming tundra, iconic wildlife and Ny-Ålesund (a former mining town) with its museum, gift shop and post office before heading south to East Greenland. Visit the Franz Josef Fjord and Kong Oscar Fjord in Northeast Greenland National Park and Scoresby Sund's large fjord systems. Learn about Inuit culture and see Greenlandic sled dogs in Ittoqqortoormiit. Before disembarkation we'll stop at Iceland's rarely visited Westfjords with their rugged mountains, waterfalls and incredible coastlines.
Activities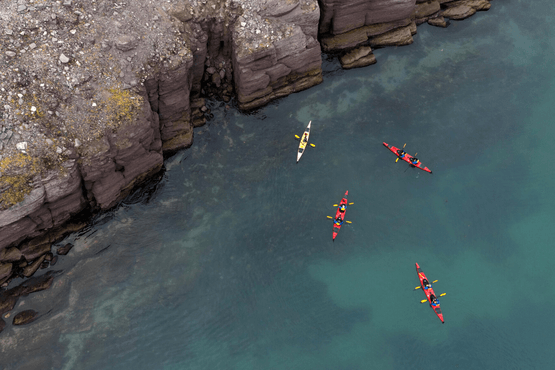 Zodiac Cruising
While you'll get prime views from the deck of your expedition ship, we'll take you even closer! Get a close-up view from aboard our small, stable and inflatable motorboats.
Sea Kayaking
Want to fully immerse yourself into this majestic polar world? Join our kayak club! Whenever weather conditions permit, we'll deploy our stable kayaks and explore while paddling at our own speed. Please note this is a small-group activity and spots book out very quickly. We recommend to book as soon as possible.
Photography
Need to brush up on your photography skills? Join our workshop and ask our professionals how to get that perfect wildlife shot! There'll be countless photo-ops that will inspire your creative spirit!
Plan your tour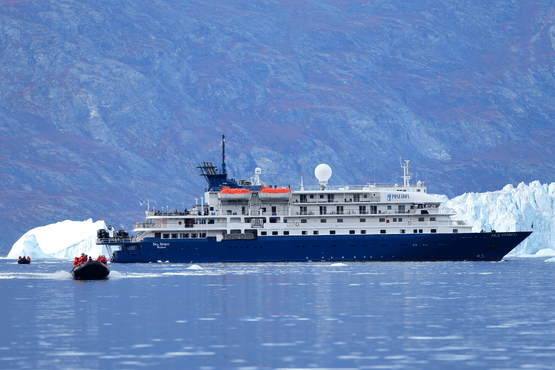 How to go to Iceland and Greenland
Depending on your port of embarkation/disembarkation, you'll be flying to/from either Reykjavík (Iceland) or Longyearbyen (Svalbard). (Exception: South & West Greenland and Disko Bay cruise disembarks in Kangerlussuaq (Greenland). Please note that airfare to the embarkation/disembarkation ports is not included (with the exception of the Oslo-Longyearbyen flight on our Arctic Odyssey cruise). International airlines operate several flights to these destinations.
Visa control
We recommend all travelers contact the relevant consulates in advance to check with current entry requirements and cost. Please contact us if you need any assistance.
Cruise Ships
Our 114-passenger expedition ship, the Sea Spirit, is perfectly suited for polar cruises. It features a restaurant, bar, gym, polar library, lecture rooms, comfortable cabins of various categories and a Jacuzzi on deck.
When to go on the Greenland and Iceland cruises?
We recommend visiting the Arctic region during the summer months (May-September). During the polar day, you will have plenty of daylight to explore and enjoy your holidays. Temperatures are comfortable and it's the best time to see the blooming tundra (summer) and northern lights (September).
Facts about these regions
| | | | |
| --- | --- | --- | --- |
| | Greenland | Iceland | Svalbard (part of Norway) |
| Capital | Nuuk | Reykjavík | Longyearbyen |
| Inhabitants (*2021) | 56,653 (18,800 in Nuuk) | 372,295 (135,688 in Reykjavík) | 2,650 |
| Landmass | 2.166 million km2 | 103,000 km2 | 61,045 km2 |
| Average temperatures (summer) | Not exceeding 10 °C (50 °F) | 10-15 °C (50-59°F) | 3-7 °C (37.4-44.6 °F) |
| Average temperatures (winter) | -9 °C (16 °F) in the south and down to -50°C in the north | 0°C (32°F) in the south and -10 °C (14°F) in the north | -20 to -30 °C (-4 °F) |