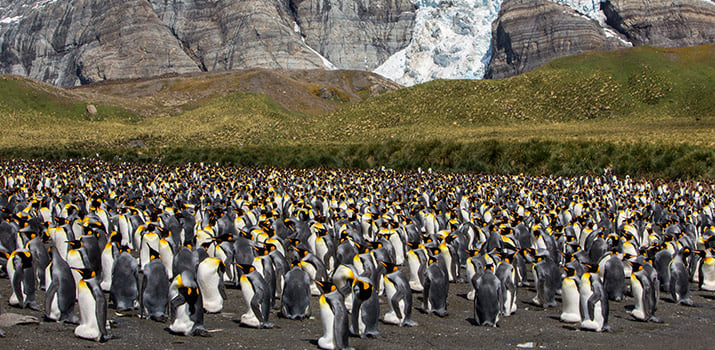 If a cruise to Antarctica is on your bucket list, there's a lot to think about when it comes to voyaging to the planet's southern-most continent. What makes for the best Antarctica cruise? Read on to find out! From the time to go to trip length and the size of the ship, you have many options for exploring the continent that's "roughly the size of the U.S. and Mexico combined."
Sights
What is on your "must-see" list? When you're thinking about your trip, what are you most excited to see? Penguins? Penguin chicks? Icebergs? The breathtaking vistas? There are expedition cruise itineraries to serve every kind of traveler, and knowing what's important to you will help determine when you cruise and what type of ship is best.

If you want to see:

...Antarctica as if no one has stepped foot on it before, plan on booking a cruise early in the season. Usually in late October or first thing in November.
...Penguin chicks, you should plan on booking a December cruise. Penguins come ashore in late October or early November, lay their eggs in November, and the eggs are hatched in December.
...Majestic King penguins, book a cruise that includes a stop on South Georgia.
...A bit of civilization as well as the remote polar landscapes and wildlife of the Antarctic Peninsula, then choose a trip that takes you to the Falkland Islands/Malvinas. Enjoy a taste of merry old England in the capital of Stanley, as well as outer islands where you can see gentoo, macaroni and rockhopper penguins, along with albatross, terns, and skuas, among many other seabirds.
...Spectacular icebergs and unbelievable, vast landscapes, make sure your cruise crosses the Antarctic Circle.
Experience
What kind of experience do you want to have? Are you looking for an interactive experience with other like-minded guests and experienced, knowledgeable guides? Do you want to go home with hundreds of great photos? Are you "not a cruise person" who still wants to cruise to Antarctica? You're not alone! We hear this from our passengers quite often. A cruise to Antarctica is like no other.


If you're looking for:


...Adventure, make sure your cruise offers activities such as kayaking or even Antarctic camping. Imagine sleeping on the snow under the clear Antarctic sky or paddling among brash ice and "bergy bits" in a stable sea kayak with a professional guide.
...Great photographs, book an Antarctic cruise with a photography guide onboard. Poseidon offers a free photography program that gives you the chance to learn and practice your photography skills alongside an expert photographer.
Length
How long do you want to travel? Have you considered extending your trip by adding a pre- or post-cruise adventure in South America? Most voyages are roundtrip from Ushuaia, Argentina, and cruise length can range from 10 or 11 days to three weeks (if you want to include South Georgia and the Falkland Islands/Malvinas), so you have a lot of options here, too.
You can also opt to extend your tip with a visit to Buenos Aires or even Iguazu Falls before or after your cruise. Buenos Aires offers foodie delights and a rich cultural history, while Iguazu Falls offers one of the wonders of the natural world.
Less time? That's OK, too! You can still see penguins, seals, whales, icebergs and much more by taking a cruise that's focused on the Antarctic Peninsula and South Shetland Islands. Keep in mind that getting to the ship – usually in Ushuaia – takes a minimum of a day or two from North America or Europe.
Budget
What's your budget for your Antarctic cruise? Even with a set budget, early-booking discounts and specials can offer some flexibility so you can select the perfect Antarctic cruise. Prices for Antarctica cruises start around $6,000 per person for a triple occupancy cabin and can run to $20,000 per person for a double-occupancy suite with balcony.
Get the best deal, no matter your budget, by:
Booking early! Booking early can save you upwards of $2,500 USD per person. This way, you will get your best Antarctica cruise for the best price.