Four North Poles
Did you know that in the Arctic there are actually FOUR different North Poles? The first one is the geographic North Pole which lies in the central part of the Arctic Ocean and is the point of intercrossing of all meridians and time zones of our planet. This is why here is no definite time and participants of scientific expeditions usually live on the time of their home country.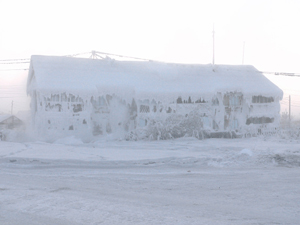 Photo of Oymyakon. Yes, it's like that in there=)
The second one is the North Magnetic Pole, which is the conventional point where the Earth's magnetic field is oriented to the planet's surface at a right angle. The position of this magnetic Pole is not set and it is not easy to localize it, because it constantly moves on the elliptic trajectory to the North and North-West. Since the second half of the 20th century the Magnetic Pole moves towards the Taymyr Peninsula with the annual speed of 1 km (up to 10 km in the years of high geomagnetical activity).
The third one is the place which is colder than the North Pole. On the meteorological maps it can be found under the name of the Pole of Cold. It is situated in the Yakut settlement of Oymyakon of the East Siberia. It is inhabited by 521 people and because it's situated far from the ocean and in high latitudes the climate here is severely continental, with harsh, long winters and short, hot summers. During winter season the temperature here can drop as low as -50/-60 °С. The absolute minimum here was registered in February of 1933 (-67,7 °С). This is the coldest place on Earth where people live in such unwelcome conditions on a constant basis.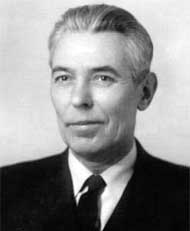 Ivan Cherevichny
The last but not the least is the North Pole of Inaccessibility – is the most remote point of the Arctic. It is situated as far from the mainland as possible: it is situated in the 170th meridian of the eastern longitude, in almost 600 km from the geographical North Pole. Because this place is situated that far it is considered to be mostly inaccessible. Still in the year 1941 Soviet polar explorers have managed to organize the first air expedition to this part of the world. This expedition was called "USSR-N-169″ and was led by Ivan Cherevichny. In 1986 the expedition led by Dmitry Shparo has managed to get here on feet during the polar night!