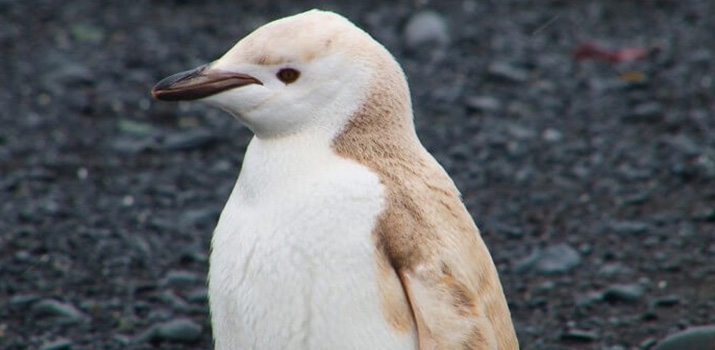 Photograph the white penguin and the champagne will be on us!
After reports surfaced from Antarctica a few years ago when an expedition ship passenger photographed a chinstrap penguin with a rare genetic abnormality – isabellinism – our Sea Spirit expedition team has kept their collective eyes peeled for such a unique specimen.
Sometimes confused with albinism, which is an animal's inability to produce melanin, isabellinism happens when normally black, grey or dark brown feathers appear greyish-yellow or pale brown. This condition isn't restricted to a particular breed of bird; it has been noted in 12 of the 17 species of penguin, including the Adélie, gentoo and chinstrap in the Antarctic Peninsula and South Shetland Islands.
However, the condition is rare indeed. Depending on the species, the occurrence is estimated to be anywhere between 1-in-20,000 (gentoo) and 1-in-146,000 (chinstrap). Obviously, these birds of a feather don't flock together!
The origin of the color Isabelline or Isabella – meaning pale grey-yellow, light cream brown or parchment-colored – is an entirely

different

story. One legend has it that it described the color of the undergarment that a 17th-century Spanish noblewoman who vowed not to remove it until the Siege of Ostend was over (three years later, mind you). But this story was later debunked by the revelation of an even earlier, albeit similar, legend about Isabella I of Castile and the eight-month siege of Granada, Spain in 1491.
Isabellinism is also found in other species of birds, as well as certain breeds of horses in Europe, Doberman pinchers and subspecies of the Himalayan brown bear.
Once in a great while, photographers are lucky enough to capture one of these rare, Isabelline-colored penguins in the remote, icy wilderness of the Antarctic Peninsula. We hope it's you! If you are the first to spot "Isabella" and snap such an image while traveling with us, we'll honor your good fortune with a bottle of champagne.