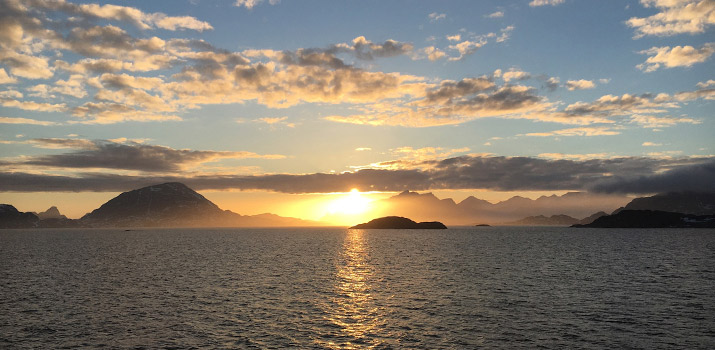 So, you think far-flung Greenland is just a travel dream? Think again. This Arctic country and largest island in the worldis undeniably huge, but a trip focused on western Greenland offers a breathtaking range of sights, from Disko Bay's iceberg-studded waters to valleys so immense you'll feel like the last hiker on Earth. Consider just some of the following experiences, and before you know it you'll be blinking in wonder under the midnight sun.

Hike to the World Heritage Site Ilulissat Icefjord
Ilulissat must be one of the world's most spectacularly situated towns. The bright-colored houses and glittering harbor of Greenland's third-largest city have as their backdrop the vast Jakobshavn Glacier. Thirty-five billion tons of icebergs pass through the Ilulissat Icefjord each year, calved from this glacier into Disko Bay. It's a truly awesome place!
The largest outside Antarctica, Jakobshavn Glacier is approximately 35 miles (55km) in length and shifts 62 feet (19m) per day, creating one-tenth of all Greenland's icebergs. Seeing the glacier only takes a 40-minute hike from the center of Ilulissat. The blue hiking trail, clearly marked along the coast, is the most accessible pathway to great views of this UNESCO World Heritage site.

You'll want to wear suitable foot gear and keep 65 feet (20m) from the shore, especially where you see warning signs; even a distant iceberg calving can produce waves high enough to knock you into the water.
Cruise among the Icebergs
Get even closer to Ilulissat's glaciers on an expedition cruise. Enormous icebergs in the hundreds crowd Ilulissat's icefjord; some exceeding 300 feet (100m) in height, some dwarfing the smaller expedition ships cruising around the bay. From the deck of the ship, you'll see blocks of ice in amazing shapes, sculpted by the waves, bobbing past and tipping over. These icebergs, created from ancient glacial ice, seem to mushroom out of the water, glowing in purple and blue under the summer's permanent daylight.
Midnight Sun
Above the Arctic Circle, where the summer sun never sets, you'll nevertheless experience some extraordinary lighting conditions, as beautiful colors fade at the horizon during the evening and nighttime hours. Exploring Greenland from the end of May to August means long, almost surreal days. It's best to relax and just embrace the havoc that thepermanent daylight can play on your body clock. Some travelers find themselves wild-eyed and exhilarated by the unending days. TIP: Pack some blackout eyeshades. While aboard the Sea Spirit, blackout curtains are in every stateroom. As much as you want to admire the water sparkling under the midnight sun every waking hour, you'll want to sleep. Eventually.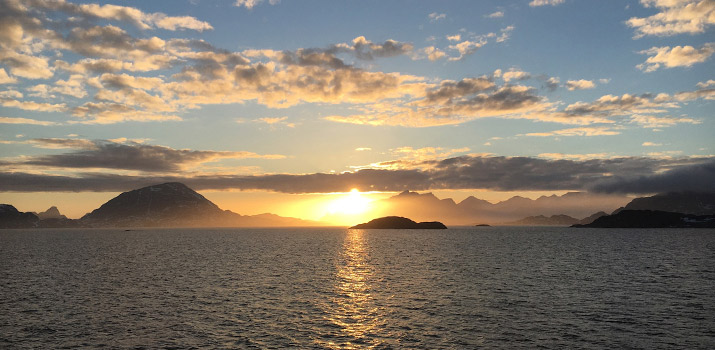 11:00pm - A beautiful Sunset - Yet the sky is still an exquisite blue... all night!


The Mighty Muskoxen
Travelers take to Greenland's coast to watch whales, but you'll need your binoculars inland as well. If you're a die-hard photog, bring your camera along. You never know if you'll come upon a herd of muskoxen. Shaggy arctic mammals named for their unique smell, they can set your pulse racing, especially if you love photography! It's no coincidence that muskoxen evoke a distant Ice Age, with their high-set horns and huge bodies up to 900 pounds (over 400kg). Muskoxen have roamed the tundra for more than a million years. They are found around Greenland's southwestern and northwesterly coasts, as well as the hills surrounding Kangerlussuaq, the country's main airport hub. Sightings along roads are common. If you like to hike, muskoxen are the main event, but you'll also stand a good chance of spotting Arctic foxes, snow hares and reindeer.
Did we mention that both the muskoxen and reindeer are delicious? On my last expedition, we were invited to a barbecue where the main course were muskox burgers and spicy reindeer sausage. Truly delectable!
Muskoxen atop a hill in Kangerlussuaq, Greenland
Greenlandic life follows the country's rhythm. During summer's permanent daylight, Greenlanders work and socialize into the wee hours and, most importantly, hunt. Harsh winter weather sends Greenlander's indoors, and the freezer stocked with summer game becomes the season's food source. Nature's abundance is given the greatest respect as waste is minimal. This naturalism is evident across Greenlandic culture, most strikingly in local handicrafts. Wonderful, small boutiques throughout Greenland sell clothing and accessories spun from muskox wool or carved from muskox or reindeer horn. Raw materials are scavenged from the land, or are by-products from animals hunted for food by Inuit people.
I never would have thought of Greenland as a place to experience my first arctic expedition. My initial preference would be to see polar bears in their natural habitat. Although they're still on my bucket list, I would travel back to Greenland in a heartbeat.
If you have anything you want to add about West Greenland, feel free to do so in the comments!