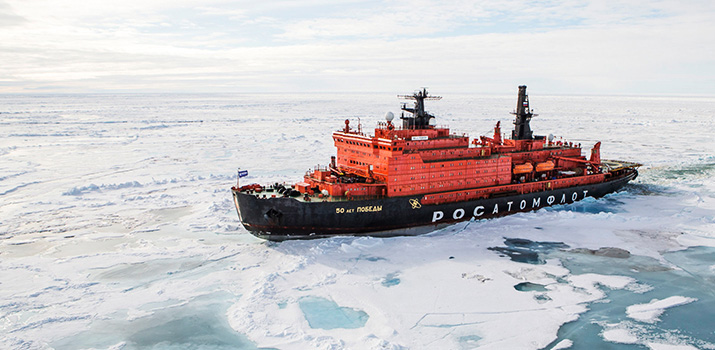 Each Summer during June or July, Poseidon Expeditions begins its North Pole season. The international expedition team leads three voyages a year to the geographic North Pole, hosting travelers from across the globe.
Passengers board the 75,000-horsepower, nuclear-powered icebreaker, 50 Years of Victory, in Murmansk, Russia, and crush their way through the Barents Sea, where whales are a common sight, and Arctic ice as they head toward 90° North Latitude.
Very few people ever have the opportunity to experience the journey to the North Pole but, for those that do, reaching the illusive destination on the top of the globe is nothing short of life-changing. Even those that have been there before – including Poseidon's own Jan Bryde, the expedition leader who has been to the North Pole more than 30 times – find new reasons to love the remote destination each time.
"If you believe the only reason to take this North Pole Expedition is to get to 90° North, you're wrong," Bryde said recently. "It's much more than that. It's difficult to put it all in words. You have to experience it, but I can assure you – it's 12 fabulous days that are going to change your life!"
Once they've reached the North Pole and shared a champagne toast, passengers participate in a festive barbecue atop the frozen sea ice and a special circle ceremony. For those brave enough, a polar plunge into the icy water adds another memorable experience.
During their journey, with 24-hour daylight to guide them, these adventurers also have the chance to see walruses, sea birds, and polar bears on the frozen landscape as well as the remote and rarely-visited archipelago of Franz Josef Land.
Thanks to the ship's onboard helicopter, guests get a bird's eye view of the ship and the scenery. In these photos you can also see the 114-passenger Sea Spirit, as it met 50 Years of Victory on the Arctic Ocean near Franz Josef Land.