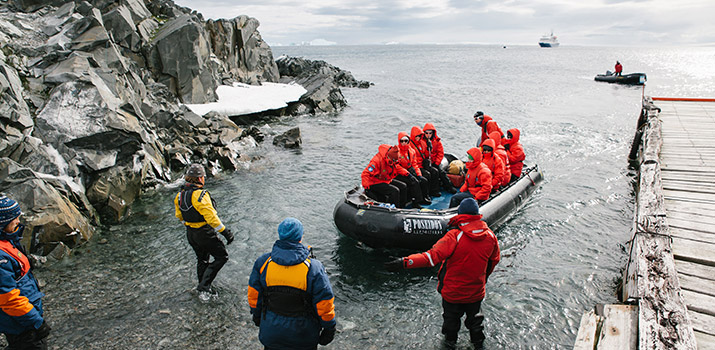 expedition |ˌekspəˈdiSH(ə)n| — a journey or voyage undertaken by a group of people with a particular purpose, especially that of exploration or scientific research.
That's the best part about an expedition. The unknown.
Now keep in mind, today's polar expeditions are nothing like the expeditions of yore. We'd never compare ourselves to Sir Walter Herbert, who from 1968 to 1969, led the British Trans-Arctic Expedition, a 3,800-mile surface crossing of the Arctic Ocean, from Alaska to Spitsbergen, which some historians had billed as 'the last great journey on Earth'. (
I did listen intently Kari!
)
No. Today's Polar expeditions, for most of us anyway, start on a comfortable ship. Typically built for well under 200 people. There are beautiful state rooms, an eager-to-please crew, delectable dinners, and a wonderful lounge. However, that's where the similarities to a typical cruise ship ends.
I just returned from a nine-day polar expedition to Western Greenland aboard the M/V Sea Spirit. There was a tentative itinerary, but the expedition team told our group on day one not to accept it verbatim. It was a harsh winter, and there were several fjords that had not fully defrosted yet so they may not be accessible by ship or zodiac.
The "expected" expedition…
The first day went off pretty much as scheduled. We traveled several nautical miles up the Nuuk Fjord, one of the largest fjord systems in the world, and dropped anchor. As you'll rarely find a dock in these parts, we rely on zodiac boats to take us to shore for a beach landing. You must wear all the necessary gear for safety and comfort, such as waterproof pants, waterproof boots, parka, hat, gloves, and life preserver. (hey, you're in the arctic!)
We came ashore in a tiny abandoned fishing village named Qoornoq. Here we spent several hours surveying an old fish-drying factory, rusted-out train tracks for transporting the fish, and to my surprise as several of us climbed up a nearby mountain, a few well-maintained "summer homes". Something you don't expect to see in the arctic.
Apparently, several Inuit families still make their way back to the village during the summer months,
as temperatures can reach up to 70 degrees Fahrenheit. No running water or electricity, but as I peeked in a few of the tiny homes, they looked to be ideal summer retreats. Lovely!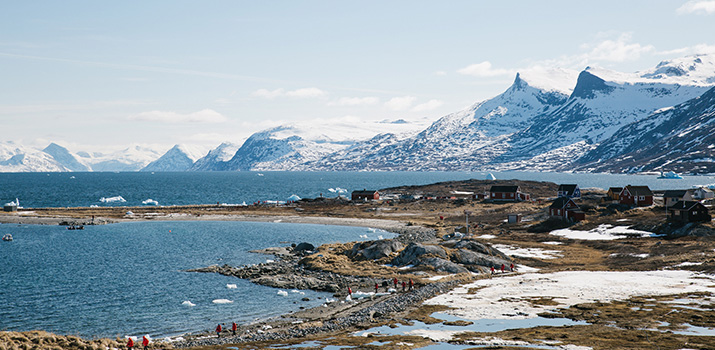 A few of us wanted to further explore Qoornoq, but the well-trained expedition team did have to ask us not to go any further as there may be the periodic polar bear lurking behind one of the many icebergs. Hence the reason a few of the expedition team members carried rifles. Good safety tip!
The "unexpected" expedition…
During our time on the ship, we performed beach landings by zodiac to explore some quaint little towns. Most of the time we could get through the fjords without issue.
This was not one of those times.
Our plans were to head up the Ilulissat Icefjord towards Disko Bay to the town of Ilulissat[/URL].
While in Disko Bay, we did manage to see some beautiful Bowhead whales as they were about to start their migration. Due to the heavy amount of sea ice covering the fjord, we were unable to make it to Ilulissat. As the ship's captain and our expedition team worked together, they discovered a landing on one side of the fjord for us to explore. It turned out to be a wonderful hike! If you were so inclined, you could head up the side of the mountain. Again, with our trusty expedition team on the lookout, rifles slung over their shoulders.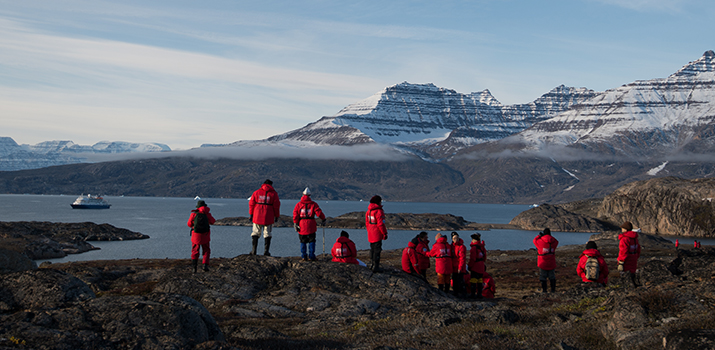 Truly impressive were many of the older, "empty nesters" moving up the mountain as I tried to keep up. Many of the guests were of this age group, so there was always the option of staying back on the ship to enjoy the beautiful scenery, or stay by the water enjoying the calmness of the fjord. Great fun was had by all.
The only difference this time was they had never been there before. As far as we could tell, no one has. There was tremendous wildlife, and even a juvenile white-tailed eagle sighting. A truly brilliant spectacle. Also, a tremendous workout for those that dared scale the mountain.
Our last expedition was not on the itinerary, but discussed as a possibility by our expedition as early as day one. Something that has never attempted before during disembarkation.
Due to the rough winter in Greenland, heavy sea ice in the last miles of Søndrestrom Fjord would prevent the ship from making its way to the planned disembarkation in Kangerlussusq. Although there was a slim chance the ice may melt by the end of our journey, the captain, directors at the home office, as well as our expedition team were already working on "Plan B".
Many of us termed it, Operation Sikor, (Sikor translates to "sea ice" in Greenlandic) and we were kind of excited!
The plan was to drop anchor, and take all 90 passengers in Zodiacs from the MV Sea Spirit,
to a grassy field five minutes away from the ship. A 19-seat Sikorsky S61-N helicopter awaited our arrival and flew us in small groups to Kangerlussusq Airport approximately thirty minutes away.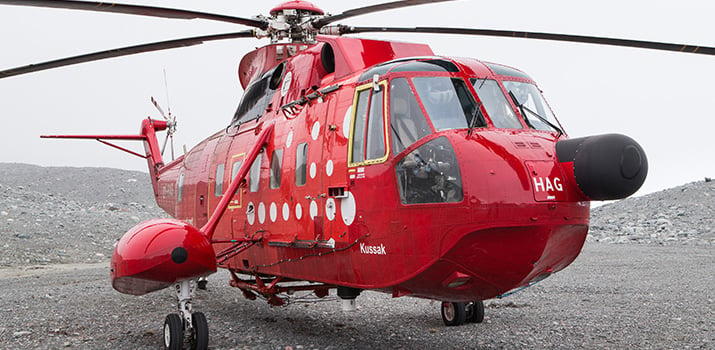 The plan went off with military precision, and was a wonderful way to end a very exciting expedition. We were like Navy seals, just without the heavy artillery.
All for the love of the expedition.
If you have anything to add about how something unplanned and unexpected on your holiday turned out to be memorable and special, please do so in the comments!