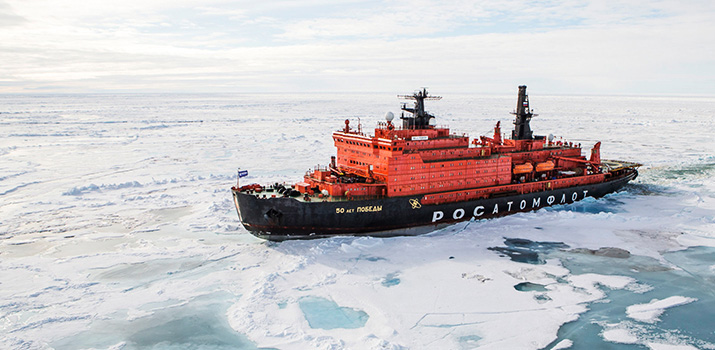 Guest blog post by Poseidon expedition team members Lauren Farmer and Alex Cowen.
Part One – Measuring and Observing Sea Ice in the High LatitudesThis past July, Poseidon's North Pole expedition team once again carried out an ambitious citizen science program with our guests aboard the nuclear-powered icebreaker, 50 let Pobedy (50 Years of Victory).
Since 2015, the two of us, along with marine biologist Annette Bombosch, have been working with the International Arctic Research Center and the Thayer School of Engineering at Dartmouth to collect valuable sea ice data, which is readily available to the research community through a program called
Ice Watch
.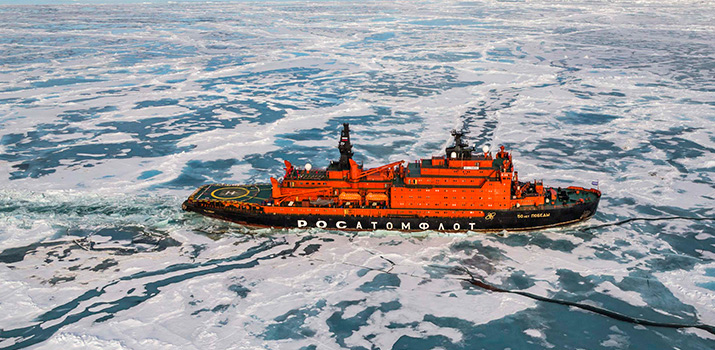 Icebreaker 50 let Pobedy breaking through the sea ice, as viewed from a helicopter during scenic tours.
Our icebreaker is in a unique position to collect this sea ice data, as it makes repeat transects from the edge of the Arctic Ocean sea ice to 90 degrees North and return, through the key months of summer melt.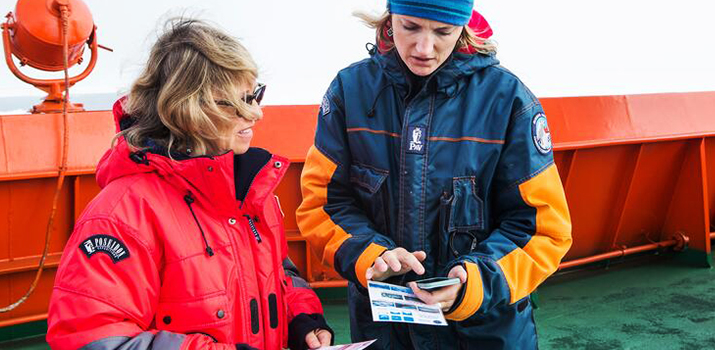 Annette Bombosch and guest Michelle input observations on cloud cover and cloud type into the GLOBE Observer App.

Observing and recording characteristics such as total coverage of ice, thickness, age, topography and the degree of melt can help scientists to understand how the Arctic Ocean is changing through the summer. They can also pair these data with other information to begin to understand how the state of sea ice might be affecting things like algal growth, which feeds the entire arctic food chain, and atmospherics such as cloud cover and surface temperature.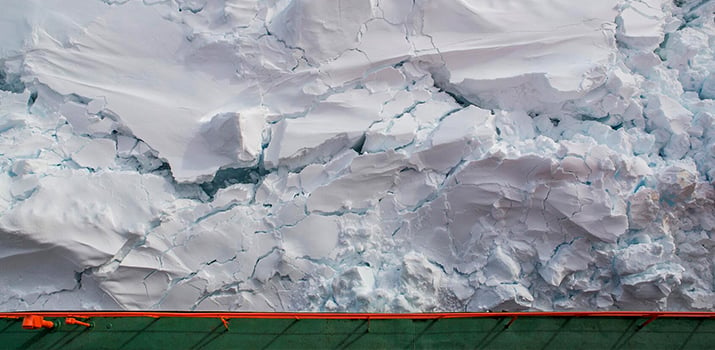 Starboard side of the icebreaker making its way through first year ice with significant snow cover, early in the summer season.
Sea ice cover is also an important component in regulating the arctic climate, so understanding the melt each summer helps us to predict what changes might occur in the near future.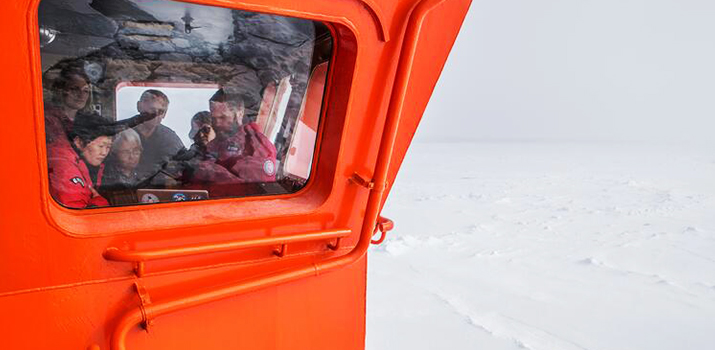 The sea ice data collectors view the sea ice from starboard side of the bridge, noting the weathered ridges and snow cover.

Watch out for our next blog post for Part Two of this Citizen Science project where we enlist the help of our guests to observe and report on atmospheric data and melt ponds at the North Pole.
Do you have anything you want to add? Please do so in the comments!