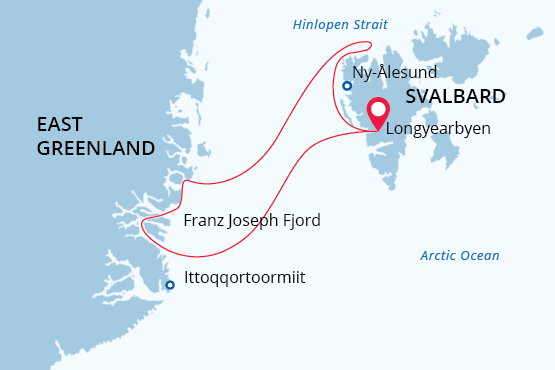 Svalbard & NE Greenland National Park
Icebergs, Fjords, Polar bears and Arctic wildlife
SPECIAL GUEST: CHRISTOPH HÖBENREICH
August 16, Longyearbyen (Svalbard)
August 28, Longyearbyen (Svalbard)


Dates
days
Activities
Special Offers
Rates from
Icebergs, Fjords, Polar bears and Arctic wildlife
8 Aug - 21 Aug 2024

14

SUPER EARLY BIRD SPECIAL

US$ 10 395


US$ 8 836


per person

Request a quote
Itinerary
Important:
In order to get the best experience and weather conditions, the sequence of cruise destinations to visit is subject to be inversed and you could feel a true expedition spirit.
Itinerary, landings and all other activities during the cruise depend strongly on ice and weather conditions and are subject to the decisions of the Expedition Leader and the Captain of the vessel. Encounters with any mentioned wildlife cannot be guaranteed.
Rates Include:
1 pre-voyage night on Day 1 in Radisson Blu Polar Hotel Spitsbergen in Longyearbyen;
Group transfer from the airport to the hotel on day 1;
Group transfer to the ship for embarkation on Day 2;
Shipboard accommodation;
All meals on board throughout the voyage;
Tea and coffee station 24 hours daily;
All scheduled landings/excursions (subject to weather and ice conditions);
Leadership throughout the voyage by our experienced Expedition Leader & Expedition Team;
Branded Poseidon Expeditions parka;
Rubber boots for shore landings for the time of the cruise;
Welcome and Farewell cocktails;
All port fees;
Group transfer to airport or central location upon disembarkation;
Pre-departure materials;
Wi-Fi on board.
Rates Do Not Include:
Airfare;
Transfers from the airport to the hotel if arriving prior to Day 1 of the program;
Visa and passport fees;
Luggage and trip cancellation insurance;
Soft drinks and alcoholic beverages other than those for special events and celebrations;
Personal expenses such as laundry and telecommunication charges;
Mandatory Emergency Evacuation Insurance to a minimum benefit of US$ 200,000 per person;
Kayaking;
The cost of any applicable medical tests (such as COVID-19) or vaccinations required either by a national government or Poseidon Expeditions before, during or after the cruise;
Staff gratuities.
Special guest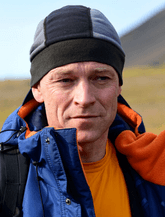 CHRISTOPH HÖBENREICH
GUEST LECTURER & ADVENTURER
Dr Christoph Höbenreich is a geographer as well as a certified mountain, ski and polar guide. In so far 20 expeditions he spent all in all two years in the ice and snow of the Arctic and Antarctic. Besides spending time in Franz Josef Land, he led ski expeditions to the North and South Pole, led the US polar base Mt Vinson Base camp, conquered the highest mountains of Antarctica, crossed Greenland by dog sled to only name a few achievements.
Adventure options
Kayaking fee $655 - A$885 - £505 - €625
Sea Kayak Club is typically offered on voyages that include High Arctic destinations such as Greenland, Svalbard (Spitsbergen), Franz Josef Land, or a combination of these thrilling places. Experience calving glaciers in Svalbard, cathedral-like icebergs in Greenland, or labyrinthine expanses of sea ice in the Arctic Ocean, all from our sturdy and stealthy sea kayaks. Join us for an unscripted kayaking adventure as we explore rugged coastlines and remote waters that very few people have ever paddled.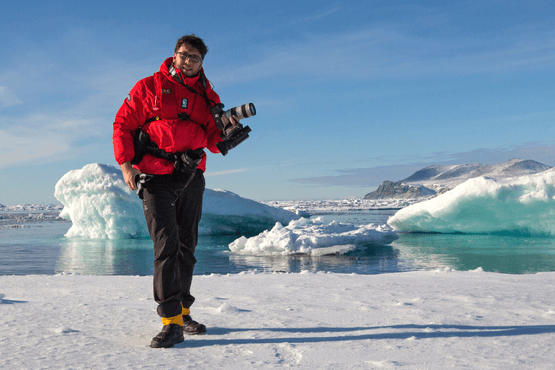 Free option
The Polar Regions are perhaps the most photogenic on earth, with countless beautiful scenes presenting themselves every day. Endless expanses of ice, beaches crowded with seals or penguins, sunsets over unbroken horizons, starlit skies, and even the majestic northern lights – they all present fantastic photographic opportunities – and in order to make sure that you come home with some spectacular images we offer you the chance to learn and practice your photography alongside an experienced professional.
Our expert Photographer will be on hand to answer your questions and give advice, both in the form of on-board lectures and workshops on shore. Explore the key elements of photography in a fun and relaxed setting, with plenty of opportunities for questions and feedback. Learn how to see light in a new way and experiment with the techniques of composition and framing.