Itinerary
Find the perfect expedition cruise that matches your appetite for adventure. Consider your must-see destinations and ports of embarkation and disembarkation. Choose your cruise from our departure list and look out for the kayak symbol. These cruises offer the unique opportunity to join our kayak club!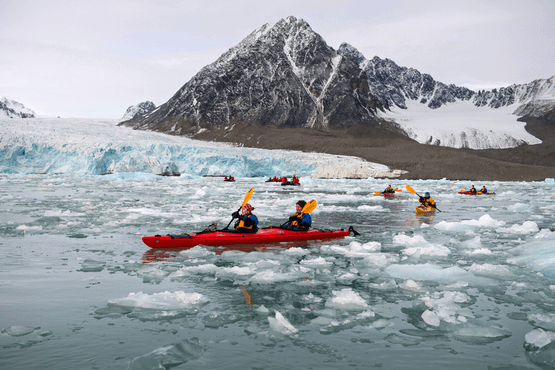 Activities
Shore landings and hikes
As comfortable as your expedition ship, the Sea Spirit, is, the real action is out there! Whenever possible we'll schedule landings on the most beautiful beaches or near historic sites, and our nature and wildlife guides will take you on hikes to discover the gems of these places. Take your cameras and binoculars! Don't miss the best photo-ops and ask our nature guides any questions about local wildlife and plants. We'll also properly prep you for the outings: you'll receive rubber boots for the duration of the cruise for shore excursions and our signature Poseidon Expedition parka (which is yours to keep!).
Zodiac cruising
Get a close-up view from aboard our small inflatable Zodiac boats. These are perfect to reach remote bays and beaches and to spot iconic wildlife.
Kayaking
Check your cruise for a kayak symbol! If you're lucky to get a spot in our kayak club, you'll get a very unique experience. Explore at your own pace and paddle the ocean in your stable kayak. Immerse yourself in pristine polar nature and enjoy the tranquility of paddling in some of the most remote places on Earth. While this experience comes at an extra cost, we highly recommend it for expeditioners who are looking for a more active component to their cruise. It's the experience of a lifetime and will make for unforgettable memories!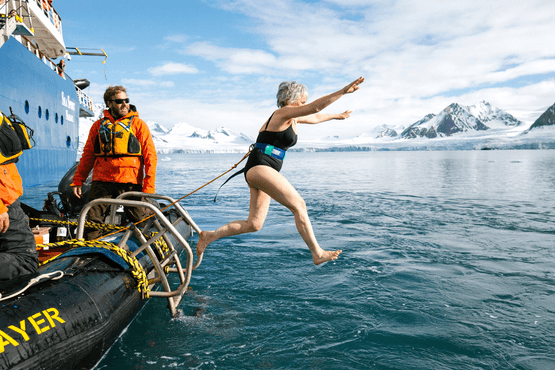 Lectures and workshops
Days at sea needn't be boring. Join our onboard lectures and citizen science projects; learn about history, geography, marine biology and wildlife from a team of professionals. Participate in research projects and become part of a global team aiming to preserve the beautiful polar worlds.
Photography
Take your best shot and bring home memories that last a lifetime. All of our cruises offer the best photo-ops of the polar worlds and our professional onboard photographers will be glad to show you their tips and tricks to get that perfect and frame-worthy picture.
The Polar Plunge
Pack your bathing suits! Thrill seekers can join the polar plunge and dive into the cold Arctic waters for an extra exhilarating experience.
Plan your tour
How get to Spitsbergen and Jan Mayen
Depending on the cruise you chose, you'll be looking at airfare to the departure ports of Edinburgh (Scotland), Longyearbyen (Svalbard), Reykjavík (Iceland) or, in some cases, Oslo (Norway) for those cruises that have the Oslo-Longyearbyen airfare included in your cruise package. Major airlines offer various (in some cases, cheap) options to reach these ports. We recommend you book in advance but not before your spot on the cruise is confirmed.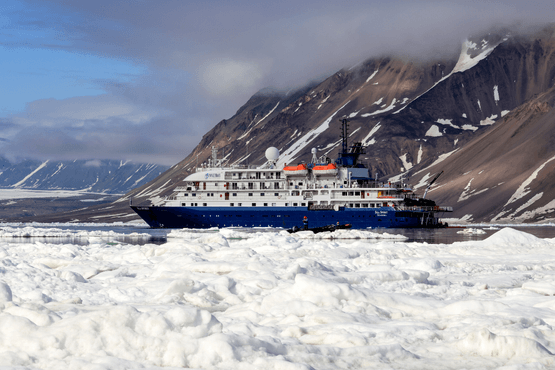 Visa control
While tourists do not require a visa to travel to Svalbard, depending on your country of origin and passport, a Schengen visa may be needed to reach Svalbard via mainland Norway. Likewise, we advise to check if you require visas to enter Iceland and the UK/Scotland if your cruise departs from these ports. Please contact your local consulates ahead of time to find out the procedure and costs. Please let us know if need any assistance, we'll be glad to help.
Cruise ships
Our 114-passenger expedition ship, the Sea Spirit, is perfectly suited for polar cruises. It features a restaurant, bar, gym, polar library, lecture rooms, comfortable cabins of various categories and a Jacuzzi on deck.
When should I go on a Svalbard and Jan Mayen Island cruise?
We time our Svalbard cruises mostly around May, June, July and August, as it's perfect to enjoy summer in the Arctic. During the polar day we'll have plenty of daylight to explore. On cruises later in the season (late August) travelers have the chance to see the northern lights.
Facts about Jan Mayen and Svalbard
Jan Mayen
Area: 373km2 (144 square miles)

Location: 600km (370 miles) northeast of Iceland and around 1,135km (705 miles) southwest of Svalbard

Population: uninhabited (apart from non-permanent research personnel)

Geography/geology: Volcanic island with highest point at Beerenberg (the world's northernmost stratovolcano with an elevation of 2,277m/7,470 ft)

Large breeding site for seabirds such as northern fulmars, little auks, thick-billed guillemots and black guillemots.

Belongs to Norway
Svalbard
Area: 61,045km2 (23,570 square miles) with 9 main islands: Spitsbergen (largest island), North East Land (Nordaustlandet), Edge Island, Barents Island, Prins Karls Foreland, Kvit Island, Kong Karls Land, Bjørn (Bear) Island and Hopen

Population: 2,650 (in 2021)

Geography/geology: The archipelago features numerous mountains and fjords and approximately 60% of it is covered in glaciers. The highest peak is Newtontoppen with an elevation of 1,713m (5,620 ft)

Large breeding site for seabirds such as northern fulmars, little auks, thick-billed guillemots and black guillemots

Under sovereignty of Norway but with restrictions