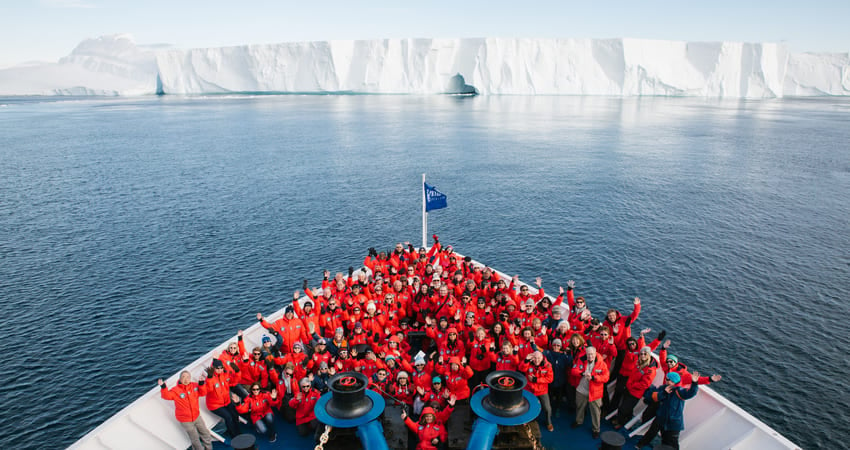 Antarctica is a dream destination for adventure seekers from almost every corner of the Earth. The seventh continent seems mysteriously remote and even inaccessible to curious travelers. So the main question that comes to mind when you finally get down to planning the trip of a lifetime is "How do I actually get there?". Well, something else you should be wondering as well is finding the best way to explore Antarctica – and it turns out to be by small expedition ships.
Googling Antarctica is a nice way to start, but you might get buried under numerous ads and tons of different websites, all with striking imagery and loads of information on the destination. Where should you start? We have you covered with a simple step-by-step guide that will hopefully get you through this ordeal of choosing the trip to the Antarctic continent.
Step 1. Choose your transportation

When you are planning a trip to Antarctica, you have to choose your boat wisely. And, we do not mean a rowing boat or a small yacht that might not rise up to the challenges of the Drake Passage when this infamous body of water separating Antarctica from the rest of the world is not in the mood. A trip to Antarctica does not necessarily require any special marine knowledge or yacht navigation skills. There are more comfortable ways of making your dream come true.
It is universally acknowledged that small expedition ships are the best means to explore Antarctica in comfort and style. An expedition ship is a vessel specially designed for navigation in remote or hard-to-reach areas with little or no infrastructure. The ship can be considered a hotel that changes its location each night, bringing passengers to new places and providing accomodations on board.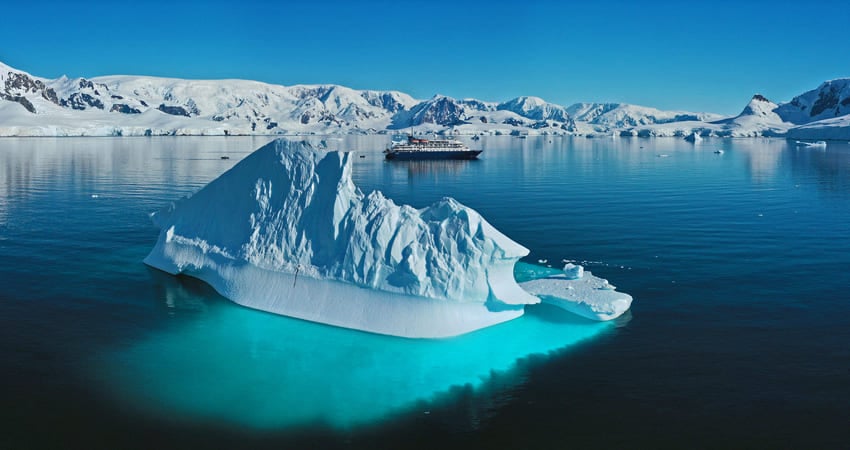 Another important feature of an expedition cruise is that there is no strict schedule, rather, the itinerary depends on the ice and weather conditions to make the best of every opportunity nature gives. All arrangements will be taken care of by the expedition team – a group of professionals working together to ensure passengers get the most out of their trip.
Each new Antarctic location is explored closer with the help of smaller boats – the inflatable Zodiacs. They enable you to come ashore at a landing site and, say, watch penguin rookeries or visit a polar research station. Every morning, you will wake up to a new place not knowing what to expect, but anticipating it will be something exciting and adventurous.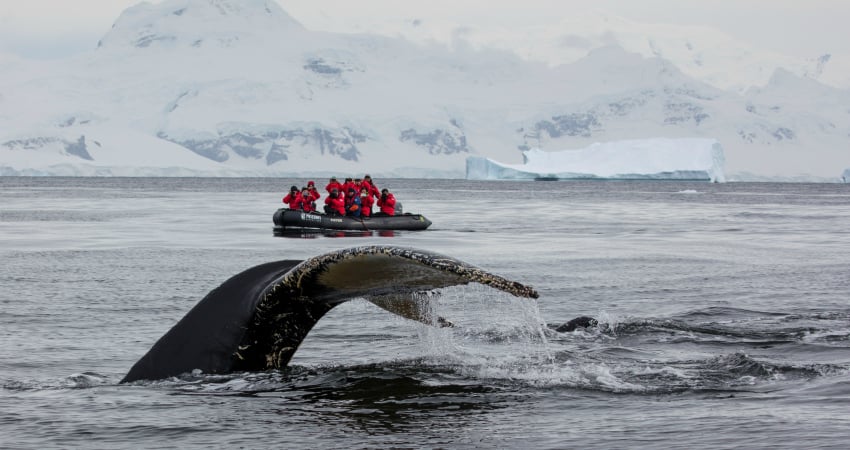 Step 2. Pick your dream ship

Now that we have covered that expedition cruising is the best way to explore Antarctica, you are ready to pick the vessel that will become your "home away from home" during your trip. Our advice would be to go smaller. To be more specific, look for a ship that takes about 100 passengers aboard. You see, the continent of Antarctica is not your typical tourist area, and scientific activity is the only permanent residency allowed.
The pristine ecosystem of Antarctica needs protection – and every visitor must follow a set of rules and guidelines to minimize the footprint we leave. The number of travelers on each landing site is limited by 100 people, and on a larger ship, you will have to wait your turn for every activity. We firmly believe that every person who comes to Antarctica should get an immersive experience, and not wait for his turn for adventure. That is exactly why you should consider choosing a ship that can provide equal experience to every passenger.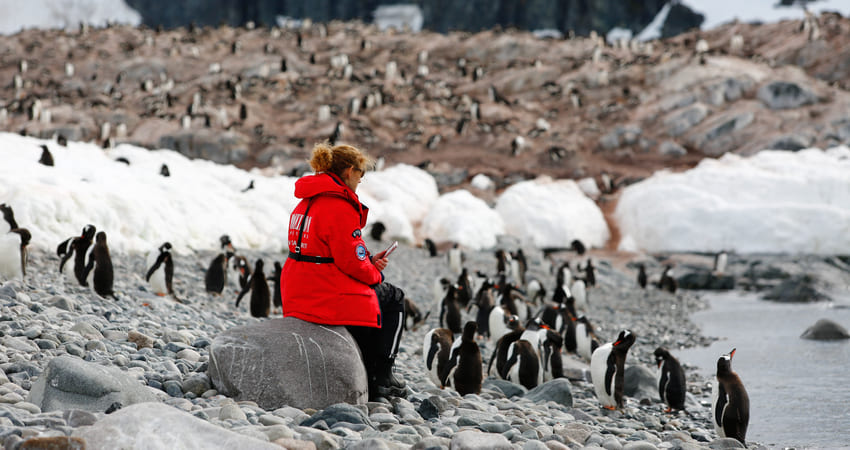 Smaller expedition ships have other advantages besides the possibility of simultaneous passenger landings. They include the ability to navigate in narrow passages and access secluded harbors which means having more interesting spots on the route map – and places where visitors are extremely rare. And, smaller vessel means smaller footprint in the fragile eco system of Antarctica.
Finally, sharing the unique experience of an Antarctica cruise with a close group of like-minded travelers makes the trip to be an intimate and personal experience. For those looking to make new friends, it can mean that every meal will bring acquaintances to share your experience with. For those who prefer solitude, a 100-passenger ship is still large enough to find a quiet corner. Plus, the landing sites are usually vast enough to not feel crowded at all. Anyway, keep the lucky number 100 in mind when choosing an expedition ship to take you to Antarctica.
Step 3. Choose your cabin

Most expedition vessels offer a variety of accommodations, including shared or singe cabins of different categories. Keep the cabin size in mind when choosing the right one for you – of course, the time spent in your room will be limited due to all the exciting activities during the day, but you will appreciate the comfort and space that you return to each night. Small cabins, say, the size of 130-160 square feet / 12-15 square meters, feel cramped and limiting to some passengers, especially when sharing it with a traveler you just met. Our advice – look for a ship with cabins at least 200-215 square feet / 20 square meters.
If you are an avid photographer, we suggest opting for a cabin with a private balcony, or cabins with quick access to the open decks – you never know when the whales might show up! If you are prone to seasickness, consider lower decks where you will not feel the ship roll so much.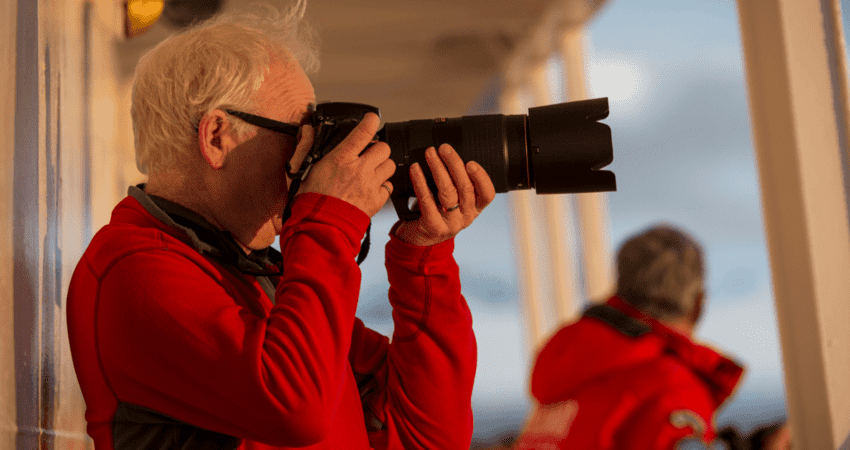 Step 4. Choose extra activities

In addition to exploring Antarctica with Zodiac cruises and landings, you can add to your experience by picking some extras – polar camping and kayaking. Imagine paddling in a sea kayak around ice floes where leopard seals peacefully rest or spending a night in a sleeping bag on the Antarctic Continent! These activities are usually worth extra, but they are a must for anyone looking for an immersive experience. They bring your expedition experience to a totally different level and are definitely among the must-dos of every Antarctic trip. Make sure to take care of these arrangements when you make the booking as space is usually limited and filles out fast.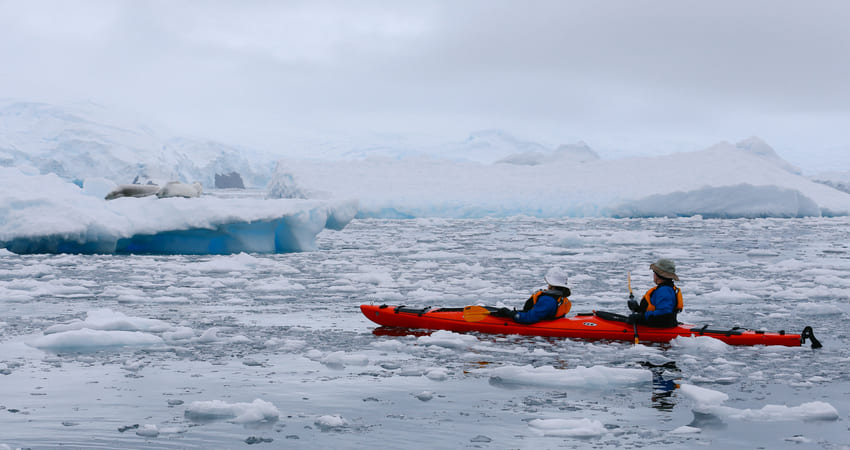 With our guide, you should feel prepared for more research and have an idea of what the perfect vessel for an Antarctic cruise should have. Another question that might cross your mind during the process is "When do I go to Antarctica?". You may find a walk-through for the seasons of Antarctica here. And once the booking is made, proceed to step five:
Step 5. Anticipate your dream Antarctic cruise
This step is very important – when the trip of a lifetime is booked, make sure to savor the moments of anticipation and longing. They might almost be as sweet as the voyage itself. Embrace the joy you feel when getting a great deal on flights to the port of embarkation in Argentina. Relish going through the shopping list for some gear you will need for the cruise. Count down months and days watching videos about Antarctica. It is all part of the experience, so remember to enjoy it!