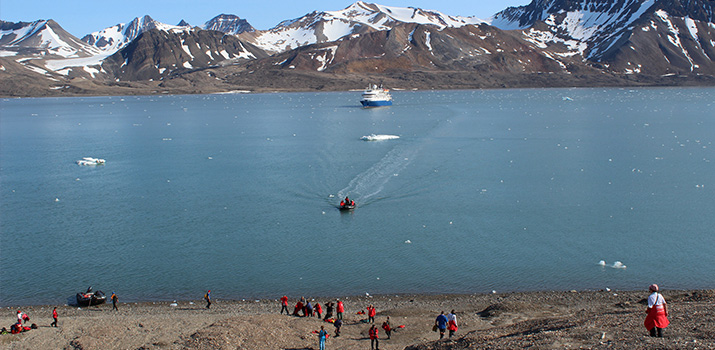 We travel because we love seeing the world and all its splendor.

Poseidon, like many of our friendly competitors within the expedition ship segment of the cruise industry, is always looking for ways to be more eco-friendly. Poseidon is also a member of the
International Association of Antarctica Tour Operators
(IAATO),
which advocates and promotes the practice of safe and environmentally responsible private-sector travel to the Antarctic.

Some of our recent eco-friendly initiatives aboard the
Sea Spirit
include:
Purchasing fish recommended by the Marine Stewardship Council for sustainability.




Removing all plastic straws and stirrers. Paper straws will be available on request.




Removing individual butter portions and replacing them with butter ramekins which eliminate the need for single-use plastics.




Using eco-friendly laundry detergents.




Installing bulk body wash, shampoo, and soap dispensers instead of using individual plastic bottles.



If you strive to be an eco-conscious traveler, to leave your destination as good or even better than you found it, consider incorporating any of these simple and effective practices into your next trip:

Say no to single-use plastics
Reaching for plastic straws, bottles, cutlery, or bags has become second nature, but it's a habit that's now being reigned in.
Rather than buying a new bottle of water everytime you're thirsty, opt for bringing a reusable bottle instead, and consider packing
reusable cutlery
and a
stainless steel straw
.
Put your body and beauty products into reusable silicone bottles and tubes instead of buying mini bottles of shampoo, conditioner or other products.
If shopping is on your travel itinerary, pack a couple of reusable shopping bags, too.
Conserve water
When you're at home, do you use towels only once? Do you leave the water running or wash your sheets every day? Probably not. When traveling, make a conscious effort to save water by hanging up towels and letting accommodation staff know you don't need new linens.
Plan green activities
Kayaking, bird watching, and photography leave no mark, just great memories. Before signing up for an excursion or activity, consider the impact it has on the environment regarding water use, emissions, and even wear and tear on the land.
Travel with eco-friendly beauty and body products
Products we put on our bodies often include harsh chemicals that can end up in water systems or in the air, and it's a real problem. Hawaiian lawmakers are considering
banning sunscreens with certain chemicals
because of the harmful effects they have on coral reefs. When you're packing your bags, consider reaching for beauty brands that use organic ingredients and recycled packaging.
Admire flora and fauna from a distance
"Take nothing but pictures, leave nothing but footprints" is a mantra to stick to when visiting any destination. Let wild animals be wild and keep your distance while avoiding any activity that involves animals in captivity. Resist the urge to pocket natural souvenirs and leave nature in its place.
Consider investing in climate offsets
If you want to do even more to offset your travel footprint, you can make a small investment in a climate security project. Programs such as
Terrapass
and
Gold Standard
offer an array of options and projects you can contribute to, such as planting biodiverse forests in Panama or the development of renewable energy sources in developing countries.
No one expects you to do all these things overnight but, by making small changes and working together, we will eventually get to the place we want to be.