Avid adventure lovers might wonder if their favorite outdoor activity, sea kayaking, is something that the seemingly harsh weather conditions of the Arctic Ocean allow. And indeed, it is — if you join a small-ship polar expedition during the cruising season, from late spring to early autumn. In the must-see destinations of Svalbard, Franz Josef Land, and Greenland, a small group of kayakers gets unmatched paddling opportunities to cherish for the rest of their lives.
Kayaking in the Arctic is unlike any other region in the world (except for Antarctica, perhaps): the serenity and a sense of being one with nature are balanced by exciting wildlife encounters, awe-inspiring mountain landscapes, and various ice structures to pass along. An experienced kayak guide will take you and seven more travelers to the rarely visited harbors and bays that very few people ever get to see.
Reasons to go on an Arctic Kayak Expedition
Paddle in the brash ice and admire glaciers and icebergs from an eye-level,
See polar bears, walruses, whales, seabirds, and other marine mammals in their natural habitat,
Admire geological wonders like basalt cliffs, mountain structures, and a variety of region-specific rocks,
Experience the calmness of polar nature away from any industrial sounds, even without the ship's engine in the background,
Discover the Arctic from a unique perspective of a kayak and venture into remote places where even the Zodiacs are unable to maneuver.
Our Kayaking Trips above the Arctic Circle
Welcome to the Land of the Vikings
The southern and western parts of Greenland hold many treasured Arctic features: the remnants of Viking history and modern Inuit villages, a chance to see different whale species, and an array of spectacular fjords and bays, including the Ilulissat Icefjord, a UNESCO World Heritage Site. The icebergs and glaciers of Disko Bay add to the experience, especially if you choose to kayak among them.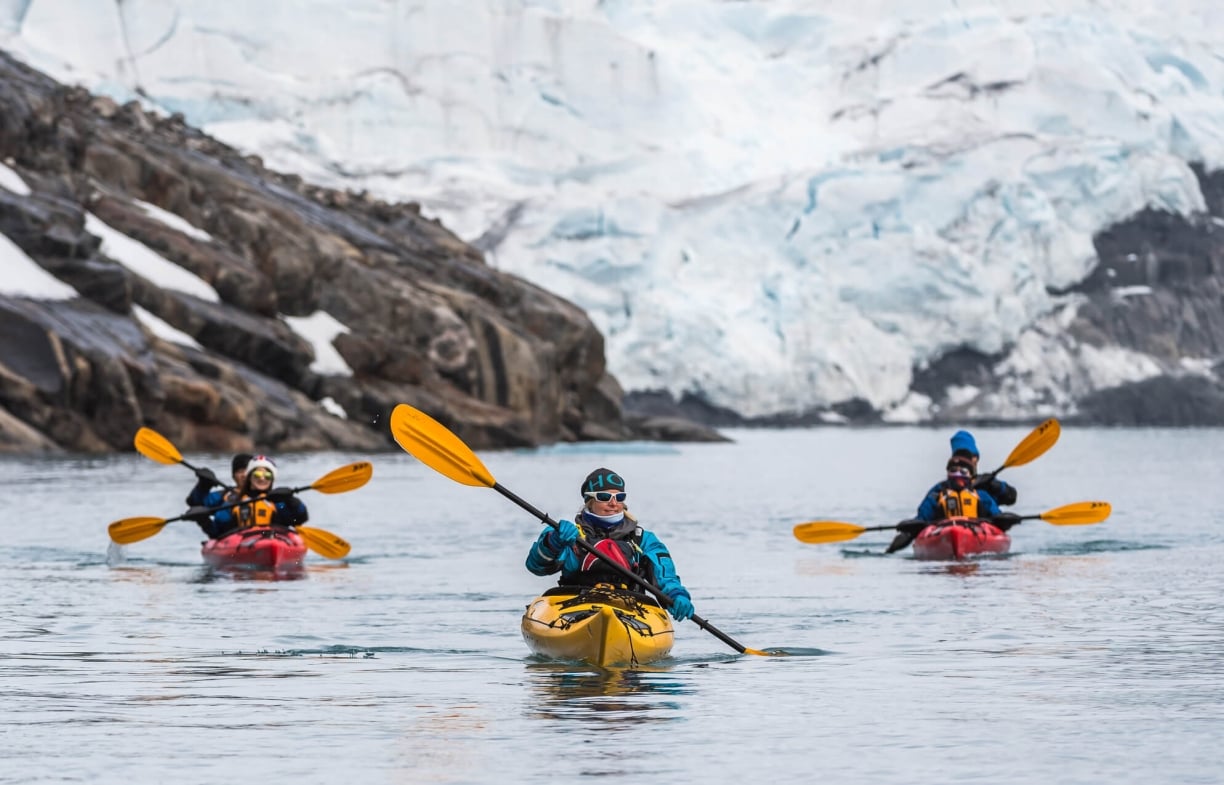 This 9-10 day cruise offers a comprehensive overview of the highlights of the Svalbard archipelago, particularly the western part of Spitsbergen where the opportunities to encounter wildlife are at their highest. Explore the northernmost settlement of the world and come aboard to get closer to the ice edge and see polar bears.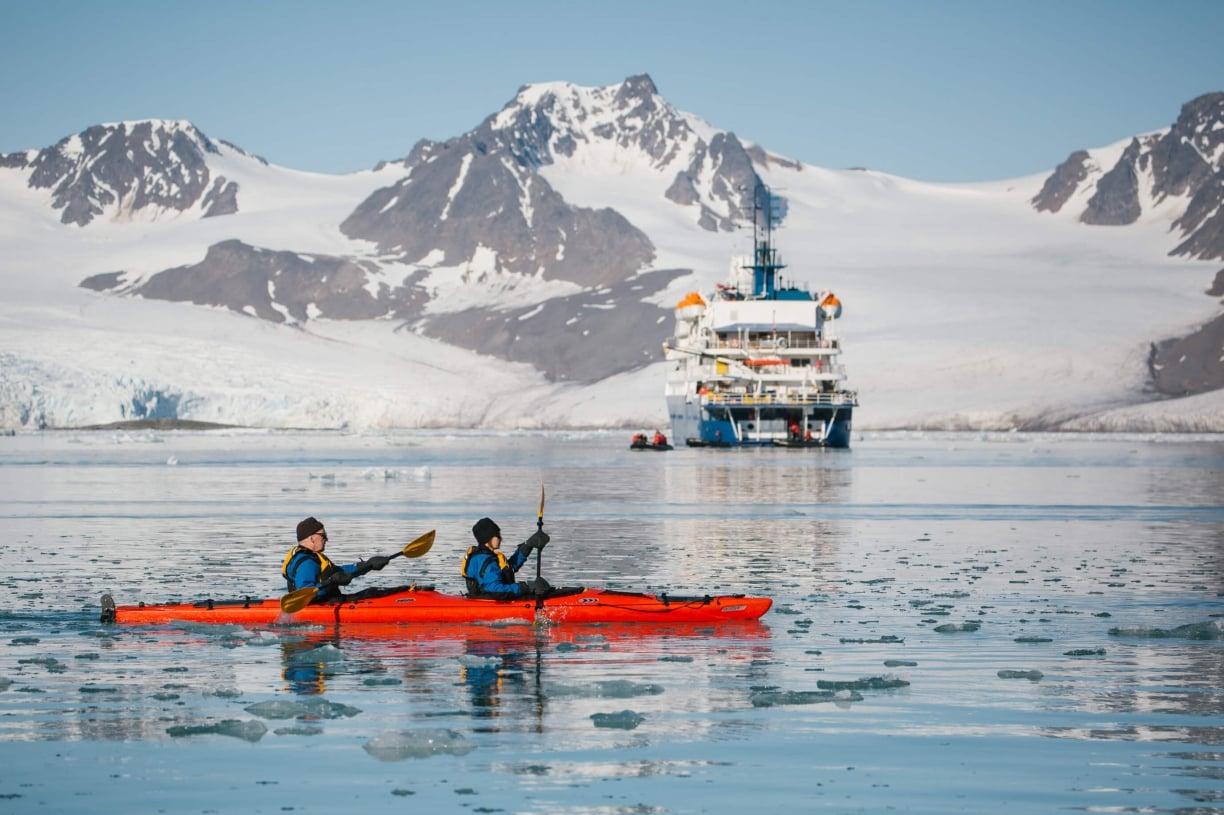 For a deeper exploration of the archipelago, we will attempt to perform a circumnavigation of Svalbard in an extended 11-12 day cruise. This gives travelers even more opportunities to encounter wildlife: polar bears, seals, seabirds, and whales in the Northwest Svalbard Nature Reserve area. The warm summer months are especially great for an Arctic kayak tour.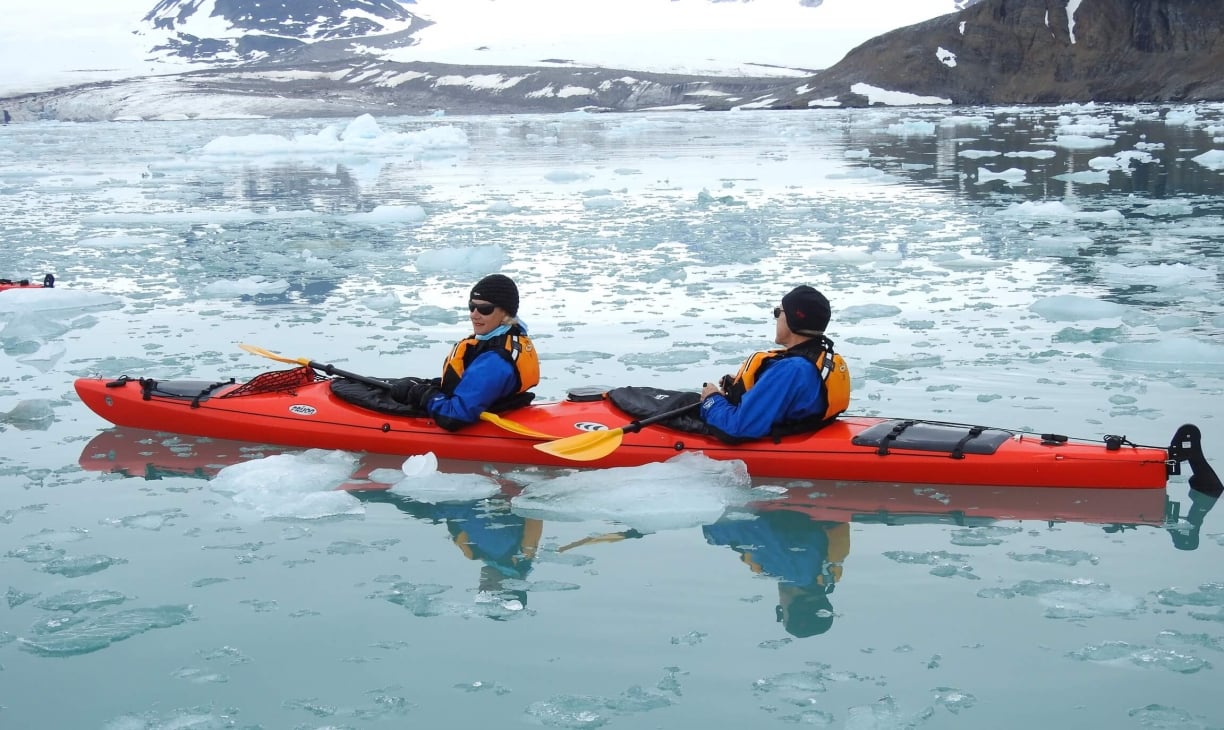 This expedition encompasses three quintessential Arctic areas: the glaciated vistas and polar bears of Svalbard, the Viking heritage and volcanic landscapes of Iceland, and the Northern Lights illuminating the skies above the icebergs in Greenland. In 14 days, cruise from northwestern Spitsbergen across the Greenland sea to the Northeast Greenland National Park and Scoresby Sund.
Rich in polar history and the diversity of wildlife, a Franz Josef Land cruise is a true expedition beyond the borders of civilization. Explore the stark landscapes of Bell Island, Champ Island, Hall Island, and other islands of the High Arctic archipelago over the course of two weeks. Come at a camera distance with polar bears, walruses, whales, and a few of the world's largest seabird colonies.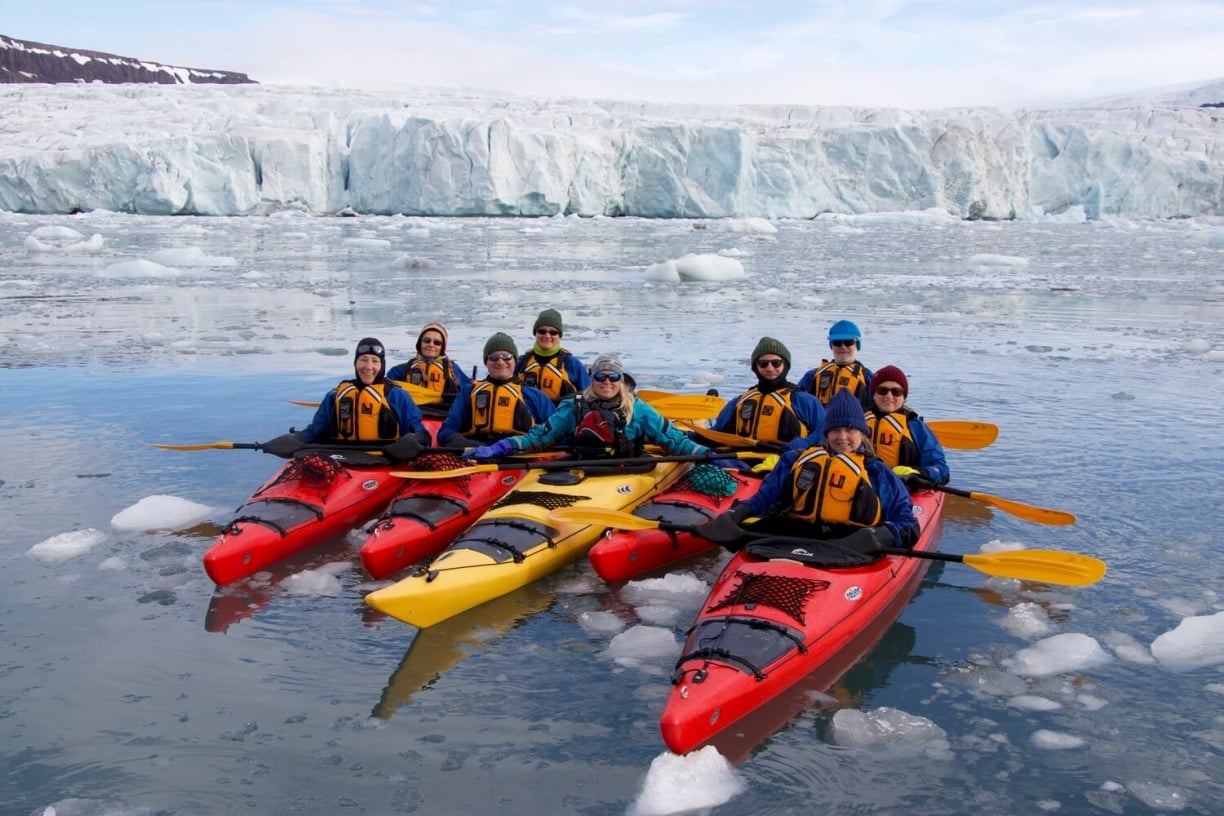 Arctic Sights and Northern Lights
A voyage somewhat defined by the Northern Lights, an 11-12 day East Greenland cruise actually has a lot more to offer. Start from Reykjavik and go across the Denmark Strait to see the flowering autumn tundra, towering icebergs, and a wealth of Arctic wildlife along the way. History buffs will enjoy the archeological sites and modern human endeavor.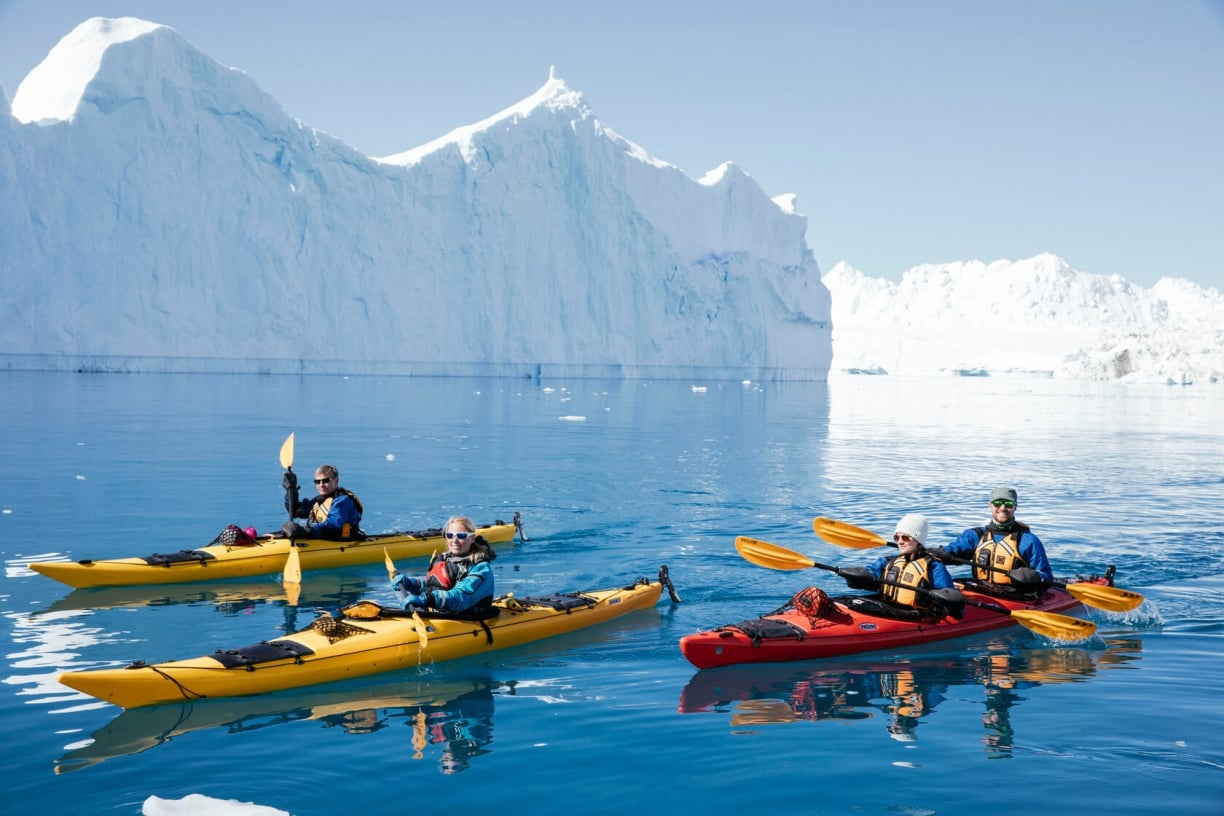 Arctic kayaking expedition details
You have to be able to swim well and have previous experience in order to join the group on an Arctic kayak tour.
Participants need to be able to understand and respond to the guide's instructions in English.
You must stay with your group at all times to ensure safety. A Zodiac always follows the last kayak as an extra precaution.
Paddling takes place at the same time as a landing: you will have the opportunity to choose the activity you want to pursue each time.
Kayaking sessions might last anywhere from an hour up to three hours, with distances up to six nautical miles (10 kilometers) to cover.
A reasonable fitness and coordination level is required, along with good health: nothing too advanced, but enough for a rather demanding physical outdoor activity.
All kayakers need to be at least 18 years old and acquire travel insurance.
Kayaking in Arctic seas is an optional activity offered for an additional fee. Since there are only 8 spots per voyage, we advise you to book in advance.
What will I see during kayaking?
High above the Arctic Circle in Franz Josef Land, kayakers get to encounter walruses, enormous seabird colonies, and the rugged beauty of a harsh mountainous landscape. Greenland offers icebergs of all sizes and colors, along with stunning views of the autumn tundra. Svalbard is known as the polar bear realm, but the experiences are not limited to seeing the king of the Arctic: seals, whales, ice floes, and glacier rivers are also plentiful here.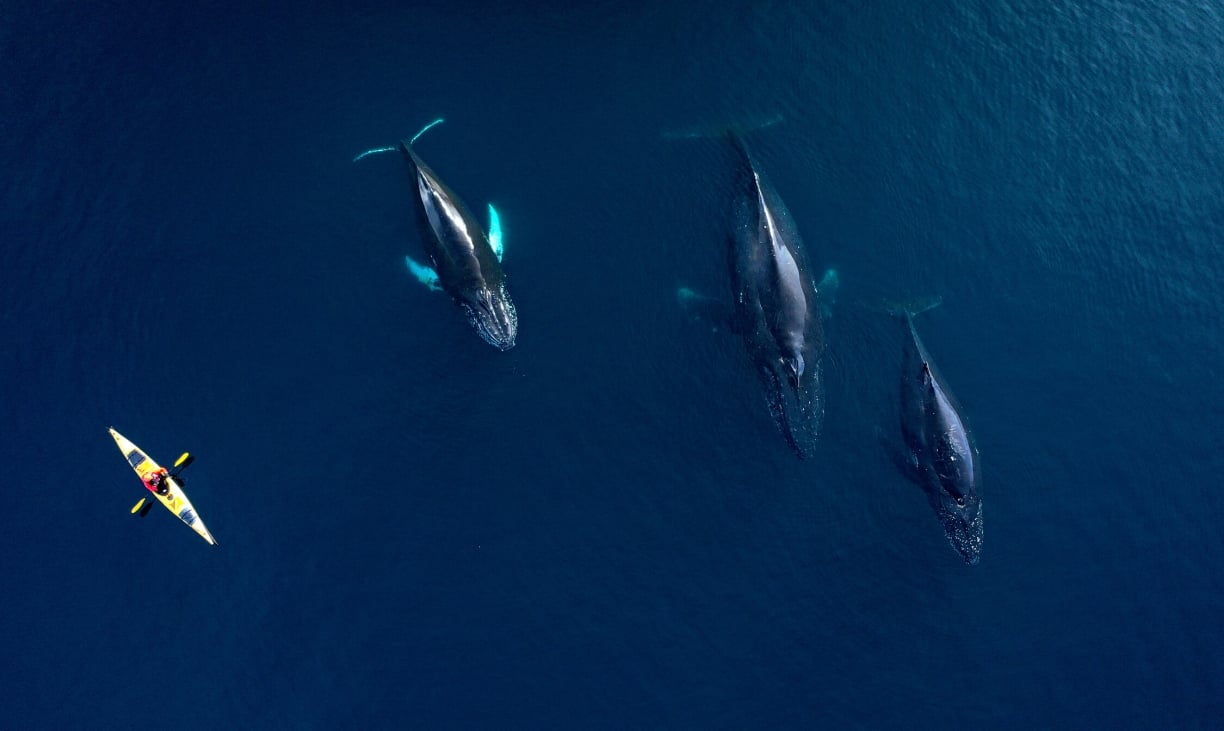 What are the weather and ice conditions like?
Paddling conditions may vary. Most frequently, kayakers venture from the open ocean into protected bays and secluded harbors where the water is calm and winds are moderate. The water and air temperatures are likely to be around 0°C (32°F). As polar weather can change quite rapidly, it is possible to encounter moderate chop and swell. However, in cases of stormy winds and rough seas, kayaking will be substituted for a different activity to ensure the safety of the participants.
How much does an Arctic kayak expedition cost?
The cruise cost varies depending on the month, region, and length of the itinerary. Prices start from around 4,000 USD for a spot in a 2022 Svalbard expedition and include most of the major expenses like accommodation, meals, and landings, except for airfare and insurance. Kayaking requires an additional fee in the amount of 655 USD or €625 for all Arctic cruises.
Tips for kayaking in the Arctic
Make sure to keep your hands and feet warm: always wear two layers of socks and gloves and possibly pack extras in your backpack. Liner gloves will also come in handy for taking photos.
Take a few kayak lessons closer to the start of the cruise to brush up on your skills. Practice basic paddle techniques and a wet exit (the Eskimo roll is not necessary).
Embrace the spontaneous spirit and be sure that the kayak guide and expedition leader will do their best to find the right places and conditions, depending on the weather and ice.
Provided gear
Poseidon Expeditions has you covered with the following gear and services for kayaking:
A Prijon Excursion EVO double sea kayak with rudder steering.
Paddles with rubber gloves.
A spray skirt and a full kayak suit.
A waterproof parka with a windstopper layer.
Muck boots.
A small waterproof dry bag for your camera.
As many paddling opportunities that the weather allows.
Guided supervision in English.
Other recommended gear/clothing
In the polar regions, packing the right clothing is essential for a safe, warm, and enjoyable experience. We recommend purchasing or renting the following items to kayak in Arctic waters:
Thermal underwear and socks.
Polar fleece jacket or a woolen sweater plus thick socks.
Waterproof trousers — rubber boots and an Arctic-quality parka are provided by Poseidon Expeditions.
A hat, a scarf or a buff, and gloves.
Camera gear.
Sunglasses and sunscreen.
Prescription medication.
Casual clothing to wear aboard the ship.
A small backpack.