Corporate events
A great corporate event is engaging, productive and memorable. For employees, coworkers or business associates looking for a venue for trade shows, seminars, product launches or charity galas, a retreat on a small expedition ship might be the right choice. An intimate, club-like atmosphere aboard the vessel encourages camaraderie and breaks down barriers, providing an immersive escape from the daily routine.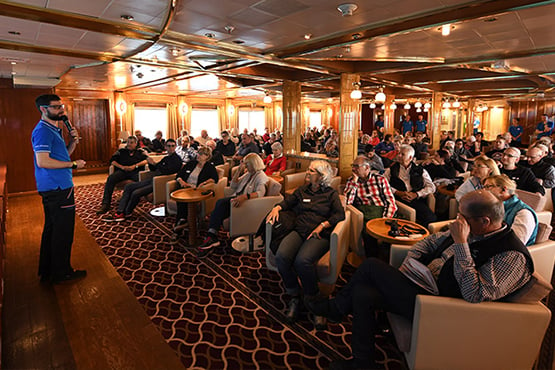 A SINGLE LOCATION WITH ALL THE NECESSARY AMENITIES
For corporate parties, you usually have to look for a conference room to hold presentations and workshops, a restaurant with contemporary international cuisine, and a hotel to accommodate the participants after the event. Poseidon Expeditions' m/v Sea Spirit has all that and more: an outdoor bistro, a club lounge, and a gym. Those who wish to spend their free time networking or socializing will enjoy the stylish bar, while the library provides peace and quiet for product planning and idea generation. 24-hour engagement is guaranteed!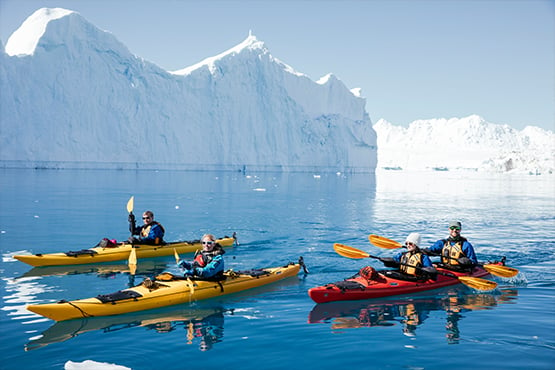 OPTIONAL ADVENTURES FOR THE WHOLE TEAM
Cruising aboard the 114-passenger m/v Sea Spirit may not be limited to sea days: we are open to discussing the possibilities for outdoor adventures, including landings, Zodiac excursions, and sea kayaking. The shared experiences will act as a great team-building exercise. Contact our polar advisers to work out the perfect corporate event for your group!