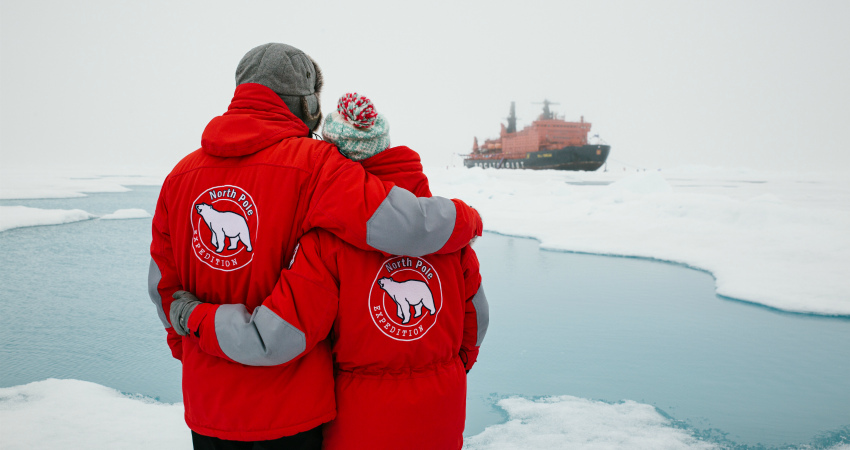 Modern-day expedition cruising offers intimate wildlife encounters, epic nature viewing and adventure options for any age and preferred activity level. The best vessels to discover the remote destinations of the Arctic or Antarctica are small expedition ships, like our very own 114-passenger Sea Spirit or the "50 Years of Victory" icebreaker.
Even for those traveling solo, the informal atmosphere aboard offers plenty of opportunities for socializing. You can have a suite all to yourself or opt for a shared cabin experience when we match you with a passenger of the same gender. If you prefer traveling with a partner, friend or family, choosing the right person to accompany you to the polar regions can seem challenging at first.
Here are five traits to describe your perfect travel companion:
Adventurous
Polar expedition cruising entails traveling to the wild places rarely visited by tourists and doing things you've never done before. Not many people can say they have kayaked with whales, camped under the stars of Antarctica or hiked the flowering tundra in Svalbard. Sharing these experiences with a like-minded person can double your joy. Consider inviting someone who can match your excitement for each new adventure.
Outdoorsy
Cruising aboard our m/v Sea Spirit is like staying in a five-star hotel with spacious suites, fine international cuisine and plenty of opportunities for leisure. But we also embrace the expedition part of our voyage with landings, Zodiac excursions, and optional camping and kayaking. To enjoy these activities, it's crucial to properly gear up, and that means leaving your fancy clothing at home and sporting a pair of Muck boots and a warm Poseidon parka. Make sure that your fellow passenger is ready to explore the polar regions expedition-style.
Wildlife Enthusiast
The Arctic and Antarctica are full of opportunities to experience the abundant wildlife in its natural habitat. If you know someone who can easily spend hours watching rare animals, you can be sure he or she will be the right companion for a polar expedition cruise. Among other iconic wildlife, we get to see the beauty and splendor of the majestic whales, charismatic polar bears and animated penguins roaming the pristine landscapes of the remote islands or deep-blue waters of the surrounding oceans.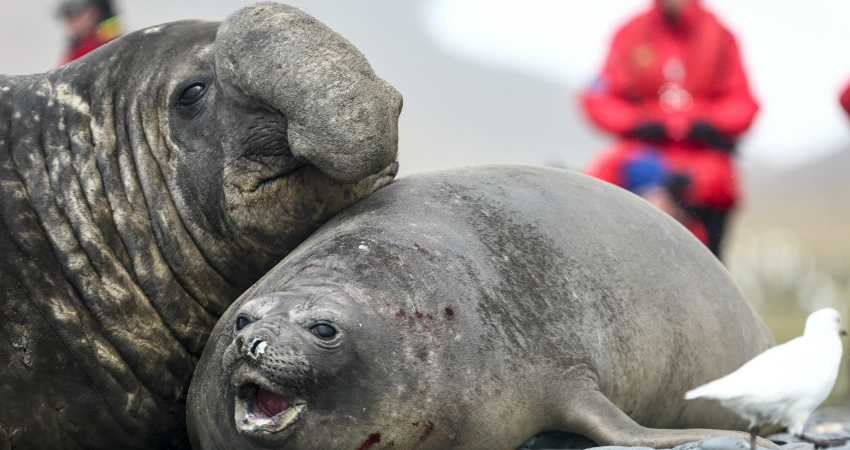 Flexible
In the polar regions, our route and itinerary depend heavily on weather and ice conditions. This is a real expedition: we strive to make the most of every situation, but the unpredictable nature acts as our compass, and we have to follow her guidance to ensure safe and responsible cruising. Your travel companion has to be ready for the possible sudden changes in day-to-day activities and even embrace the unscripted moments.
Respectful
Traveling means discovering new places and meeting people of different backgrounds, and learning something about yourself as a result. In the polar regions, you have to be respectful of the safety and environmental regulations, and local communities and culture. And it goes without saying that sharing a cabin with another person is much easier when he or she is mindful of your personal space and respects your privacy.
This completes our list of character traits for your perfect travel companion - choose wisely! Now, for a much easier choice, take a look at the list of our departures, where you can simply pick any cruise you like!