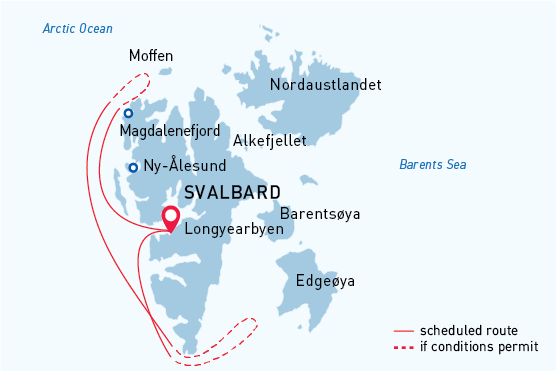 West Svalbard & Polar Ice Edge
Arctic Wildlife Safari
SPECIAL GUESTS: RICK SAMMON & ERIN CURRY
June 15, Longyearbyen (Svalbard)
June 22, Longyearbyen (Svalbard)


Itinerary
Rates Include:
1 pre-voyage night on Day 1 in a hotel in Longyearbyen;
Group transfer from the airport to the hotel on the day prior to embarkation;
Group transfer to the ship for embarkation on Day 2;
Shipboard accommodation;
All meals on board throughout the voyage;
Tea and coffee station 24 hours daily;
All scheduled landings/excursions (subject to weather and ice conditions);
Leadership throughout the voyage by our experienced Expedition Leader & Expedition Team;
Branded Poseidon Expeditions parka;
Rubber boots for shore landings for the time of the cruise;
Welcome and Farewell cocktails;
All port fees;
Group transfer to airport or central location upon disembarkation;
Pre-departure materials;
Digital Voyage Log;
Wi-Fi on board.
Rates Do Not Include:
Airfare;
Transfers from the airport to the hotel if arriving prior to Day 1 of the program;
Visa and passport fees (if applicable);
Luggage and trip cancellation insurance;
Soft drinks and alcoholic beverages other than those for special events and celebrations;
Personal expenses such as laundry and telecommunication charges;
Mandatory Emergency Evacuation Insurance to a minimum benefit of US$ 200,000 per person;
Kayaking;
The cost of any applicable medical tests (such as COVID-19) or vaccinations required either by a national government or Poseidon Expeditions before, during or after the cruise;
Staff gratuities.
Important:
Itinerary, landings and all other activities during the cruise depend strongly on ice and weather conditions and are subject to the decisions of the Expedition Leader and the Captain of the vessel. Encounters with any mentioned wildlife cannot be guaranteed.
Special guest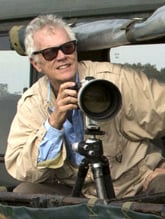 Rick Sammon
Award-winning photographer
Rick started his professional photography career as an underwater photographer. He easily transitioned into travel, landscape, wildlife, cultural and nature photography. Rick's images, from his travels to more than 100 countries, have been published in numerous newspapers and magazines, and have been featured in his 39 books. Rick will provide a photo workshop and be available for tips and advice – all with the objective of helping you capture the mood and feeling of the expedition. His wife Susan will also offer instructions on better smart phone photography.
Rick also teaches image processing on the ship, helping transform snapshots into great, memorable shots. In recognition of his talent and influence, Rick has been named a Canon Explorer of Light. Rick is also a Westcott Top Pro Elite. You might also catch Rick at the piano or with his guitar in the lounge!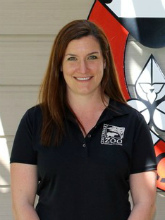 Erin Curry, PhD
Polar Bear Reproductive Physiologist
Erin is a staff scientist at the Lindner Center for Conservation and Research of Endangered Wildlife (CREW) at the Cincinnati Zoo & Botanical Garden, where her research centers on polar bears. She earned a degree in animal science from the University of Delaware and after working as a veterinary technician for a few years she pursued graduate studies at Clemson University in South Carolina, earning her Ph.D. in 2010 in animal physiology, with concentrations in reproductive physiology and molecular biology.
She joined CREW as a post-doctoral fellow in January 2011, and began working with polar bears, an iconic species for climate change due to their dependence on sea ice for survival and reproduction. In addition to developing novel methods for non-invasively monitoring reproductive activity in polar bears, in 2012 Erin led a CREW team in performing the first-ever artificial insemination procedure in a polar bear. She looks forward to sharing her knowledge about the role of zoos in polar bear conservation.
Adventure options
Kayaking fee $655 - A$885 - £505 - €625
Sea Kayak Club is typically offered on voyages that include High Arctic destinations such as Greenland, Svalbard (Spitsbergen), Franz Josef Land, or a combination of these thrilling places. Experience calving glaciers in Svalbard, cathedral-like icebergs in Greenland, or labyrinthine expanses of sea ice in the Arctic Ocean, all from our sturdy and stealthy sea kayaks. Join us for an unscripted kayaking adventure as we explore rugged coastlines and remote waters that very few people have ever paddled.
Free option
The Polar Regions are perhaps the most photogenic on earth, with countless beautiful scenes presenting themselves every day. Endless expanses of ice, beaches crowded with seals or penguins, sunsets over unbroken horizons, starlit skies, and even the majestic northern lights – they all present fantastic photographic opportunities – and in order to make sure that you come home with some spectacular images we offer you the chance to learn and practice your photography alongside an experienced professional.
Our expert Photographer will be on hand to answer your questions and give advice, both in the form of on-board lectures and workshops on shore. Explore the key elements of photography in a fun and relaxed setting, with plenty of opportunities for questions and feedback. Learn how to see light in a new way and experiment with the techniques of composition and framing.