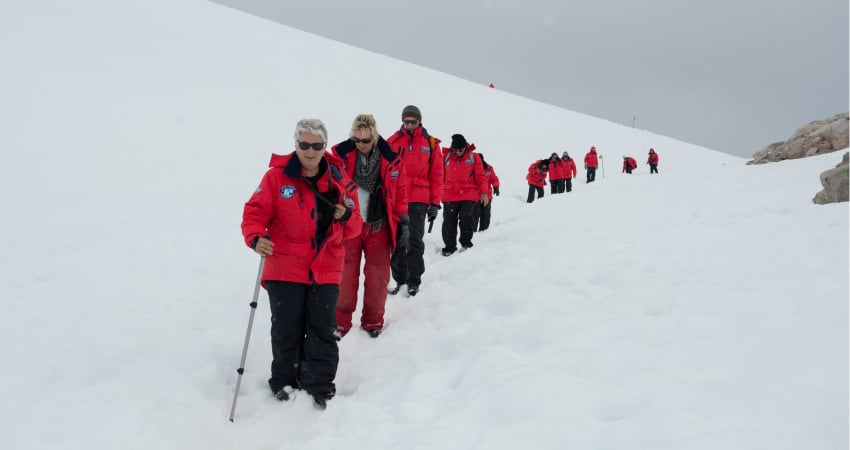 Most travelers postpone going to Antarctica because of the common stereotype that you would need to spend a lot of money on special gear or equipment for an expedition like that. Sure, packing for an Antarctic cruise is a little different from your average vacation. But we assure you it is not as hard as it may seem. Read on to find out what you do need to bring yourself and what can be taken care of by your polar cruise operator!
Clothing needed for a trip to Antarctica
Unless you are a research scientist, you will be traveling to Antarctica during the austral summer, when temperatures are generally mild. Expedition cruising takes place from mid-October to March and covers the destinations of South Georgia, Falkland Islands and the Antarctic Peninsula. Whenever you go, you can expect a variety of weather conditions such as rain, wind, snow and sunshine (even at midnight).
Our recommendation is to bring "Arctic quality" clothes that will fit into a layered clothing scheme. For example, packing lightweight long-sleeve t-shirts, turtlenecks and a waterproof shell is better than packing five big, cotton sweaters and two huge winter down coats. Keep in mind that you may experience anything from t-shirt weather to sub-zero snow squalls. Each day's temperature might change quickly without any time for you to change your clothes – so layers are essential.
Some cruise operators include the parka in the cruise cost and it will be yours to keep for future adventures. Poseidon Expeditions will provide you with insulated, water- and windproof parka. It is specially designed by Poseidon's knowledgeable team based on many years of experience in harsh environments.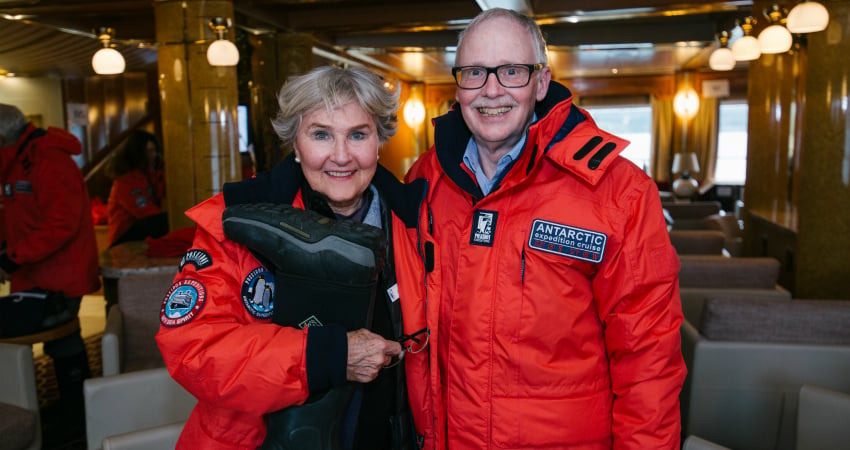 For the bottom, the essential item for an expedition to Antarctica is are waterproof pants. А pair of water-resistant "rain-pants" made of coated nylon will be of use during Zodiac cruises and landings ashore. Look for Gore-Tex and other synthetic fabrics that are waterproof and "breathable". These materials keep out wind and water without trapping excess heat. Also bring any sturdy trousers that can be layered between your long underwear and rain over-trousers. This is probably the most important clothing you can pack for a trip. You will also need a couple of sweaters or a polar fleece jacket. Wool sweaters or a jacket of medium weight are recommended.
Your packing list should include thermal underwear. You should select medium to thick thermal underwear; long sleeve thermal top, trousers and socks. Most people prefer a lightweight version – but this depends on your personal thermostat. Be sure to bring a warm cap to protect your ears and a scarf or a wind stopper to keep the wind out of your neck as well.
Keeping your hands warm and dry is an important challenge. Thin polypropylene gloves should be worn underneath warm mittens so you can take off your mittens to operate your camera and maintain some level of protection against the cold. These should be loose enough to permit good blood circulation. It's a good idea to bring an extra pair of wool mittens to wear if your other pair gets wet or lost.
Now, we have covered just about everything except expedition footwear. Sturdy, tall wool (or other thick material) socks should be worn over a thin pair of silk, polypropylene or cotton/ wool socks which provide enough insulation for your feet. Bring several pairs of outer socks, as your feet may inadvertently get wet. Make sure to get high-quality rubber boots for landings. Poseidon Expeditions will provide you with insulated waterproof Muck boots for the duration of the cruise. For maximum warmth, wear loose-fitting boots and two pairs of socks.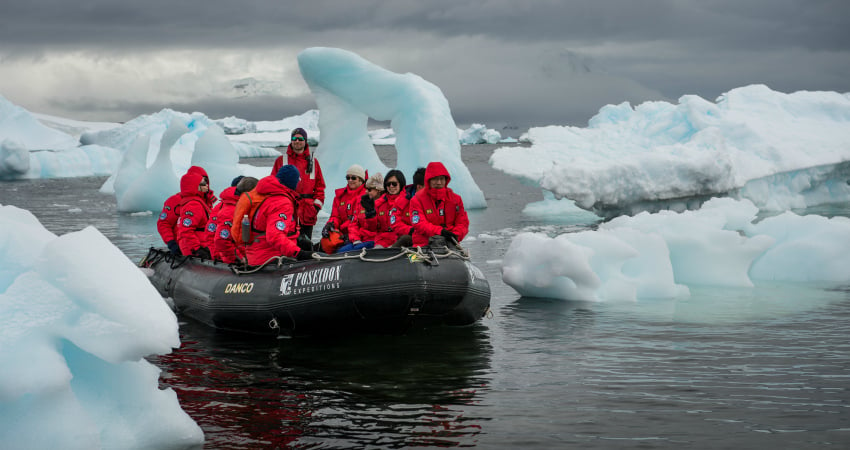 Last but not least, bring comfortable clothing and shoes to wear on board the ship. Nothing too fancy, except maybe something special to wear to the welcome and farewell cocktail parties. No high-heeled shoes for women though – they are not suitable for an expedition ship.
Special items you should bring to Antarctica
Now that we have your clothing packed, let us review the accessories that you would need for a trip to Antarctica. First on our list is a waterproof nylon backpack, rucksack or similar bag for carrying your camera and other gear. Make sure your primary shore-landing bag has shoulder straps so that your hands are free, particularly when boarding the Zodiac. A pair of binoculars for spotting whales and seabirds from the deck of your expedition ship is highly recommended.
The sun in Antarctica can be very dangerous. High quality sunglasses with U.V. filter are recommended even on cloudy days, as the U.V. reflects powerfully, even when you do not expect it. Your normal sunglasses will suffice, but polarized sunglasses are most effective. Tinted ski/snowboard goggles are also be useful if conditions are windy, snowy, etc.
The reflected glare from water, snow and ice can be intense and will burn the skin of passengers in certain conditions. Protective sun-block lotion for your lips, hands and face is highly recommended. Double that with a lip balm to protect you against drying out, sun damage and wind-burned lips.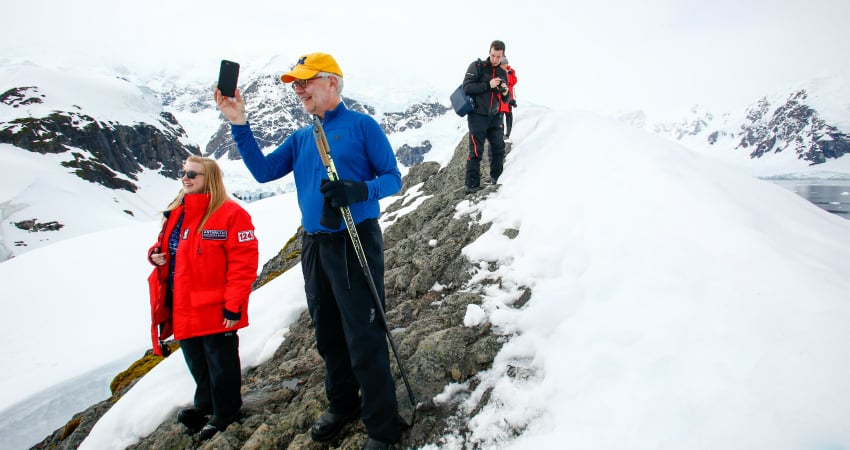 Expedition ships do have a medical office you could attend if necessary, but as for any other trip, it is very important that you bring your prescription medicines and other remedies such as seasickness medication. While you are at it, pack spare contact lenses or prescription glasses as required.
Lastly, consider bringing a bathing suit for hotels, hot tubs aboard some ships and (just maybe) a polar plunge. And to ensure a comfortable night rest, pack earplugs and a set eyeshades for sleeping in 24-hour daylight.
Photography equipment for an Antarctic cruise
If you are an avid photographer, take two camera bodies with you, each of them with different lenses – a wide-angle lens for landscapes and a telephoto lens for wildlife photographs. You may also bring a polarizing filter or an ND filter and a tripod. A lens of 100-400 mm will be adequate for shooting in Antarctica. Up in the Arctic, a focal lens of up to 600 mm or an extender will help capture remote objects, such as polar bears or walruses.
Your equipment is likely to get wet at some point during your trip, and so this is why it is of the utmost importance that you bring waterproof camera equipment that is weather-resistant to some extent. Also, the cold temperatures in the polar regions can make shooting with batteries difficult. We recommend bringing additional batteries with you that you can swap out in the situation that your camera equipment does get very cold and your batteries fail.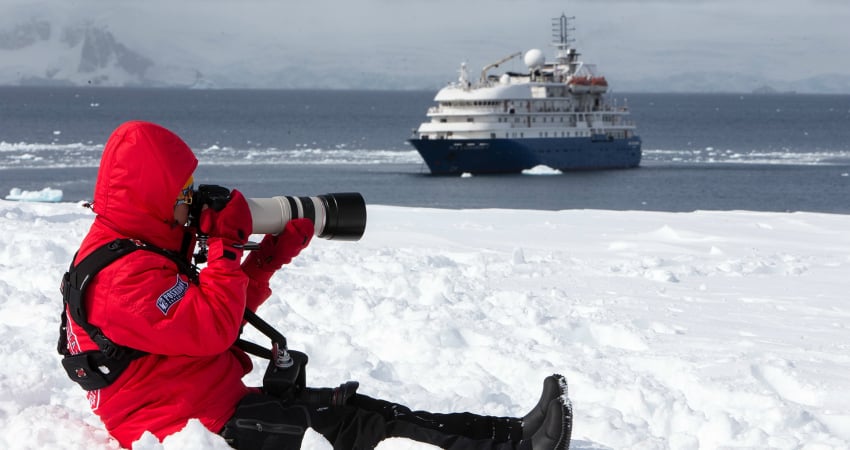 Additional packing tips from Poseidon Expeditions
The paragraphs above may seem like a lot at first, but you will quickly realize it is not as extreme as you thought. Modern expedition cruises do not require that much preparation and investment in terms of gear. You can even consider renting it if you live in a warm climate and do not plan to travel to colder regions very often.
For environmental reasons, plastic lock bags are generally not recommended and not allowed for itineraries that include South Georgia.
For our m/v Sea Spirit cruises to the Arctic and Antarctica, you do not need to bring any gear for extra activities – sleeping bag for camping or stuff for kayaking and hiking – all of it will be provided at home. You can also pack light on the books – we have an excellent polar library on board.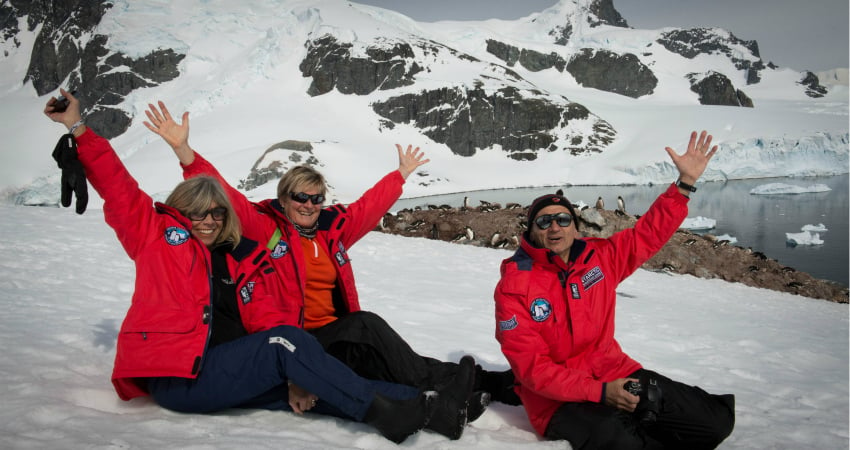 Now you know what specialist equipment is needed for an expedition to Antarctica and how to pack for your polar cruise. Review our selection of Antarctica cruises and start packing!