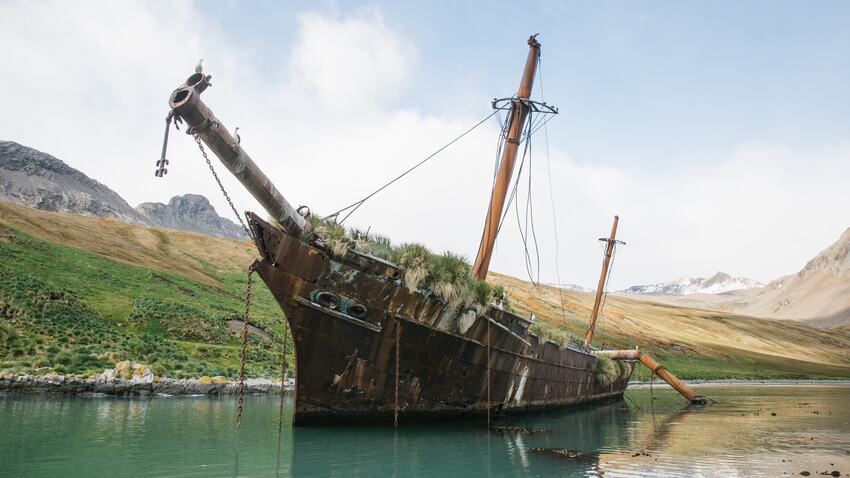 Visit the Most Important Places along the Route of Endurance
Sir Ernest Shackleton's Endurance expedition (1914-1917) is regarded as one of polar history's greatest stories of survival and heroism. The name of Shackleton's ship, Endurance, seems appropriate as he and his men endured incredible dangers and hardships during their time in Antarctica and South Georgia. On an Antarctic expedition cruise, you can comfortably follow in Shackleton's footsteps at some of the most important places along his historic route.
Weddell Sea
Shackleton and his crew of 27 men departed Grytviken, South Georgia, on December 5, 1914 and sailed south toward Antarctica's Weddell Sea. The plan was for Shackleton and his expedition team to go ashore and to travel overland across Antarctica, becoming the first people to do so. Instead, Endurance became hopelessly stuck in ice, leaving Shackleton no way to get ashore. After drifting with the solid pack ice for the next ten months, Endurance was finally crushed and sank in the Weddell Sea on November 21, 1915.
You can see the infamous Weddell Sea pack ice for yourself on certain cruises to Antarctica. In December 2021, Poseidon Expeditions is offering a cruise to South Georgia that includes a stop at the edge of the Weddell Sea to experience a rare total solar eclipse. Some cruises to the Antarctic Peninsula also venture into the Weddell Sea for a glimpse of the huge tabular icebergs that were familiar to Shackleton and his crew during their time in the pack ice.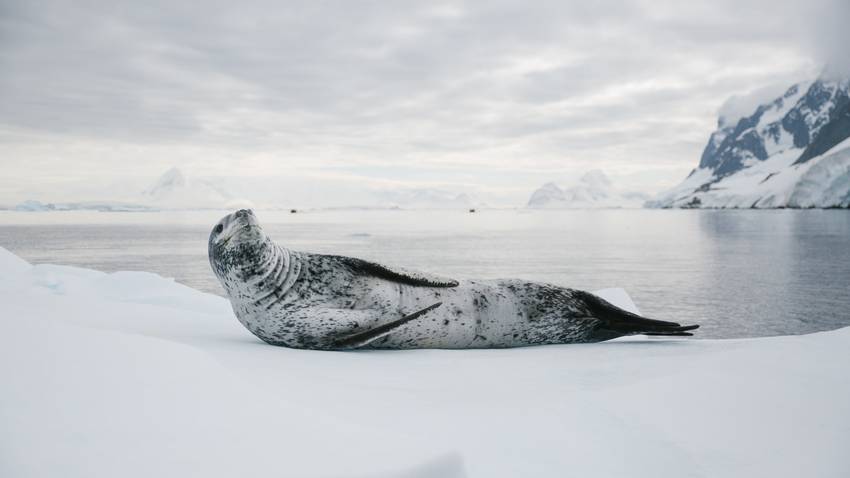 Elephant Island
After the sinking of Endurance, Shackleton and his crew camped on the drifting ice for another five months until the ice floe underneath them broke apart. On April 9, 1916, they got into their lifeboats and steered a course for Elephant Island, a desolate lump of glacier-covered rock north of the Antarctic Peninsula. Along the island's largely inaccessible coastline, they found a relatively sheltered gravel beach where they could set up camp. They named the place Cape Wild (now called Point Wild) after Shackleton's second-in-command, Frank Wild.
You have a chance to visit Elephant Island on an Antarctic cruise. This lonely island is usually visited on the way from South Georgia to the Antarctic Peninsula. Even by Antarctic standards, Point Wild is a rough and inhospitable place. Landings are usually not possible, but a Zodiac cruise is enough to give you an appreciation for the harsh conditions faced by the crew of Endurance during the four and half months they were stranded there.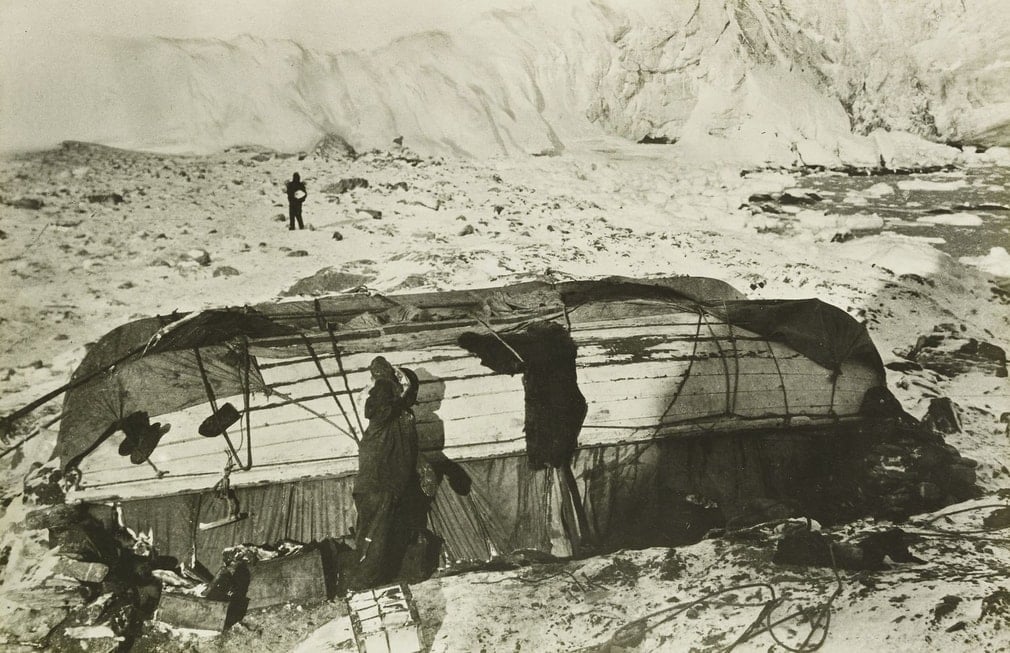 Scotia Sea
Realizing there was little hope of being found on Elephant Island by a passing ship, Shackleton decided to go in search of help. On April 24, 1916, he and five of his men boarded the lifeboat James Caird and set sail for South Georgia, 800 miles (1,290 km) across the notoriously rough Scotia Sea. Unable to take more than a few sun sightings, they navigated mostly on dead reckoning and gut instinct. With the lives of all 28 men depending on their success, these six men undertook one of the most harrowing and heroic small boat journeys of all time.
You can also cross the Scotia Sea on a cruise to South Georgia. Cruise ships follow pretty much the same line taken by Shackleton when traveling between South Georgia and Elephant Island. However, the crossing by cruise ship takes only two days, compared with Shackleton's two weeks. Even without the hurricane force winds encountered by Shackleton, the vastness of this polar sea is impressive and humbling.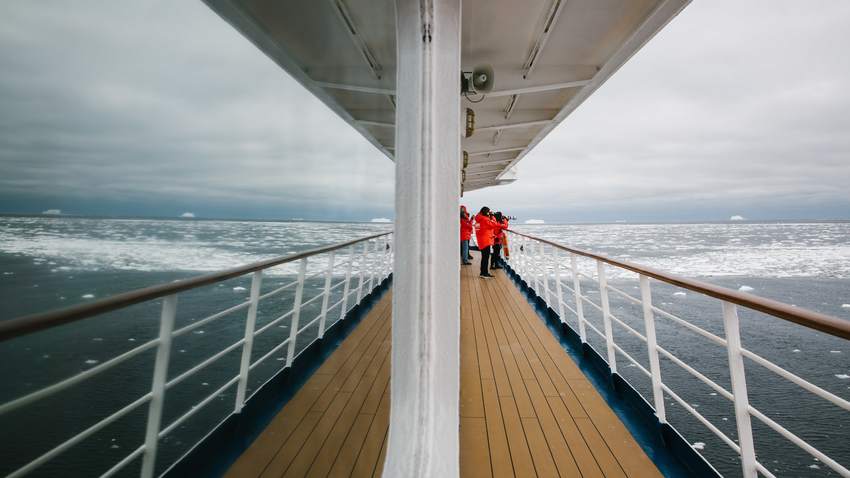 South Georgia
Shackleton and his men finally came ashore at King Haakon Bay, South Georgia, on May 10, 1916. The whaling stations were on the other side of the island, across mountains and glaciers that had never been traversed before. Shackleton and two of the men hiked 32 miles (51 km) over extremely hazardous terrain for 36 hours before reaching the whaling station at Stromness Bay. Rescue missions were then sent for the men left behind at King Haakon Bay and Point Wild, all of whom lived to tell the amazing tale of the Endurance expedition.
On an expedition cruise to South Georgia, you can follow in Shackleton's footsteps. An activity popular among cruise passengers is the Shackleton Walk, which retraces part of his legendary crossing of the mountains. Passengers are dropped off at Fortuna Bay for a 3.7-mile (6-km) guided hike along the last section of Shackleton's route, arriving at the now-abandoned Stromness whaling station. Hikers are rewarded with stunning subalpine scenery and abundant wildlife at Stromness Bay.
In 1922, Shackleton returned to South Georgia on his final Antarctic expedition. On January 5, he died suddenly of a heart attack at Grytviken. At the former whaling station where he started his legendary Endurance expedition, you can visit the grave of Sir Ernest Shackleton, one of the greatest polar expedition leaders who ever lived.