8 December, 2022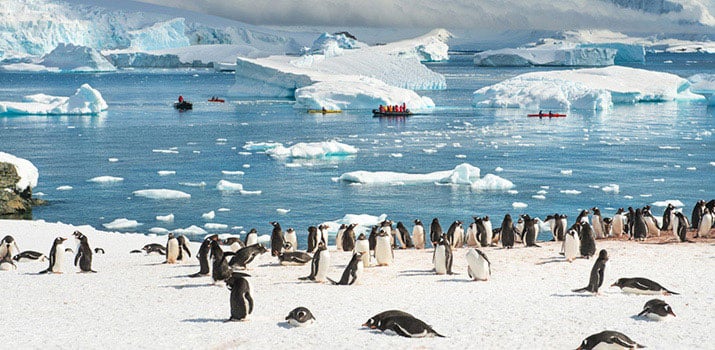 Antarctica is a fascinating, mysterious place. Discovered less than 200 years ago by Charles Wilkes, our southernmost continent is still revealing its secrets to us today.
We wouldn't know anything about this remote, other-worldly place if it weren't for the fearless and endlessly curious explorers who have made the long trek south.
Here are some of their amazing stories:
Charles Wilkes (1798-1877)
Wilkes may have been a famed explorer, but he was only able to explore because of his role as an American naval officer. In 1861, during the Civil War and after discovering Antarctica, Wilkes received orders to command Merrimac, a Union warship. After a series of rank promotions, Wilkes was accused of collecting prize money instead of capturing destroyers and sentenced to a three-year suspension, only to receive a reduced suspension from President Abraham Lincoln. By 1866, he was retired and his title of rear admiral was returned.
Sir James Clark Ross (1800-1862)
After exploring the Arctic and discovering the Magnetic North Pole, Ross turned his sights on Antarctica. From 1839 to 1841, Ross charted the Antarctic coast, discovering the soon-to-be named Ross Sea and Victoria Land region of the continent. Ross discovered and named two of the continent's volcanoes (Antarctica does have volcanoes) after the expedition vessels – Terror and Erebus. Unlike many of the other early Antarctic explorers, Ross's story had a happy ending, and he was knighted upon his return to England.
Roald Amundsen (1872-1928)
Amundsen and his crew were the first to reach the geographic South Pole, beating his competitor and fellow explorer Robert Falcon Scott by just a month. Not only was Amundsen the first to be credited with reaching both the North and South Poles, he held several other coveted "firsts" in exploration, including being the first to lead an air expedition to the North Pole and the first to cross the Northwest Passage.
Robert Falcon Scott (1868-1912)
Scott led a successful Royal Navy career and two expeditions to Antarctica and his name is still well-known today, even by those unfamiliar with Polar exploration. Peter, the son of Scott and his wife, Kathleen Bruce, founded the World Wildlife Fund (WWF).
Jules Dumont (1888-1943)
It was 1840 when French Antarctic explorer Jules Dumont discovered the tiny and adorable penguins that he would later name after his wife, Adéle. According to the World Wildlife Fund, "the scientific name for the Adélie penguin is Pygoscelis adeliae. Pygoscelis means 'rump-legged', but the genus is better known as 'brush-tailed penguins'."
Richard Evelyn Byrd (1888-1957)
Byrd led quite a life – serving in the U.S. Navy during World War I, exploring the Arctic, and leading extensive exploration of Antarctica. He championed flight exploration of the Poles and took many chances during his ventures – including spending five months in solitude, during the winter months, in Antarctica to make auroral and meteorological observations.

Sir Ernest Shackleton (1874-1922) and Frank Wild (1873-1939)
After Sir Ernest Shackleton passed away during a journey in the Falkland Islands (Malvinas), he was put to rest on South Georgia at the request of his wife, Emily. In 2011, the ashes of Frank Wild, who accompanied Shackleton on four expeditions to Antarctica and took control of the voyage on which Shackleton died, were buried next to Shackleton's remains, 72 years after his death. Wild's final wishes were to be laid to rest next to Shackleton but Germany invaded Poland just two weeks after his death and the plans were postponed – indefinitely. In a 2011 Telegraph article, Robin Yapp wrote about the fulfillment of both Wild and Shackleton's last wishes, "According to Alexandra Shackleton, her grandfather said of Wild: "He is my other self. I love him. He has been a tower of strength."
Ann Bancroft (Born 1955)
In 1993, Minnesota native Ann Bancroft led the American Women's Expedition to the South Pole. According to the website of the Ann Bancroft Foundation, which provides support, resources and inspiration for girls and women in the United States to make their dreams come true, Bancroft became the first known women in history to cross the ice to both Poles during the 67-day, 660-mile expedition on skis by four women.
These are just a few of the many notable and courageous explorers who helped make Antarctica and the surrounding region accessible to you.