What to Wear in the Arctic
Arctic cruises can make for wonderful memories of long walks across the polar tundra, hiking in the snowy mountains, paddling alongside penguins and photography stakeouts from the ship's deck. Any traveler who comes to the Arctic wants to experience it in full as an active explorer and not a mere spectator. The secret to staying comfortable in the polar climate is choosing the right season for your visit and, more importantly, bringing the right clothing and gear.
The Arctic is notoriously known for lots of ice and snow. The winter can be chilly, with temperatures averaging −40° F (−40° C). From September to March, the areas above the Arctic Circle are subject to polar nights: the sun never goes above the horizon. The ice conditions in the Arctic Ocean also become more severe during winter, hindering navigation. With all these factors combined, there's almost no cruise tourism during the winter.
The Arctic summer, however, offers a completely different scene. The midnight sun does not set and the weather is much warmer, with an average temperature of around 32° F (0° C). The ice recedes, and cruise ships can reach destinations like Svalbard, Greenland and Franz Josef Land. In higher latitudes, closer to the North Pole, you can expect temperatures to be a few degrees lower, but the change is not too drastic. It's the other elements like wind, water and precipitation that affect how cold or warm you'll feel.
In the Arctic, the weather can change fast. It can be calm and sunny one minute and windy and snowing the next. Even if the temperature is stable and there is no precipitation, the wind alone can make you feel much colder. That happens because the warm air next to the skin gets removed fast, increasing the body's loss of heat. That's why choosing the right Arctic wear is so important. The real secret to protecting your entire body from exposure is dressing in layers.
Layers of clothing for Arctic conditions are meant to create insulation, with small pockets of air acting as a thermal barrier. They prevent your body heat from dissipating. Another advantage of layers is that you can take some of them off when you get too warm.
Arctic travelers are often near water, cruising in Zodiac boats or using them for landing ashore. It is unlikely you would come in direct contact with the water, but getting sprayed is very possible. Your outer clothing layer, therefore, should be waterproof, especially the pants. Other Arctic apparel includes a windproof parka for the top layer, polar fleece for the middle, thermal underwear for the base layers and accessories to keep your hands and head warm.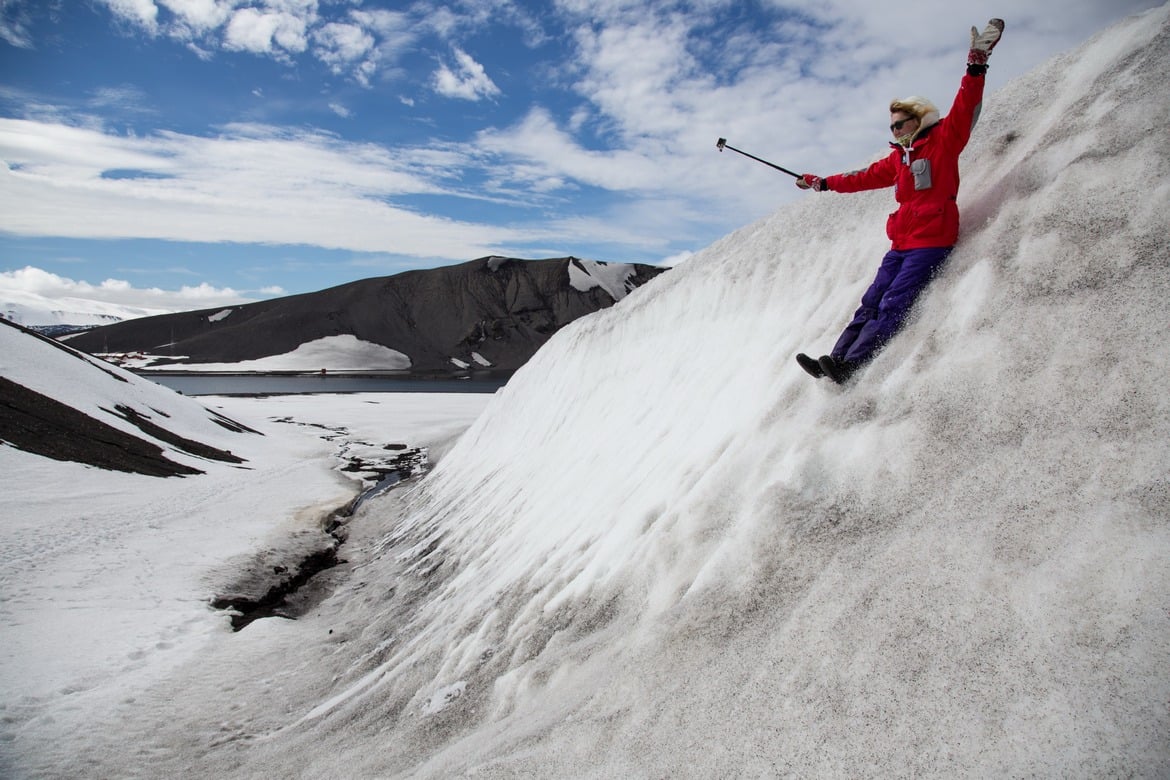 Foundation / Base Layer
The base layer is the foundation of keeping you warm because it is in direct contact with your skin. The biggest problem is sweat. Sweating causes your body to lose heat, and our goal is to preserve as much natural warmth as possible.
Given there are usually limited opportunities to change or wash clothes during an expedition, you need to look for a base layer that would keep you dry and let the skin breathe at the same time. Luckily, Arctic apparel has come a long way from what it was a hundred years ago when the early explorers had to wear string vests. The modern answer for the base layer is thermal underwear.
Thermal Underwear
The best underwear is made of merino wool, natural fiber grown by Merino sheep. It is more comfortable to wear than regular wool as it is thinner and softer. The fiber naturally helps regulate body temperature and transports sweat away as vapor. It also prevents odor, restraining the bacteria that cause it. The only drawback is its price. More affordable alternatives are synthetic fabrics, mixing varying percentages of polyester with other materials such as nylon, rayon, etc.
Insulated Base Layer Tops
Underwear tops come in different shapes: more or less fitted, long or short sleeves, with a round or high neck. For the clothing fit, you should choose something that is, closely hugging your body and leaving a small layer of air in between. For being outdoors in the Arctic, it's best to opt for a shirt with long sleeves. As for the neck, you may choose whichever option is more comfortable, since you can also add a buff or a scarf.
Insulated Base Layer Bottoms
Bottoms are more or less standard: they are usually cut at the ankles, although you can find them in the form of tights with socks attached. They can also come as a one-piece with the top. However, clothing items that come in the form of regular pants are likely to be the most convenient. If, for example, your feet get wet, it would be easier to only change the socks rather than having to take everything off. As for the fit, follow the same logic as for the top — not too tight, not too loose.
Mid Insulation Layers
The middle layer of clothing is what brings the most versatility to your look. As there are so many options for pants, shirts, jackets and sweaters, you can pick and choose pretty much anything you feel comfortable in. Keep in mind that these items should still be fit for colder climates — avoid wearing your regular clothes above the thermal underwear as they will prevent ventilation and keep the sweat from vaporizing.
Look for clothes with zippers, buttons and adjustable straps. Since the next layer is the final one, it leaves little room for small changes like opening up the neck or giving more air to the torso. For Arctic wear on cruises specifically, you may skip the lower-body part of this layer, since the thermal base plus waterproof pants usually tend to provide enough warmth, with no need for extra pants of any kind.
Insulating Layers for the Upper Body
This clothing layer can consist of one or two pieces, depending on your personal preferences, activities and the weather. You can look for materials like polar fleece, wool, natural fiber and synthetics. Zipped coats with a high neck are the most versatile option, with an added long sleeve for extra warmth if you're not planning on hiking and will be sitting most of the time. The sweaters and coats shouldn't be too short to keep your lower back from exposure. Keep in mind that hooded sweatshirts might feel uncomfortable since you'll be wearing another coat as the outer layer.
Insulating Layers for the Lower Body
In the Arctic, our legs are not only exposed to the wind, but are also likely to get wet at some point from snow, rain or water splashes. Ensure your pants are water- and windproof! The two common options are snow pants and bibs. If you have a lower back prone to cold pains, bibs will provide extra protection. Otherwise, Gore-tex waterproof pants will be a more comfortable choice. As for the fit, again, there should be some space between the thermal bottoms and the pants, like insulated hiking or skiing clothes have.
The Outer (or shell) Layer
The outer shell of your Arctic clothing is the one that comes in direct contact with the elements: rain, snow, ice and wind. It should have serious windproof protection. It can have built-in insulation or literally be a shell. Being waterproof is optional, but highly recommended if the trip includes boat rides or a high chance of rain. The cuffs should be adjustable to have a tighter grip around your head and keep the snow from creeping in. A hood is a must since keeping your head warm gives a 20% input for overall body temperature. Look for models with pockets so you have the option to remove your gloves or store a camera, leaving your hands free.
Accessories
Your torso and legs will be completely covered by your base, middle and outer layer of clothing. Still, the rest of the body, the hands and feet especially, needs special care as well. Since our brain considers these areas expendable compared to vital organs, in cases of extreme cold, the toes, fingers, cheeks and nose are more likely to get frostbitten. You can even notice that when you feel chilly or your blood pressure is low: your fingers and feet will be the coldest parts of your body. For some, a single accessory will be enough, while other parts will also require layers.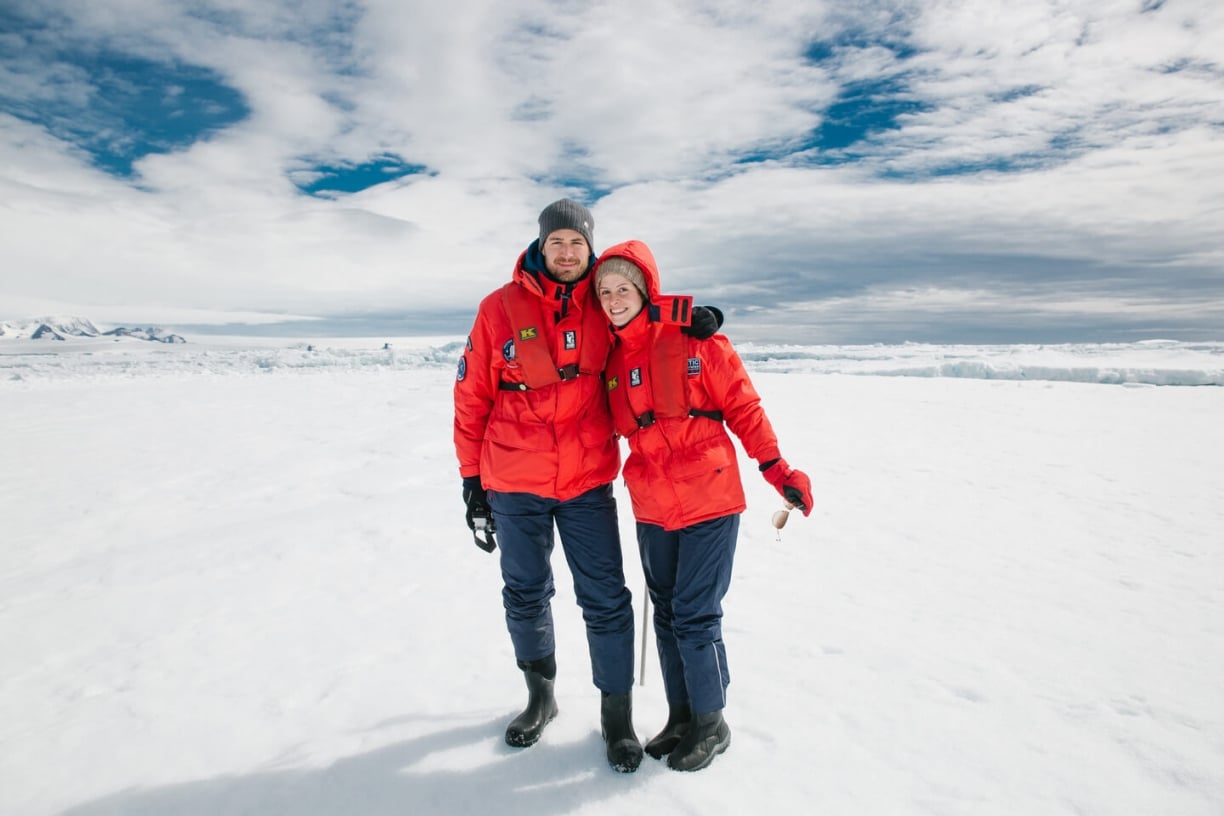 Hands
With hands, people usually want to have a balance of being able to take photographs, drink water or fasten zippers without losing too much heat. The solution is to wear two pairs of gloves: thin liner gloves for the base and thick, insulated ski-type gloves as a shell. You can look for liner gloves with a touchscreen insert on one or two fingers to be able to take pictures on your smartphone while keeping your hands warm. Avoid mittens as moving fingers will be difficult.
Head
The outer shell of your Arctic wear should have a hood to protect your head from the wind and snow, but a hat is essential to provide proper insulation and keep the ears covered. A hood obstructs vision, and you might miss something as epic as a whale jump — a hat gives you much more flexibility. Hats with a wind-stopping collar can also help protect your neck and chin. Be careful of having too many accessories on the hat since any pompoms or braids might feel uncomfortable in the wind. Look for a simple beanie made from wool or fleece or a balaclava instead.
Feet
Your feet need a double layer of socks to be perfectly protected from the cold. The first base layer can be thin thermal socks, preferably high-ankle models with joint support. Look for the same materials as you would for thermal underwear, preferably merino wool. For the top, thick wool or synthetic socks will do. Make sure you always carry an extra pair with you since there's nothing worse than wearing wet socks.
Boots
Boots are another key part of Arctic clothing: your feet are in direct contact with the ground, which can be covered in ice and snow. Look for boots with rubber soles and thick insoles. The best choice is Muck boots or Wellington-style rubber boots that go up to the middle of your leg and are completely waterproof. Keep in mind that you should wear your pants above the boots to prevent the snow and water from getting in. Do not tuck the pants inside.
In-between Bits
By now, most of your body should be covered for your Arctic adventure. Your ankles should be covered by boots, your wrists — either by gloves or by parka sleeves. You might want to add a buff or a scarf for extra neck protection, which can also be used to cover your mouth and nose in case of extreme winds. It will also prevent snow from getting underneath your coat.
Eyes
In the polar summer, the sun does not set, and the light from it is reflected and multiplied by the all-white snow and ice. Protect your eyes and the delicate skin around them by purchasing high-quality sunglasses that block 100% of UVA and UVB rays. You can also use snow goggles if you have them from snowboarding or skiing, but glasses are generally more convenient and easier to wear.
Layering Clothing for Versatility
Arctic winter clothing is all about having options and layers for more versatility. And you don't have to spend a fortune purchasing all this gear! You can rent certain items and some cruise operators include boots and parkas in the voyage rate. If you live in a colder climate with snowy winters, you probably already have some of the necessary clothing. As for color choices, feel free to wear anything you like. Bright colors will look especially good on pictures as they will provide a great contrast to the snow and ice.
Your Arctic cruise is scheduled when weather conditions are at their best, but the weather in the polar latitudes can be especially unstable and unpredictable. If conditions get severe, you will likely be asked to stay on the ship or skip a landing for safety reasons. Otherwise, it is up to you to dress properly and be prepared to throw on another layer or get rid of one for your comfort and warmth. Don't judge the weather solely by the temperature outside and consider wind-chill. If unsure, consult with expedition crew or guides for suggestions on what to wear on a specific day.
Arctic Packing Checklist
Here is an overview of the Arctic clothing to bring on a polar trip, along with some extra advice on gear:
Thermal underwear: merino wool or synthetic, long sleeve shirt and pants, thin socks. They should fit your body well, but not be too tight.
Mid insulation layer: shirts/sweaters/coats, preferably with zippers or buttons, that you can mix and match for warmth. Waterproof pants with a wind-stopping layer and a looser fit, possibly bibs for extra lower back protection. Thick woolen socks and liner gloves with a sensor finger.
Outer clothing layer: Wellington-style rubber boots, possibly with thermal insoles, and a windproof parka with a hood. A woolen beanie or any other kind of hat with low accessories. A scarf or a buff. Thick gloves.
High-quality sunglasses.
Accessories: camera gear, extra batteries, prescription medication, sunscreen and a swimsuit.
Arctic Clothing FAQs
What Clothes are Worn in the Arctic?
Modern Arctic wear is all about dressing in layers to keep the airflow intact and protect the body from overheating and sweating or getting too cold. The materials used for polar clothes are merino wool, fleece and different synthetic blends. Some examples include thermal underwear and socks, waterproof pants, a zipped sweatshirt, windproof parka, rubber boots, gloves, a hat and a scarf.
What are the Warmest Winter Clothes?
Arctic clothing suppliers tend to favor wool and silk as some of the best natural fibers to withstand the cold. Still, to stay warm, you will definitely need two to three layers of clothing, since a single layer, even if it is the warmest possible coat, can't keep the heat from escaping your body too fast.
What Shoes are Appropriate to Wear in the Arctic?
The right shoes for the Arctic depend on the chosen activity. If you're going on a cruise, you are likely to get in and out of Zodiac boats to go on landings, so you will need waterproof rubber Wellington-style boots. Hiking or trekking boots with rubber soles might be appropriate for long walks on land, but might not be as effective.
What do the Inuit Wear Today?
There is a whole branch in fashion for preserving the look of traditional Inuit clothing. The Inuit have also made significant efforts to preserve their cultural heritage in the way they dress. That said, materials like seal skin that require harming animals are no longer used. The Inuit tend to use more modern materials and silhouettes while keeping the general look and insulation principles.