The state of Florida is one of the warmest places in America, with sunny skies and average yearly temperatures ranging from 62 to 83 degrees Fahrenheit (17 to 28 Celsius). It is a bit paradoxical, therefore, that one of its cities is named Winter Park, but sometimes it's difficult to explain how places get their names. In any event, an artist who resides in that city has taken up the cause of both the environment and Antarctica, depicting both in his work.
His name is Jeff League and he works in both photography and the rare medium of encaustic (beeswax and resin, with or without pigment), a medium originally used by the ancient Egyptians and Greeks. He creates multiple layers of imagery, color and hazy texture to reinterpret symbols of nature and myth. Some pieces employ digitized maps of the explorations of the Antarctic explorer Ernest Shackleton, upon which are superimposed crows, alluding to their role as messengers in Greek mythology.
"The crows serve as messengers on the environment," League said by telephone from Florida. "I think it's the only continent where crows are not found. They seem to be telling me or the viewer to pay attention to the environment." Some of the paintings have a predominantly cool blue hue, appropriate to the polar region, but he says "I did some with a warm foreground, suggesting even more that the oceans are warming and the polar ice caps are melting."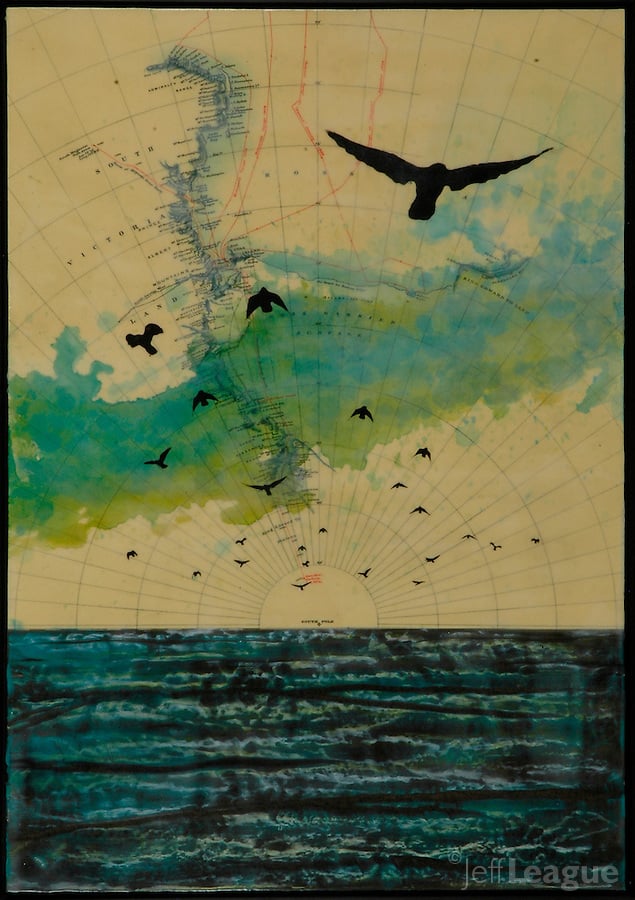 Image from https://jeffleague.com/
Artists frequently do not even realize what form their work will take at the beginning; it's only as the work evolves that they learn what they have created. League says this is true of his work as well. "A lot of times I don't know what I'm going to say till I'm done. Not until after I'm done does it make sense."

He scans and prints the maps in high resolution, then paints watercolors on top of them and applies the wax. "I fell in love with some of these old maps. They have a certain style. The fonts and lettering are much more interesting," he says. "I came from a photography background, doing black-and-white landscapes and cityscapes. I was doing Polaroid transfers, in which I'd peel apart the layers while the photos were still developing and press them onto paper. Encaustic moves into a more painterly look instead of just a photo."
Nature, other birds and butterflies also figure in his work. "I've always loved that phrase associated with chaos theory, that a butterfly flaps its wings and on the other side of the world a hurricane happens," he says. It's another way of demonstrating how the actions of an individual, no matter how small or seemingly insignificant, can affect the entire world and the environment.
League's work can be seen on his website, https://jeffleague.com/