PROVIDENCE, RI, May 23, 2017 – Poseidon Expeditions' polar cruising star, the all-suite, 114-passenger M/v Sea Spirit, has repositioned to Nuuk, Greenland, to begin her 2017 Arctic season, following a $2.5 million-plus refurbishment of all 54 guest suites during a recent dry dock in Vigo, Spain.
This was the final phase of a full-ship refurbishment that began two years ago with restoration of the ship's public areas. In charge of this last phase of interior refurbishment is Nedgé Louis-Jacques of Tomas Tillberg Design & Associates of Weston, FL, specialists in marine architecture and design.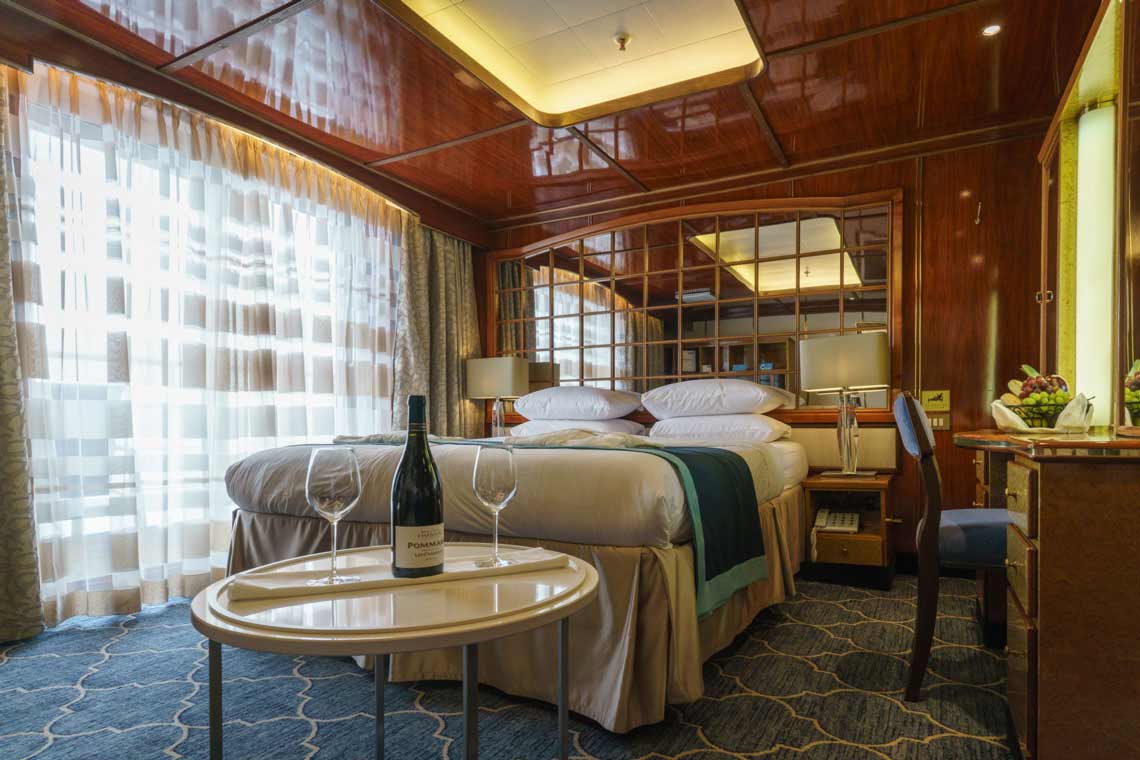 Each suite features completely new bath modules including new tile throughout, stone vanity top with integrated mirror, sink and fixtures, towel bars and mirrors. A glass divider panel separates each shower and sink unit.
Suites are appointed with new lounge and desk chairs, beds, mattresses and coffee tables, flat screen TVs, light fixtures, sconces and soft goods: drapes, bedspreads, carpeting and upholstery. Beds in all suites are convertible to either twin or queen configuration. The palette selected for fabrics and carpets reflects the muted mystery of the polar environments through which Sea Spirit travels. Think soft browns, beiges that resemble colors of ceramics, and blues reflecting the seas, all playing off of original wood paneling that is being retained.
Nikolay Saveliev, president of Poseidon Expeditions, said of the improvements: "While the focus of our guests and expedition team is on the wildlife and unique landscapes found in the Arctic and Antarctica, providing them with spacious, beautifully appointed accommodations goes a long way to complement and enhance the overall experience. The staterooms now afford an elegant retreat, a place to relax and recharge following active days exploring these remote environments."
Sea Spirit sailed originally as the Renaissance IV, then worldwide and in Alaska as the popular Spirit of Oceanus. She underwent technical improvements for polar cruising in 2010. Since then as Sea Spirit she has been providing polar adventure cruises in both the Arctic and Antarctic environments. Sea Spirit offers all-suite accommodations with square footages ranging fr om 215 to 463. There are two multi-purpose lounges for educational programming and entertainment; a restaurant that can accommodate all passengers in one seating; a well-stocked library; and ample outdoor deck space to enjoy the polar landscapes and wildlife. Activities directed by a team of experienced polar guides and naturalists include Zodiac landing craft excursions, hiking and optional kayaking and camping, along with informative presentations aboard. The ship's expedition staff-to-passenger ratio of 1:9 is one of the best in the business.
Poseidon Expeditions (https://poseidonexpeditions.com/) will again this season offer a wide range of Arctic cruises aboard the Sea Spirit, including a first-ever Voyage to The Arctic expedition, June 17-29, 2017, that explores Iceland's northern fjords and travels along the Arctic Circle to the Norwegian coast wh ere a number of stops are planned before proceeding north to Bear Island and the Spitsbergen Archipelago. Remote Franz Josef Land in the Russian High Arctic will also be explored on an Aug. 14-29, 2017, voyage.
Arctic rates in 2017 for the all-suite Sea Spirit begin at $8,395 per person, double, and if three people share a spacious Triple Suite the rate is just $5,995 per person. New for 2017 will be the inclusion of a pre-cruise hotel night in either Reykjavik, Iceland, or Longyearbyen, Spitsbergen, depending on the itinerary.
Following the last Arctic voyage to East Greenland in mid-September of 2017, the vessel will position to South America to commence a series of expedition cruises to the Antarctic Peninsula, South Georgia and the Falkland Islands during the 2017-18 austral summer season. The new Antarctic season also will include the popular Antarctic Circle cruise, which travels below the most southerly of the earth's five major circles of latitude, approximately 66º south.
Antarctic rates for the 2017-18 season begin at just $7,995 per person in a Triple Suite and $11,195 in a double-occupancy Main Deck Suite.
For the 2018 Arctic and 2018-19 Antarctic seasons, travel agents and consumers can take advantage of early booking savings of 10%-15% from regular rates. These savings will be available through July 2017.
The complete 2017-18 Arctic and Antarctic schedules, rates and special offers can be found at poseidonexpeditions.com. A new 80-page catalog detailing the company's ships and activities is also available and can be requested online or through any of the Poseidon Expeditions offices.
For inquires and reservations in North America, or to request a catalog, agents can contact the company's Providence, RI, sales and reservation office at SalesUSA@poseidonexpeditions.com or by telephone at 347-801-2610.
In Germany, Austria and Switzerland, contact Poseidon's Hamburg office – Anfrage@poseidonexpeditions.com or telephone +49-40-7566-8555.
In the UK and elsewhere on the globe, contact Sales@poseidonexpeditions.com or telephone +44-870-068-9142
About Poseidon Expeditions
With offices in the US, UK, Germany, Russia and China, Poseidon Expeditions is a leading provider of polar expeditions in the cruise industry. In addition to the Sea Spirit, the company provides guests with the unique opportunity to travel to the geographic North Pole aboard the 50 Years of Victory, the largest and most modern nuclear-powered icebreaker in the world. Fourteen-day, top-of-the-world programs are scheduled for both the 2017 and 2018 summer seasons. The company is committed to safe and environmentally responsible polar travel. It is a member of the International Association of Antarctica Tour Operators (IAATO) and the Association of Arctic Expedition Cruise Operators (AECO).
# # #
Follow Poseidon Expeditions on Social Media:
Facebook: https://www.facebook.com/poseidonexpeditions
Twitter: https://twitter.com/poseidonexp
YouTube: https://www.youtube.com/user/pxpeditions
Instagram: https://www.instagram.com/poseidonexpeditions/
Website: https://poseidonexpeditions.com/
PR Contact: Widness and Wiggins PR
Sara Widness / sara@widnesspr.com
Dave Wiggins / dave@travelnewssource.com / 720.301.3822