Nuclear icebreakers – what's so special about them?
This story happened 30 years ago. In the eastern region of the Arctic more than 50 soviet ship caravans became trapped in ice fields and among them there was a nuclear icebreaker "Lenin". As the situation became more and more dangerous it was agreed that this nuclear icebreaker has to lead other ships out of this icy jail. The problem was not only with the caravans – many of Russian Arctic settlements were dependent on food which was delivered to them by sea. Due to her power and independency from traditional fuel "Lenin" and its crew were able to rescue hundreds of people – it was one of the biggest and most successful rescue missions in mankind's history.
By then it became obvious that the Soviet fleet needed more of these icebreakers. The strategic importance of the Northern Sea Route and more evident need to guarantee safety of the Russian trade vessels in winter and Arctic settlements' dependency on supplies from without – all these factors contributed to a huge shipbuilding campaign which evolved during 70-s and 90-s. In all these years eight nuclear icebreakers have been built (keeping in mind that there were just ten that have been ever built in Soviet Union and Russia).
Nowadays eight of those icebreakers are still operational. The main feature which makes these wonders of shipbuilding so special is their almost complete independency from any traditional fuel whatsoever, therefore they can operate autonomously for almost 70 years. In future posts we shall get familiar with the insides of the nuclear icebreaker and how the nuclear energy is able to move her.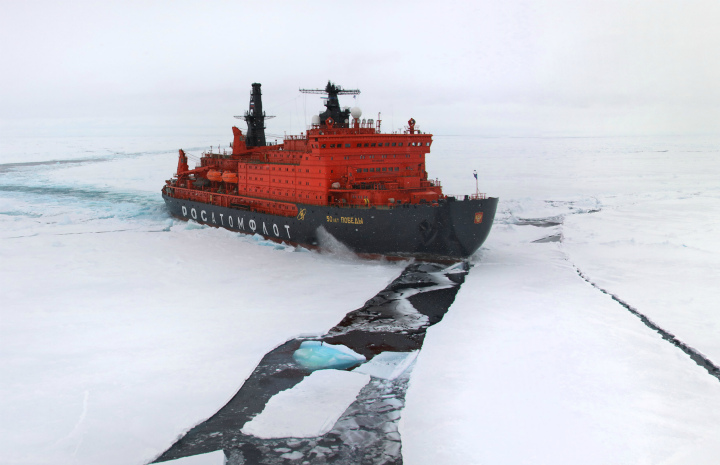 Nuclear Icebreaker "50 Years of Victory"
Some of these icebreakers were used to transport tourists to the North Pole. As of today this expedition unfolds aboard the i/b "50 Years of Victory". Her construction was complete in 2007. Since then she has made many successful voyages to the North Pole and many tourists report this cruise to be absolutely fantastic. The voyage aboard such a big vessel is an adventure in itself, how Immanuel Kant could have put it:) Later we'll describe the organization of life aboard and the vessel itself.