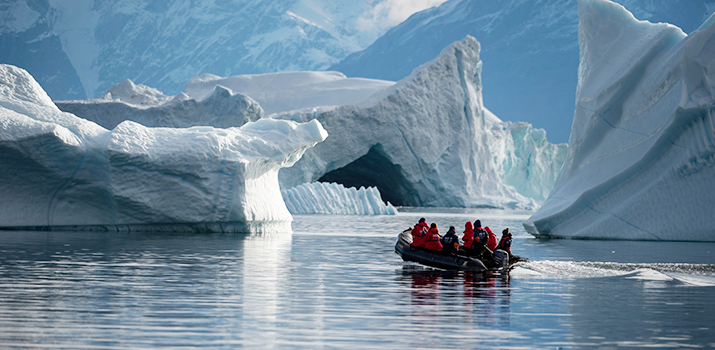 The birthplace of icebergs...
An ice sheet covers 80 percent of Greenland's land mass. One would think there wouldn't be much else to see, but if you plan wisely, there are tremendous West Greenland offers a world of arctic adventures and a once in a lifetime journey.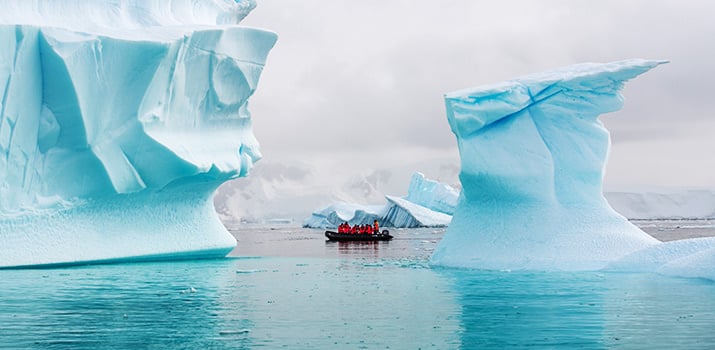 Life under the water's surface
Greenland prides itself on having only free and wild creatures of the sea in its waters, and they're free to swim wherever the oceans take them. Some of the mighty creatures favor certain fjords, making Greenland a unique place for whale watching, as whales tend to steal the attention from most other sea life. These enormous creatures are easy to spot and whether it is the killer whales, or extremely fast narwhals you may spot in the sea ice. Watching these amazing creatures is an experience you will never forget. Many a person have been astonished by seeing such whales up close while kayaking or on a zodiac landing craft.
Ilulissat Icefjord
The Ilulissat Icefjord, one of the northernmost UNESCO (The United Nations Educational, Scientific and Cultural Organization) sites, is a colossal assembly of icebergs that have calved from the Sermeq Kujalleq glacier one by one. If you can get a view from high up, you'll be able to see how grand of a scale the Ilulissat Icefjord has.
Visiting the Ilulissat Icefjord is not only about seeing a large calving glacier. It is a unique opportunity to be active in the climate change conversation, and to let your experiences in Greenland inspire your life back home.
Sisimiut. The second largest city in Greenland
Sisimiut offers plenty of stimulating experiences that are out of the norm. You will find a wide range of options for being active in nature – either taking a peaceful hike or experiencing other activities for the more hard-core travelers. Sisimiut is the second largest city in Greenland, making it a modern city – at least in the eyes of the Greenlanders.
Disko Island and their hot springs
Disko Island is the largest island on the west coast of Greenland. The island's characteristic volcanic landscape contains hot springs, red basalt mountains, lush greenery, and amazing rock formations. The small, traditional town of Qeqertarsuaq is among of Greenland's oldest. Hot springs in Greenland are a natural phenomenon, but the island of Uunartoq is home to the only place where the springs are warm enough to bathe in.
Surrounded by mountain peaks and drifting icebergs, hot springs are a wonderful experience for both body and soul. Greenland's hot springs are truly surreal. Ironically, the hot springs in Greenland are not due to volcanic activity, as they are in Iceland. The water is heated by deep layers in the earth's crust rubbing against each other.
Although traveling to Greenland is not easy as it may take a day or so to get there, you'll have true bragging rights that not many people will be able to identify with.
If you have more to add, please do so in the comments!