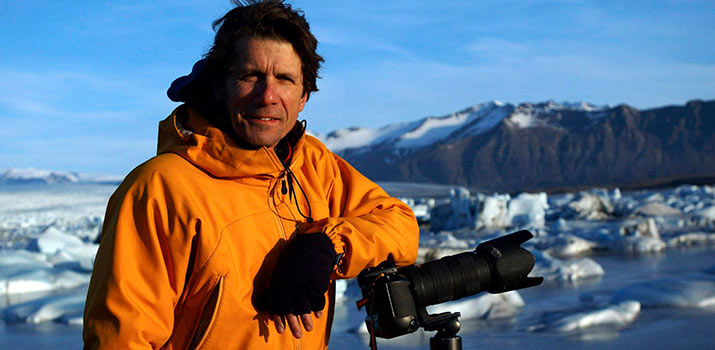 Imagine using dozens of time-lapse cameras placed in 16 glacial locations around the world, such as in Alaska, Greenland and the Antarctic. All to see if the landscape was changing and
if climate change was living up to its reputation as the cause of this
.
Now imagine the person that accomplished this, along with his team, believed at one time that climate change possibly wasn't real. But now, following 13 years of photographing receding glaciers, James Balog is convinced that the impact of climate change is undeniable.
James Balog (Pronounced "BAY-log") has been a leader in photographing and artistically deciphering our environment since the 1980's.
"There have been times when I wished for an easier life, a more lucrative life, a more relaxing life, a life where I didn't have to be in airplanes and hotel rooms as much," he said. "But it is truly a calling."
To accomplish this work, Balog founded Extreme Ice Survey.
The Extreme Ice Survey, (EIS)
"is an innovative, long-term photography program that integrates art and science to give a visual voice to the planet's changing ecosystems. We believe that the creative integration of art and science can shape public perception and inspire action more effectively than either art or science can do alone."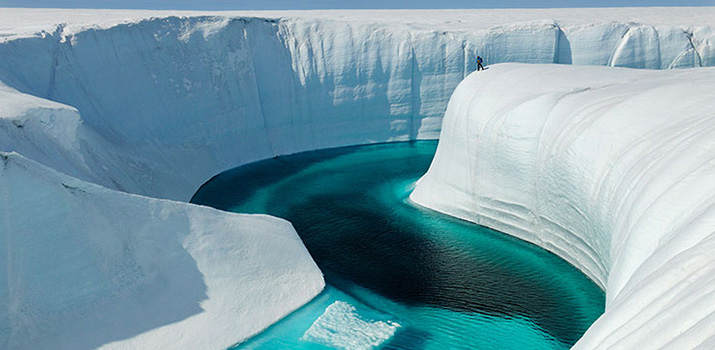 Climate change has been turned into a "political football" primarily by climate deniers who have a vested interested in maintaining the status quo. These Include industrial interests, along with financial and political interests. Powerful lobbying groups have done a particularly effective job of spreading misinformation, confusion and skepticism around the world, but mainly in the United States, on this issue. EIS reveals that climate change is in fact real, with ongoing consequences right now.
In hindsight, Balog has stated that the entire project seemed very simple and straightforward. But back in 2005 and for the next several years, it was not the least bit obvious that his project would get off the ground and succeed in the manner he envisioned. It required a huge leap of faith to finance and assemble all the necessary cameras and equipment.
EIS had a six-figure financial commitment to turn these basic off-the-shelf cameras into systems that could "withstand minus-40 degree temperatures, hurricane-force winds, torrential rain and blizzard conditions. and half a dozen people involved in the field."
Now with the help of photographic evidence, it was stunning how fast these glaciers were shrinking. Also amazing was the fact that the EIS team thought it would have to wait several years to potentially see any significant changes within and around the glaciers. But it didn't take long.
"It continues to be an amazing experience as an observer, a scientist and a photographer to open those cameras and get these illuminating downloads almost every single time," said Balog.

He and his Extreme Ice Survey team are featured in the 2012 internationally-acclaimed, award-winning documentary, Chasing Ice, and in the 2009 NOVA special, Extreme Ice. James has been honored with many awards, including, an Honorary Doctor of Science Degree from the University of Alberta, the American Geophysical Union Presidential Citation for Science and Society, and the Heinz Award.
Balog will venture with his cameras to Franz Josef Land's glaciers and to the North Pole for the first time in July 2018, both as an active documenter of ice conditions and as a guest lecturer. He'll be traveling aboard Poseidon Expedition's
nuclear-powered icebreaker 50 Years of Victory,
and looks forward to sharing his Extreme Ice Survey stories with the other passengers.
Later this year, look for another blog post where we interview Balog about his hopes and expectations regarding his voyage next summer to the North Pole.
Photo Credit: BC Arts Insider
Photo Credit: James Balog Website
Do you have any questions or comments about EIS or James Balog? We're interested in hearing from you.