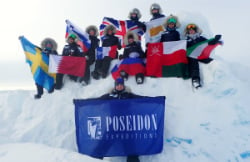 Ten women representing both Middle East and European accomplished their goal this past weekend – skiing nearly 80 km on frozen sea ice to the geographic North Pole.
The team conquered the North Pole on April 21st at approximately 7:00 pm, several days ahead of the ten-day period they allowed for themselves. Following an April 15th flight from Longyearbyen, Svalbard to a floating basecamp at 89º north, the group set off immediately on their adventure on cross-country skis over shifting pack ice of the Arctic Ocean.
Many of these women, some of whom are first-time polar explorers, were the first person from their country to ski the last degree to the top of the world. This team was comprised of women from Saudi Arabia, Qatar, Oman, Kuwait, Slovenia, Sweden, France, Cyprus, Russia and the UK.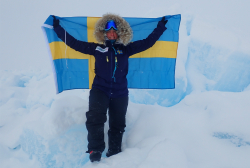 Poseidon Expeditions' own Ida Olsson, 32, Arctic Wilderness Guide and Kayak Master on its polar cruises, represented Sweden.
The team also conducting two important science experiments during the expedition and will be sharing their experiences with schools and via social media. For updates please see the expedition team's blog post at: http://www.euroarabianexpedition.com/expeditionlive/
The team slept in tents on the ice and hauled on sledges everything they needed to survive in the Arctic. Hazards they faced included temperatures as low as minus 40C and movements of the pack ice that split apart to reveal open water or formed pressure ridges – literally walls of ice that have to be crossed. There was also the threat of predatory polar bears.
Preparations for the expedition were ongoing for nearly two years including training expeditions in Iceland and Oman.
"We regularly take guests to the North Pole during the summer months on 50 Years of Victory, a powerful icebreaker," said the founder of Poseidon Expeditions, which sponsored Olsson to ski to the North Pole. "By doing it the hard way, Ida inspired people all over the globe to care about the polar wilderness we cherish."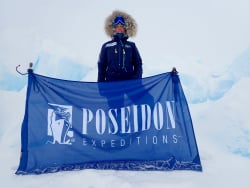 Olsson originally trained as a teacher before working as a wilderness and adventure guide in northern Sweden. She now lives and works on Svalbard when she is not acting as kayak master and expedition team member aboard Poseidon's expedition ship Sea Spirit in Antarctica or the Arctic.
"I'm extremely proud to have been a part of this exciting expedition that brings together women from all over the world to experience together the challenging yet fragile environment of the Arctic Ocean," said Olsson. "Having travelled all over the Arctic for many years, I have seen how precious this ecosystem is and the importance of protecting it. Our goal is to bring attention to the conservation and preservation efforts of these polar regions."
The expedition leader, celebrated British Polar Explorer Felicity Aston MBE, said, "The world is facing global problems – such as climate change – that can only be tackled with global solutions. That requires everyone talking to each other more."
The expedition was sponsored by cybersecurity firm Kaspersky Lab, as well as Engie, Poseidon Expeditions, OmanTel, I Feel Slovenia and others.