Poseidon Expeditions Spurs Interest
In Cruising Russian High Arctic
PROVIDENCE, RI, July 24, 2018 – Poseidon Expeditions celebrated its 2018 summer season when two of its ships rendezvoused in July in the newest frontier in polar expedition cruising, the Russian High Arctic known as the Franz Josef Land Archipelago.
This region was off-limits to foreign travelers until recent decades; it is now largely under management of the Russian Arctic National Park System.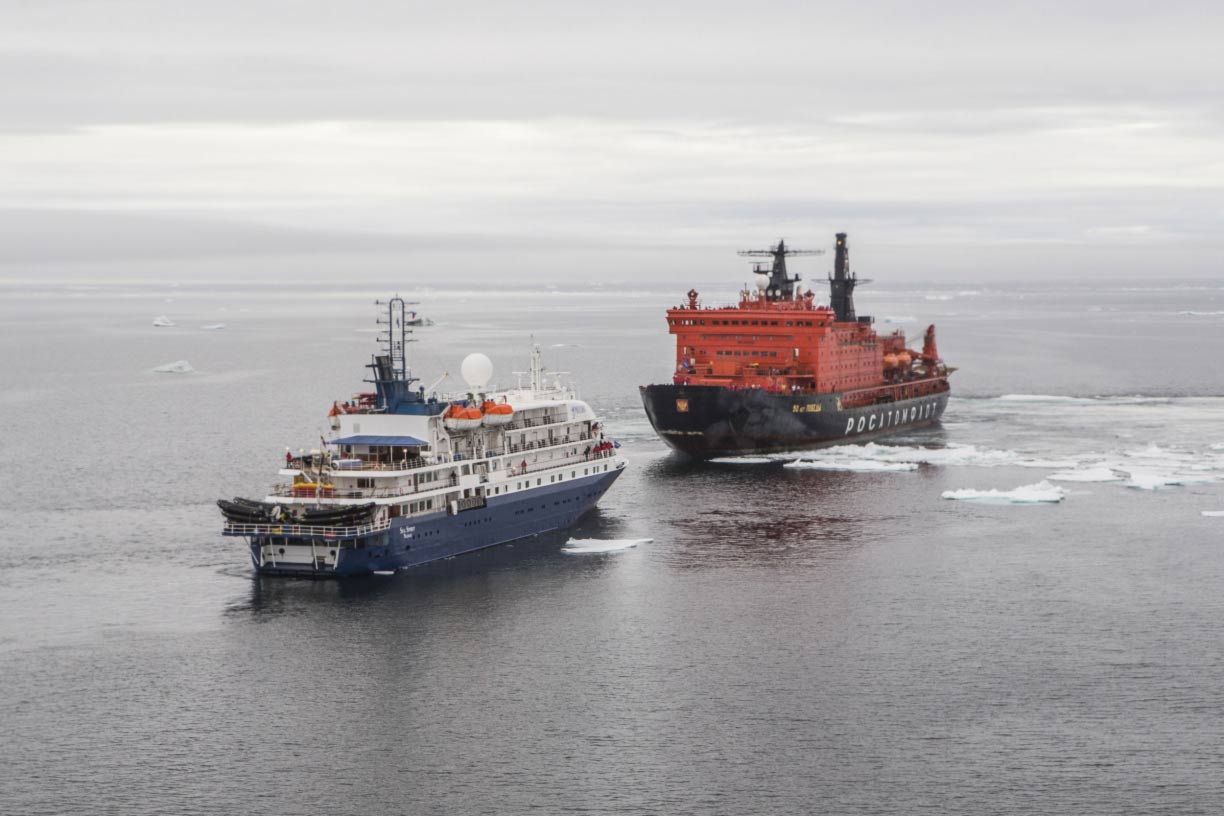 Meeting on July 11 at 80º 48' N/50º 44' E near Prince George Island, Poseidon's 128-passenger, nuclear-powered icebreaker 50 Years of Victoryand its 114-passenger expedition ship Sea Spirit together celebrated their respective first voyages of the season to this remote archipelago of 190 glaciated and snow-covered islands.
While the ships' routings are considerably different, each has the distinction of taking intrepid polar adventurers to an area that few other ship passengers will ever have the opportunity to explore. For the ships' meeting, the massive icebreaker paused on its route to 90º North, the geographic North Pole, even as Sea Spiritwas in the midst of an eight-day exploration of the archipelago, the most in-depth in the expedition cruise industry.
"The opportunity for the two vessels to connect in such a remote spot was exciting and memorable for the guests of both ships. But for the company and for myself, it is a testament to the fact that Poseidon is able to provide several options for visiting the Franz Josef Land Archipelago," said founder and president Nikolay Saveliev. "Just 1,000 travelers will visit the archipelago in 2018 and Poseidon has the privilege of accommodating two-thirds of these guests." He added that all three North Pole trips aboard 50 Years of Victory and all three Franz Josef Land expeditions aboard the Sea Spirit are completely sold out this summer.
With Sea Spirit, Poseidon Expeditions (https://poseidonexpeditions.com/) also has the distinction as the only cruise operator that can travel directly fr om Svalbard to Franz Josef Land, wh ere passengers clear customs and immigration in Alexandra Land. This saves approximately a day of sea travel in each direction, compared with other vessels (including 50 Years of Victory)which clear customs and immigration on mainland Russia and must travel longer and farther to attain the group of polar islands.
More days at the archipelago translate into better opportunities for wildlife viewing, and the Sea Spirit's eight days there did not disappoint. Polar bears totaling 17 were spotted on seven days, and walrus were seen even more frequently. Guests also encountered bearded and ringed seals and humpback, bowhead and beluga whales, and myriad sea bird nesting cliffs and colonies. Reports from the Sea Spirit's expedition leader noted that some planned activities – such as shore landings and kayaking excursions – were delayed or postponed for safety reasons because there were simply too many polar bears or walrus in the vicinity.
"There's no place on earth quite like the Franz Josef Land Archipelago. We're pleased to make these two unique journeys available again in 2019, with three North Pole voyages aboard the most powerful icebreaker in the world and another three in-depth expeditions of the islands aboard the Sea Spirit," added Saveliev.
For inquires and reservations in North America, or to request a catalog, agents can contact the company's Providence, RI, sales and reservation office at SalesUSA@poseidonexpeditions.comor by telephone at 347-801-2610.
In Germany, Austria and Switzerland, contact Poseidon's Hamburg office – Hamburg@poseidonexpeditions.comor telephone +49-40-7566-8555. In the UK and elsewhere on the globe, contact Sales@poseidonexpeditions.comor telephone +44-870-068-9142.
About Poseidon Expeditions
With offices in the US, UK, Germany, Cyprus, Russia and China, Poseidon Expeditions is a leading provider of polar expeditions in the cruise industry. The company is committed to safe and environmentally responsible polar travel. It is an active member of the International Association of Antarctica Tour Operators (IAATO) and the Association of Arctic Expedition Cruise Operators (AECO).
# # #
Follow Poseidon Expeditions on Social Media:
Facebook: https://www.facebook.com/poseidonexpeditions
Twitter: https://twitter.com/poseidonexp
YouTube: https://www.youtube.com/user/pxpeditions
Instagram: https://www.instagram.com/poseidonexpeditions/
Website https://poseidonexpeditions.com/
PR Contact:Widness and Wiggins PR
Sara Widness / sara@widnesspr.com
Dave Wiggins / dave@travelnewssource.com/ 720.301.3822