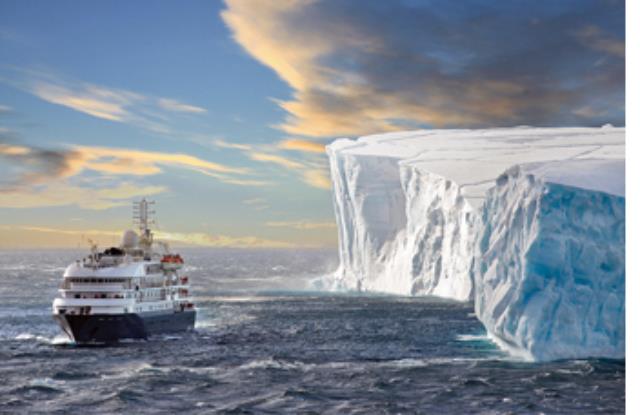 Poseidon Expeditions, which focuses on remote polar cruise exploration in the high latitudes, has opened reservations for May 2024 through September 2024 cruises in the Arctic and October 2024 through February 2025 departures in the Antarctic, all aboard the 114-passenger Sea Spirit.
Sea Spirit offers all-suite accommodations ranging from 215 to 463 square feet (20-43 square meters). There are two multi-purpose lounges for educational programming and entertainment, a restaurant that can accommodate all passengers in one seating, a well-stocked polar library, and ample outdoor deck space to enjoy the polar landscapes and wildlife.
Activities both on and off the ship are directed by a team of experienced, bilingual polar guides, scientists and educators. Guests are offered many opportunities to venture from the ship. Shore landings provide the chance to explore and to partake in guide-led interpretive walks and photography workshops. Optional Sea kayaking and Zodiac cruising are offered in both polar regions and optional camping can be arranged in Antarctica. The ship's expedition staff-to-passenger ratio of 1:9 is one of the most generous in the business.
Travelers bound for the Antarctic Peninsula embark from Ushuaia, the southernmost tip of Argentina. Other destinations for the Sea Spirit in this region of the Southern Ocean include the Falklands and South Georgia Island, once a whaling center and the final resting place of legendary explorer Earnest Shackleton. Icons of the area are penguins, seals, sea lions, whales and birdlife, including albatross.
Travelers can explore the British Isles, Outer Hebrides and Faroe Islands in May 2024 with three early summer adventures. Arctic cruises in Svalbard include a focus on the region's wildlife – walrus, polar bears, reindeer, arctic fox, whales and birdlife – as well as delving into the history of polar exploration more than 100 years ago. In this shifting landscape of sea ice and icebergs, the Northern Lights are always a possibility on late summer departures to East Greenland.
The complete 2024-2025 Arctic and Antarctic schedules, rates and special offers can be found at https://poseidonexpeditions.com/.