What Exactly is a Zodiac?
8 December, 2022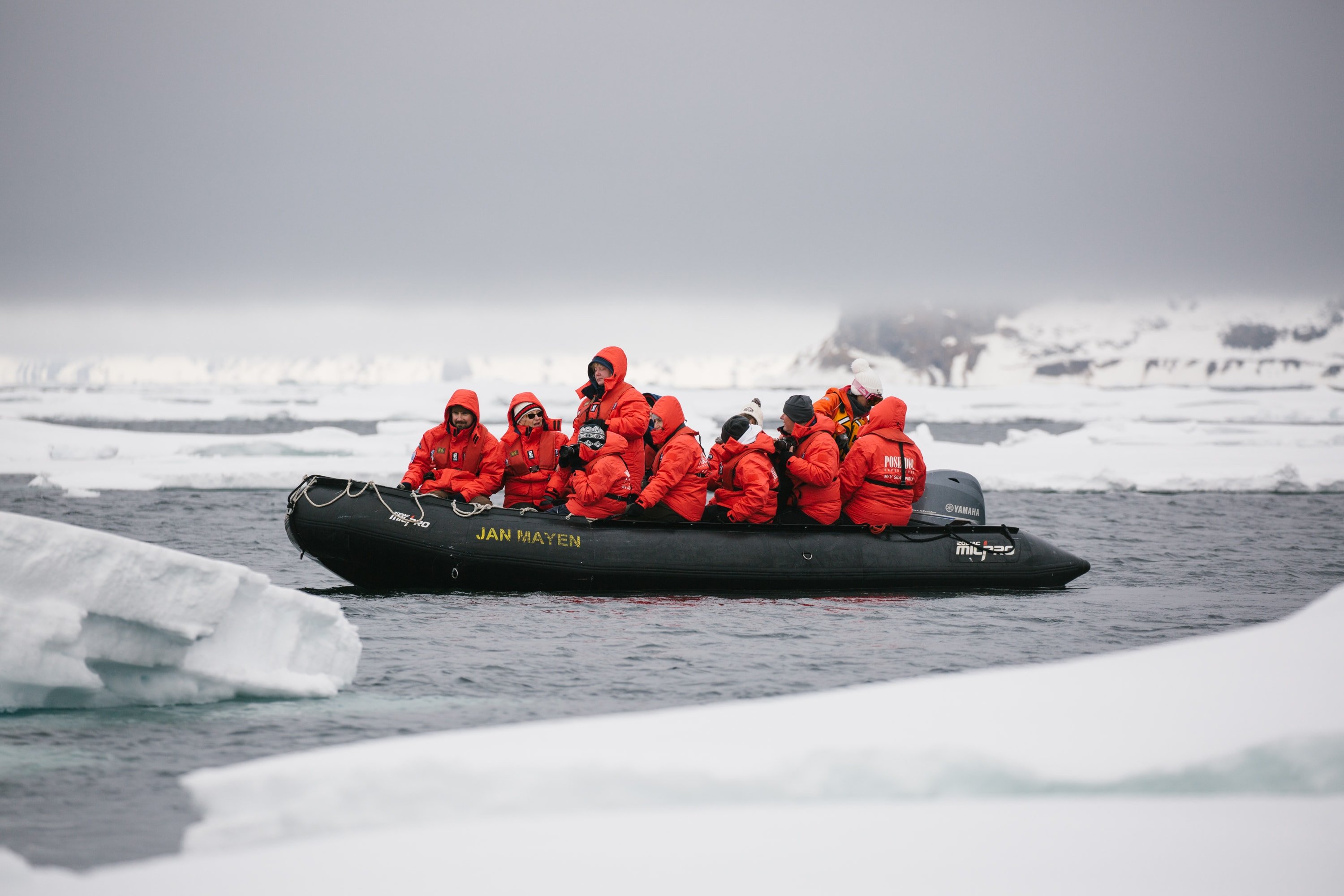 An Essential Part of Expedition Cruising

Anyone who joins a polar expedition cruise will become quite familiar with Zodiacs*. They are the indispensable inflatable boats used to transport passengers on excursions away from the cruise ship. They allow passengers to go ashore in remote locations and to get closer to nature during their voyage. In these ways, Zodiacs are essential to the expedition cruise experience. They are arguably more important than the cruise ship itself. Read on to learn more about the features and uses of these incredible boats.
The expedition cruise vessel Sea Spirit carries a fleet of Mark V Heavy Duty Zodiac rigid-hulled inflatable boats with environmentally friendly Yamaha four-stroke outboard engines. These boats are specifically designed to operate safely and comfortably in extreme conditions such as those encountered in the Arctic and Antarctica. They are made of a supremely durable synthetic rubber, which resists damage when pulling up to gravel beaches or when coming into contact with brash ice, making them ideal for use on cruises to the Polar Regions.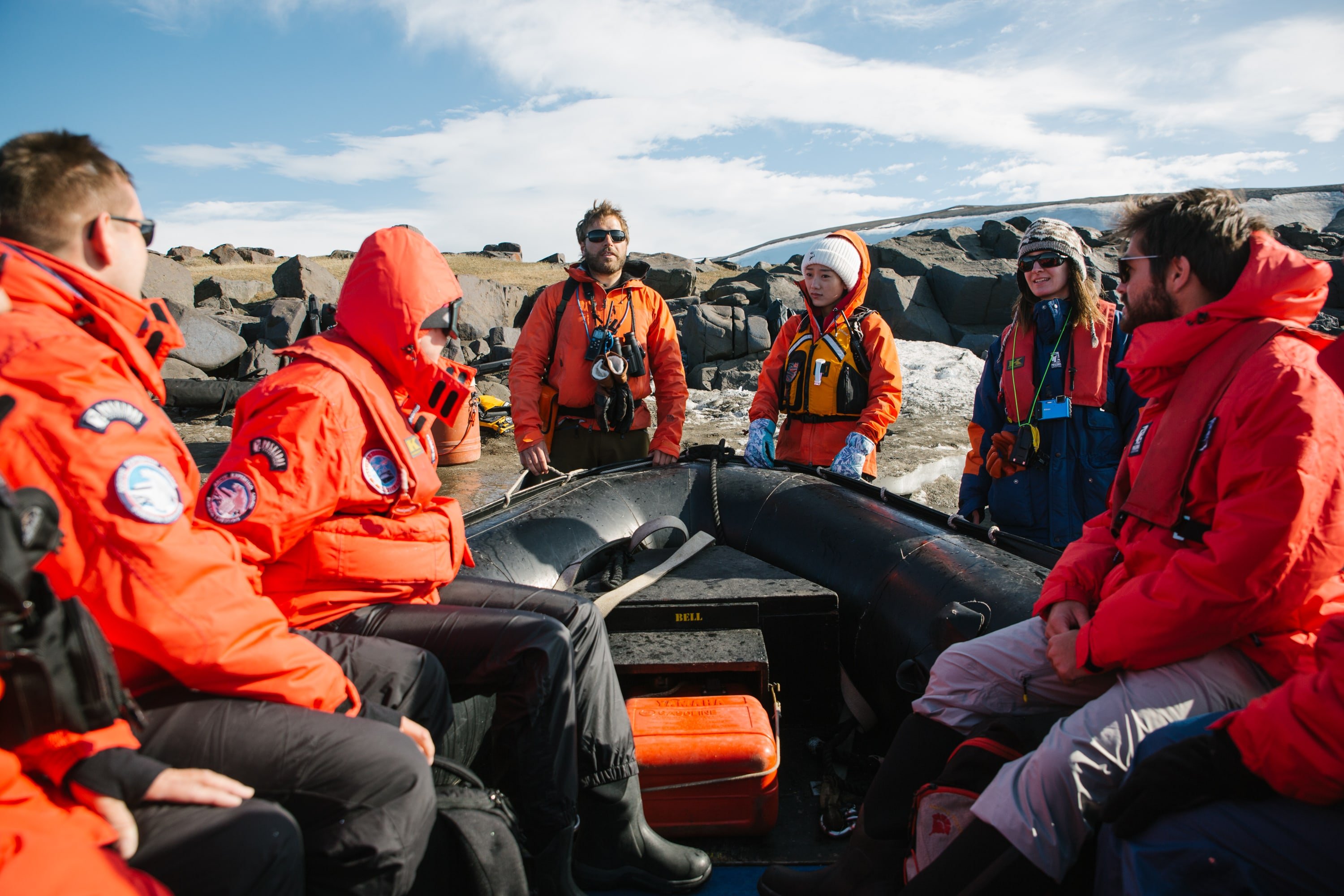 While inside the Zodiac, passengers sit on inflatable pontoons that give the boat its buoyancy and remarkable stability. The pontoons are chambered so that the Zodiac will remain floating even in the rare event that it sustains one or more punctures. The combination of inflatable pontoons and rigid floorboards—along with its uniquely shaped "Futura Hull" and special "speed tubes"—give the Zodiac its hallmark characteristics of stability, agility, speed and comfort. Best of all, Zodiacs provide our operations with the flexibility required of true expedition cruising. Our trained and experienced Zodiac drivers are able to transport passengers safely to places that are beyond the reach of even the smallest shallow-draft cruise ships.
One of the essential uses of our Zodiac fleet is to transport passengers and staff to remote landing sites in the wild polar environment where no port facilities exist. Because of the Zodiac's durable hull and shallow draft, our expedition cruise passengers can be landed virtually anywhere. Our skilled team of drivers can even land on exposed beaches with surf like those found on the subantarctic island of South Georgia. Without Zodiacs, it would be impossible to set foot in the real wilderness of the Polar Regions and thus it would not truly be a polar expedition cruise.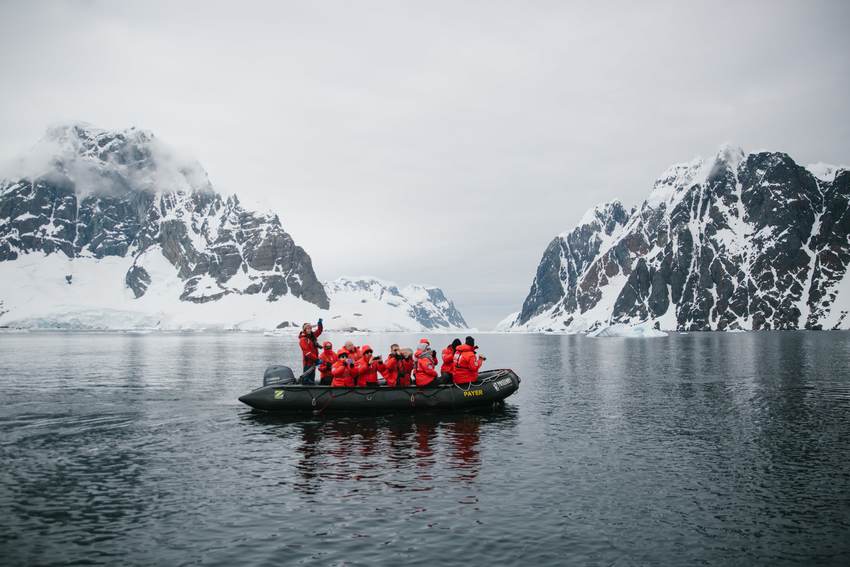 Another important use of these boats is to operate what we call "Zodiac cruises". Passengers embark the Zodiacs in small groups for a two- to three-hour tour of the area's natural features (such as glaciers and icebergs) and a closer look at the wildlife (including whales and polar bears). Zodiacs are also a great platform from which to load kayakers into their kayaks. With the help of guides, kayakers simply sit on the pontoon of the Zodiac, swing their legs over the side, and lower themselves into a kayak secured alongside.
Because of the extreme conditions encountered in the Polar Regions, constant attention is paid to the maintenance of the Zodiacs. The boats and engines are kept in prime condition at all times by the ship's bosun and by Poseidon Expeditions' own professional Zodiac Master. For passengers, a full safety orientation is given in the ship's lecture hall before commencement of the first Zodiac operation. By the end of the cruise, passengers are very familiar with the "ins and outs" of Zodiac excursions.
Of course, there are cruise ships plying the waters of the Arctic and Antarctica without Zodiacs. But these cannot be called "expedition" vessels because they have no ability to go ashore in wild and remote locations. With Poseidon Expeditions' fleet of dependable Zodiacs, you can experience the Polar Regions in the best possible way: from sea and ground level!
*While we tend to use the word "Zodiac" as a generic name for an inflatable pontoon-style boat, it's actually a proprietary brand name. We take similar liberties with brands such as Kleenex and Band-Aid, which are also brand names, not product names.