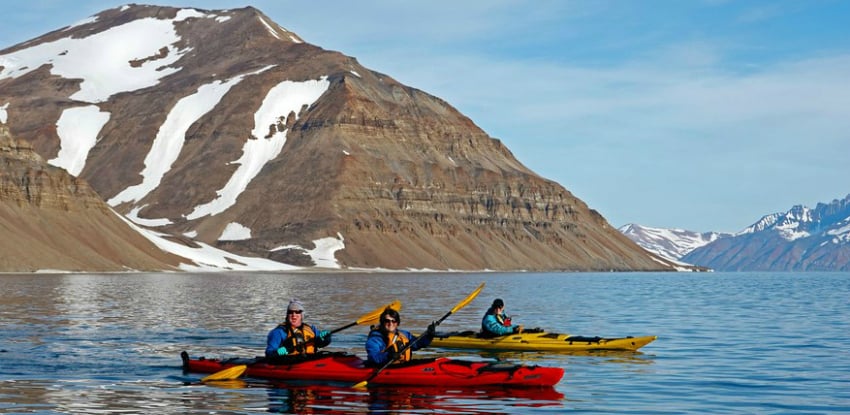 How to Find the Best Arctic Paddling Destinations
The Arctic closely guards some of the most unique and rewarding kayaking opportunities on the planet. While the Arctic regions offer all the pristine wilderness values and incredible wildlife that could be desired of a perfect kayaking adventure, their remoteness and inaccessibility mean that few people have the opportunity to experience the thrill and serenity of kayaking in these amazing places.
In some areas, it is possible to join a guided multiday sea kayaking expedition involving wild camping. Otherwise, venturesome outdoorsmen can charter transportation for themselves and their kayaks into the Arctic for an unsupported wilderness expedition. These options are for experienced and hardy adventurers for whom comfort and cost are not considerations. For most of us, a much more convenient and cost-effective option is to join an Arctic expedition cruise with optional sea kayaking. This is an ideal choice that offers the benefits of an all-inclusive cruise while satisfying your desire for an active adventure. Read on to learn where you can go kayaking on an Arctic cruise.
Franz Josef Land
The pristine and protected High Arctic wilderness of Franz Josef Land rewards kayakers with a range of incredible paddling locations featuring spectacular scenery and unique polar wildlife. This is probably the best place in the Arctic to encounter a walrus while kayaking. You simply never know what will happen in this remote and otherworldly archipelago. Kayaking the uncharted coastlines and mysterious islands of Franz Josef Land is an unscripted and memorable adventure that very few paddlers have ever experienced.
Spitsbergen
The coastal waters of Spitsbergen offer some of the best sea kayaking adventures in the Arctic. Here you have the possibility of paddling in the vicinity of icebergs and tidewater glaciers in a true polar wilderness. Encountering a sagacious-looking bearded seal on an ice floe is an unforgettable experience for many kayakers in Spitsbergen. Kayaking is also an awesome way to experience coastal seabird colonies. Paddlers may even have the chance to encounter a pod of beluga whales swimming along the shoreline. If conditions allow, it might be possible to go kayaking at the polar ice edge, many miles from land, surrounded by a spectacular labyrinth of multiyear sea ice floes.
East Greenland
Deep in the fjords of East Greenland, you have the opportunity to paddle in placid waters while surrounded by some of the most magnificent scenery on Earth. In addition to towering mountains and tidewater glaciers, a hallmark of the Greenland kayaking experience is the omnipresence of massive icebergs. A photo of you in your kayak, posing in front of one these beautiful cathedrals of ice, will afterward be front and center on your mantelpiece back home.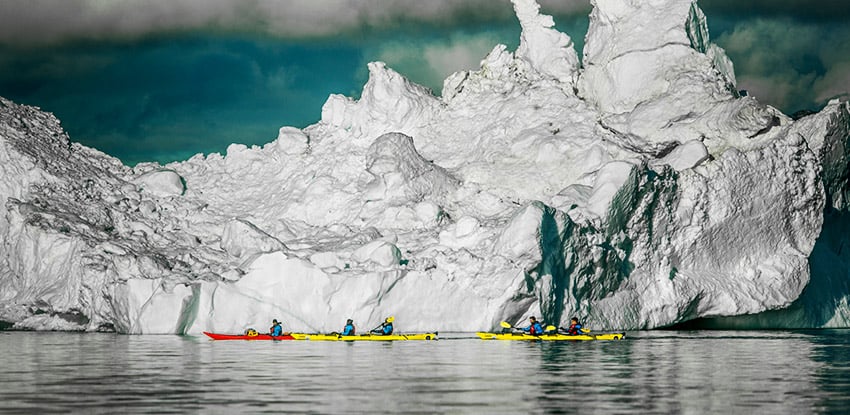 Wherever in the Arctic you go kayaking, safety should be a primary concern in these extreme environments. On a cruise with a reputable operator, you can expect paddling groups to be kept together and closely supervised by an expert kayak guide and accompanied at all times by an armed polar bear guard in a dedicated safety Zodiac. Regardless, the unpredictable polar environment requires kayakers to be on their game at all times.
Previous kayaking experience is necessary for your safety. If you lack kayaking skills but still want to experience kayaking in the Arctic, then you should simply gain some sea kayaking experience in advance of your trip. This will be well worth doing, as most passengers who participate in optional kayaking consider it the highlight of their Arctic cruise. If you are already an enthusiastic sea kayaker, then you will certainly not want to miss your chance to paddle in these amazing Arctic locations. Kayaking should be booked in advance as early as possible because this limited-availability activity is very popular!