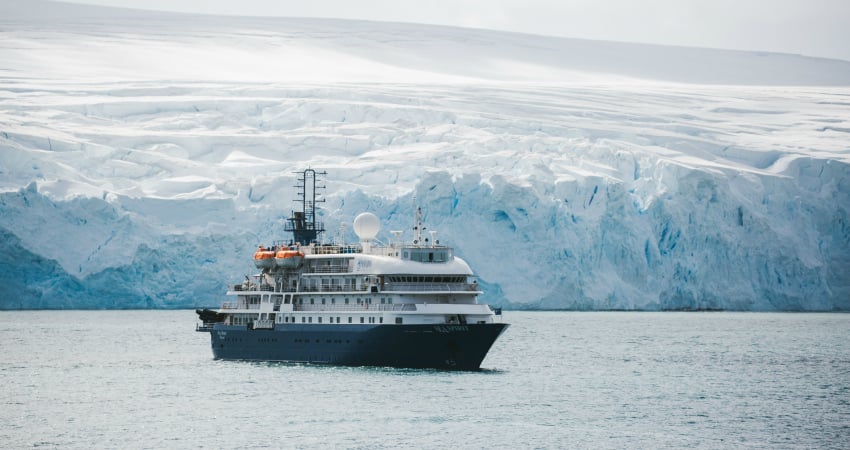 There are different ways to explore Antarctica – and they highly depend on the transportation you use to get there. The easiest and most common way to travel to Antarctica is via cruise ship. If you choose a 500+ passenger liner, you will get to see the stunning polar landscapes, glistening icebergs, and colonies of penguins – all you wanted to experience in Antarctica – but from afar, as you will not be able to go on landings or get closer to nature and wildlife than observing it from the open decks. If, however, you wish to truly explore Antarctica, here is a list of opportunities open to those who travel with small-ship expedition cruise operators:
Kayaking
For travelers with sea kayaking experience, paddling in Antarctica is one of the most intimate ways to get to know the polar regions and truly appreciate their beauty. It provides a different perspective on the landscapes, scenery, and wildlife. Kayaking with a small guided group almost feels like having the moment to yourself, only sharing it with like-minded passengers, and perhaps penguins, seals, and whales. If you are interested in joining the Sea Kayak Club but have no prior experience, cruise operators suggest you gain some before going on a trip to guarantee your safety and to be able to truly enjoy kayaking.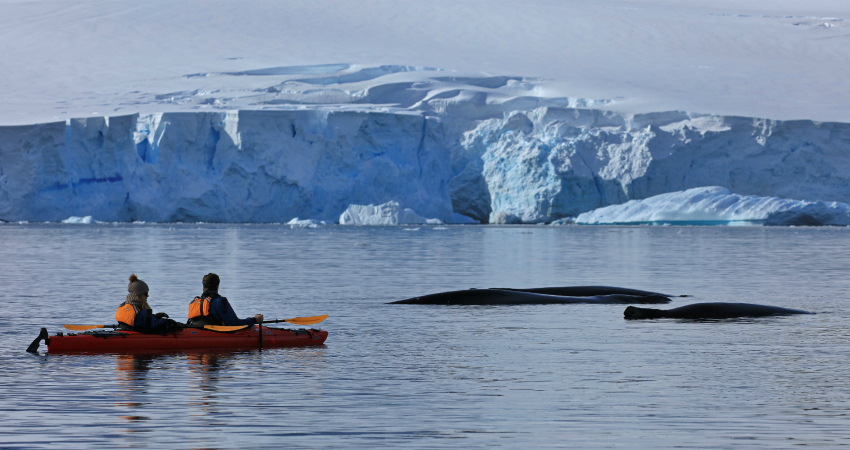 Camping
Camping in Antarctica might seem strange when you first think about it – who would want to leave behind the warm bed on the ship and spend the night on the ice on the world's coldest continent? However, the times of the early explorers who had to brave severe polar weather are in the past. Antarctic cruises take place in the austral summer, from October to March, and the weather is mild enough to camp out equipped with modern gear. Camping in Antarctica is an opportunity to completely immerse into the polar wilderness, disconnect from the world, and have something literally cool to tell your friends about!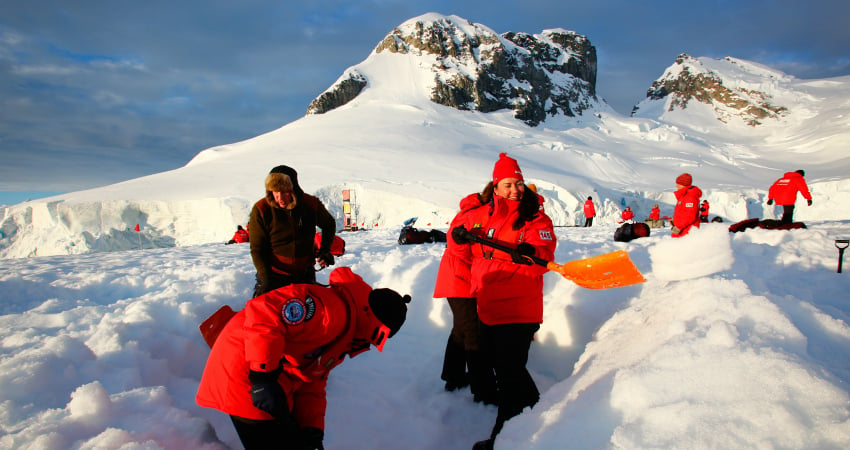 Hiking
The Arctic and Antarctica have pretty rocky terrains, plenty of valleys, cliffs, and mountains. The geology is perfect for hikers of all levels of experience to indulge in long walks and treks. Of course, you can trail along the beach if you are not interested – but for those who don't mind a little exercise, trekking higher allows for stunning views and great photographs, and gets you closer to nature and wildlife – say, some remote bird colonies or penguin rookeries inaccessible otherwise. History buffs will also enjoy doing the Shackleton Walk – a hike following the great explorer's journey to Grytviken, South Georgia.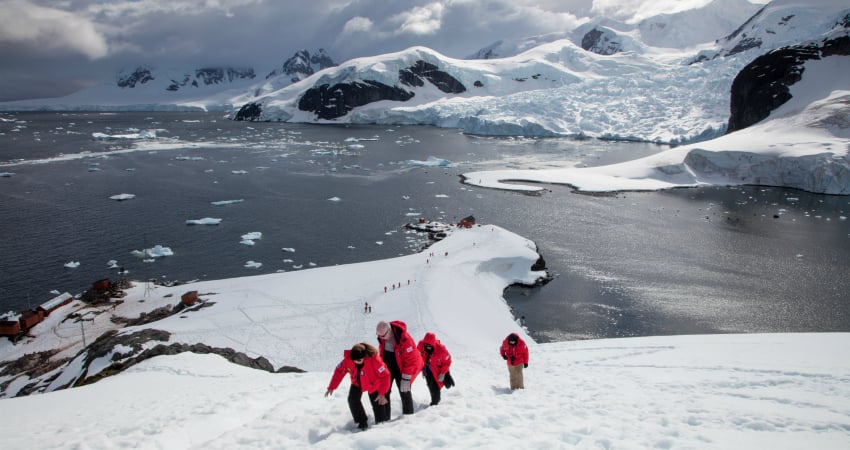 Zodiac Cruising
As we mentioned in the beginning of the article, traveling to the polar regions onboard a large cruise liner will not get you close enough to all the stunning features Antarctica offers. Mostly because you will hardly be able to make landings – there is almost no port infrastructure in the remote high latitudes. Be sure to look for a ship that has a fleet of Zodiacs – small inflatable boats that can get you to all the little isles and secluded harbors. Zodiac cruising is one of the best ways to get closer to the polar regions while keeping a safe distance and minimizing the environmental impact.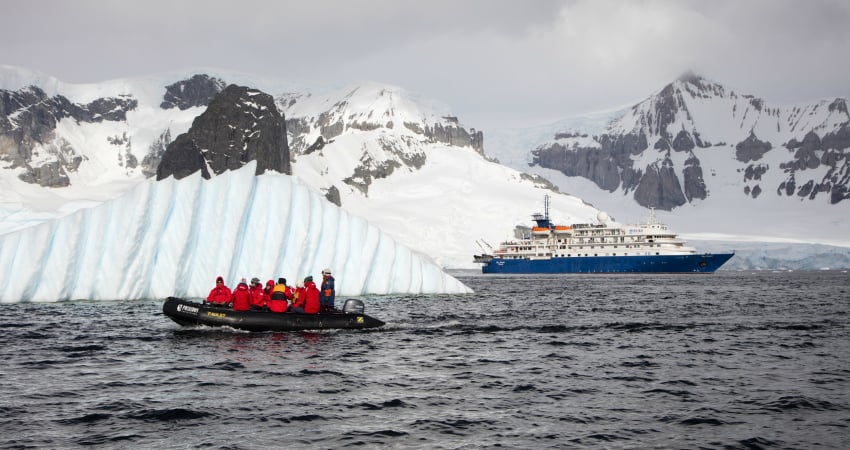 Nature Photography
It's likely that your internal camera will be constantly snapping photos during your trip and you'll have many unforgettable images stored in your mind. But whether you are a pro or prefer taking photos on your smartphone, Antarctica has countless photo and video opportunities for any traveler alike. You'll be inspired by the place, wildlife, landscapes, and ice features, the light and glistening snow – just make sure that you bring a spare memory card or two to make all the photos you want!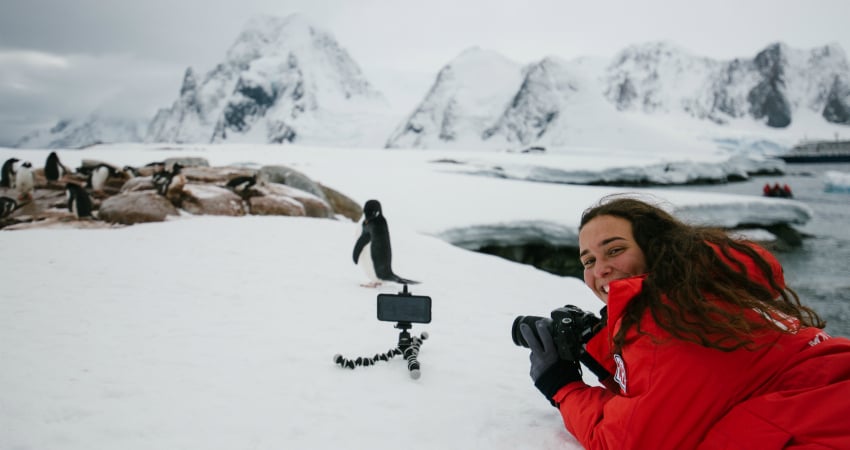 As you can see, there are many ways to explore Antarctica – not just the once listed above. You can also include research station visits to your trip and get to know how scientists live and work at the end of the world, or go on a wildlife adventure with a focus on the fauna of the polar regions. Whichever approach and activity you choose, be sure to travel with a small-ship cruise operator to maximize your expedition experience. And now you may also explore our Antarctic cruises aboard the 114-passenger m/v Sea Spirit!