8 December, 2022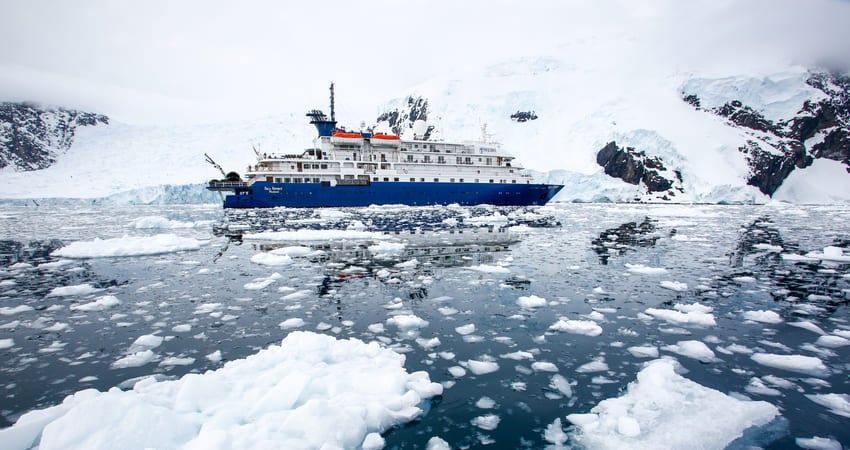 Choosing the right polar expedition ship is an essential stage of planning your cruise to the Arctic or Antarctica. You may think the vessel is just something to get you to all the amazing places in the polar regions, but that's not entirely true. Outdoor activities and landings aside, you're going to spend time on board, so your ship choice can make a big difference in the memories you take home with you. It comes down to finding the right balance between feeling comfortable and well taken care of on one hand, and keeping the expedition side of the voyage fun and educational on the other.
Some companies may focus largely on the services and amenities offered aboard the ship. But remember, you came all this way to see some action and explore the Arctic and Antarctica, not just to sit back and relax with white glove butler service. On the other hand, it is your vacation, and there's nothing more rewarding than returning to a hot shower and a comfortable bed in a quiet cabin after a long day of Zodiac cruising and exploring ashore. Try to find a ship that offers a balance between both aspects of the cruise.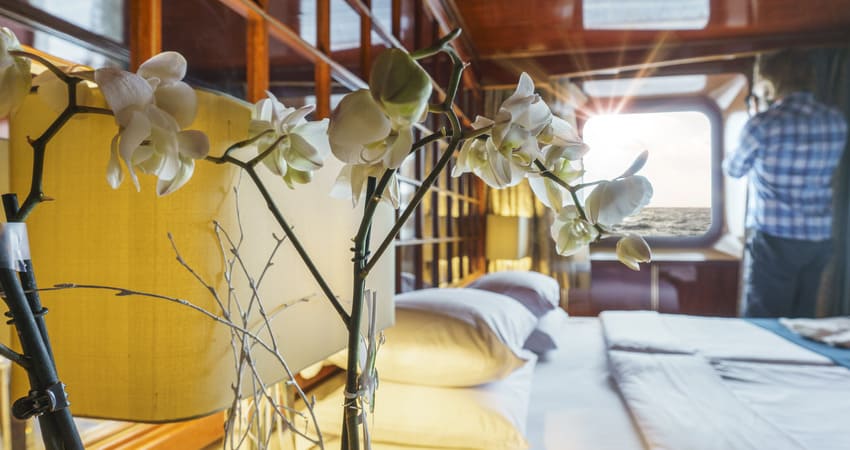 The shared amenities on the ship – bar, sauna, lecture hall or gym – are all important, but we find it's the cabin comfort itself that really makes an impact on a traveler's cruise experience. Here are five things to consider when choosing the right expedition ship cabin:
Inside cabins
An inside cabin is surrounded by other cabins on the ship and has no outside view – no window, no porthole. They are more common on 200+ passenger ships and are usually quite small, packed tightly on the deck. If you plan to only return to your cabin to sleep at night, you might as well go for it because these arrangements are usually cheaper.
This raises another question. Keep in mind that bigger ships are not the best choice for the polar regions. You'll get longer queues for outside activities and less time on land. In Antarctica, for example, only 100 people are allowed on a landing site at once, so being on a 200-300 passenger ship may significantly limit your experience. And since the inside cabins have no windows, every time you will hear a PA announcement about wildlife being spotted, you'll have to hurry to the outside decks not to miss it. And spontaneity is what expedition cruising is all about!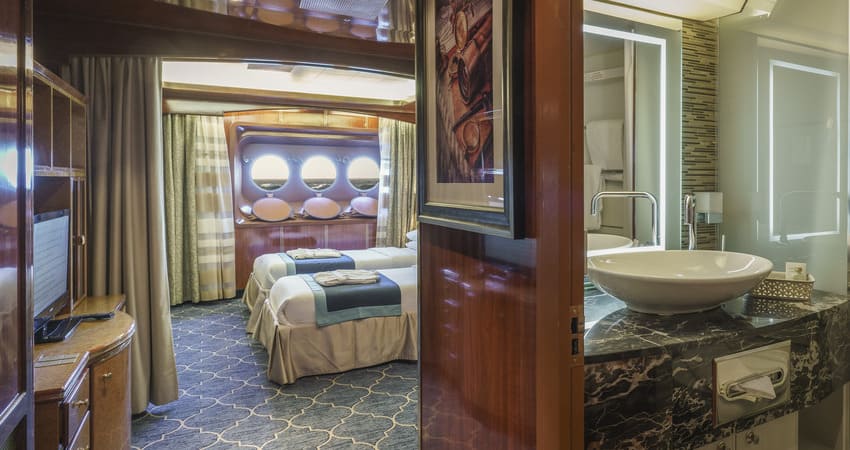 Portholes, picture windows and balconies
Speaking of the outside view, there is a variety of options here as well. You may watch the waves from a porthole – something lower deck cabins usually have – or enjoy a more encompassing view from a picture window. Cabins on the upper decks also may have a private balcony with sliding doors. This is a great option for photographers as you'll have private access to the perfect setting 24/7. If you need natural light or are prone to seasickness or claustrophobia, a window is worth the cabin category upgrade.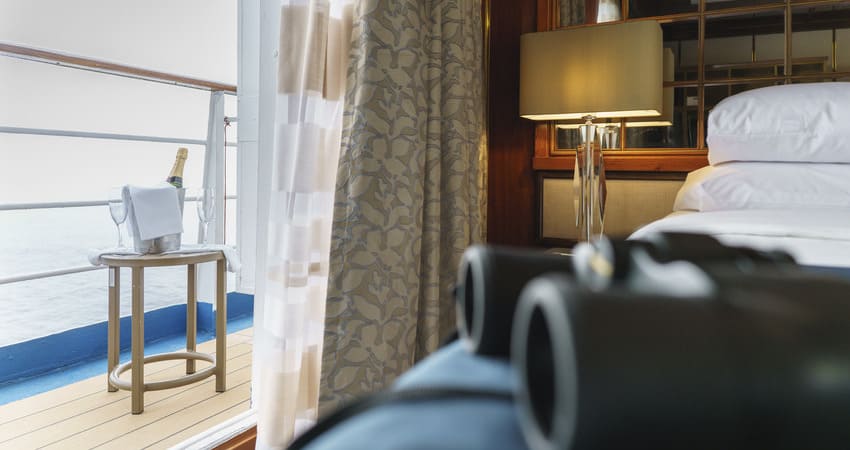 Accommodations for solo travelers
For those traveling on their own, there is always a way to spend less by sharing a cabin with other solo passengers. There are quadruple and triple sharing cabins on some ships, and this arrangement can considerably bring the cruise cost down. If you are okay with sharing with several others, then it will work for you. Triples are one thing, with lower beds for all three travelers, but keep in mind that quadruple cabins often mean bunk beds. And, if you are prone to seasickness, there will be only one bathroom for four cabin mates.
If you are traveling solo and prefer having the cabin all to yourself, check for special single rates and offers that will allow you not to pay for the whole cabin, or twice the per person cost.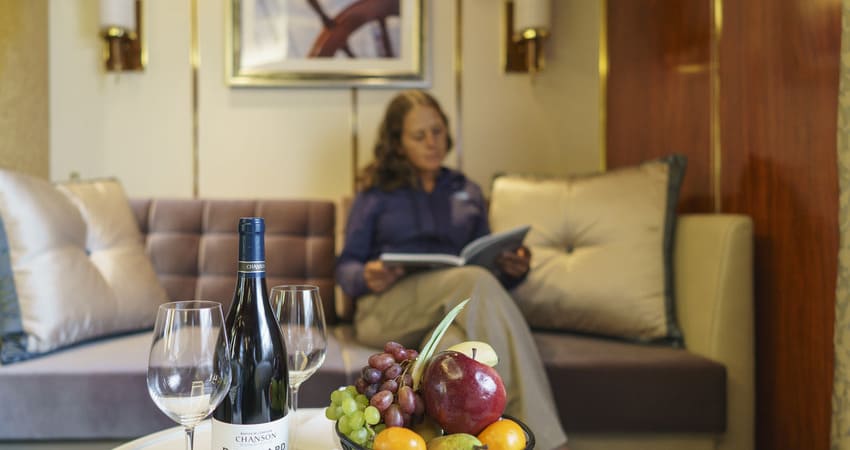 Bathroom facilities
The bathroom question brings us to another thing you'd better check when choosing a cabin – having an ensuite bathroom. This is the case onboard most expedition ships these days, with the exception of some former research vessels. So, if having your own bathroom is important to you, do make sure that the cabin you are going to book has one.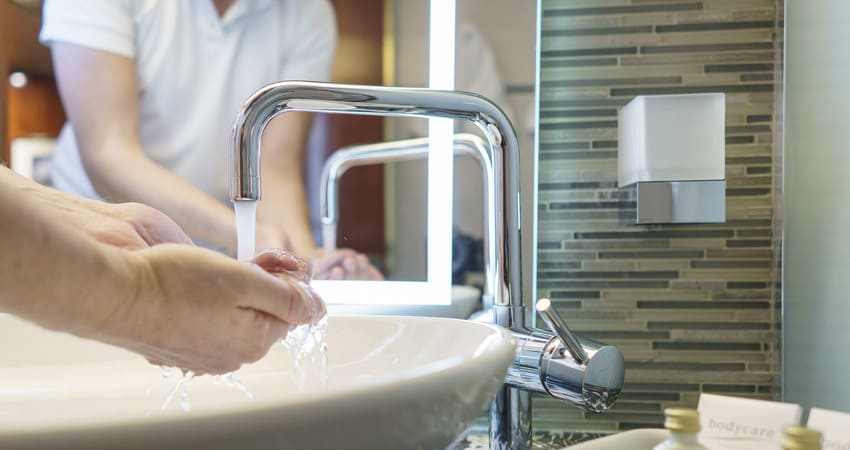 Cabin sizes
On most expedition cruise ships, the size of a standard inside cabin will most likely fall between 150 and 185 square feet; a standard outside, 160 to 200 square feet; and a standard balcony, 175 to 220 square feet. Make sure to check the deck plan to know where your cabin will be located. If you are prone to motion sensitivity, you'll want to select a cabin closer to the middle of the ship, if possible (another reason to book your cruise early). You can also see whether your cabin is close to the doctor's office, gym, restaurant, library or whichever public space area is important to you.
To get an idea of your accommodations, review pictures of the cabin, a video or a 3D-tour of the ship. Compare the amount of storage space available and consider how much room you will have for yourself if you plan on sharing. It's always smart to opt for cabins sized over 20 sq.m. / 215 sq.ft.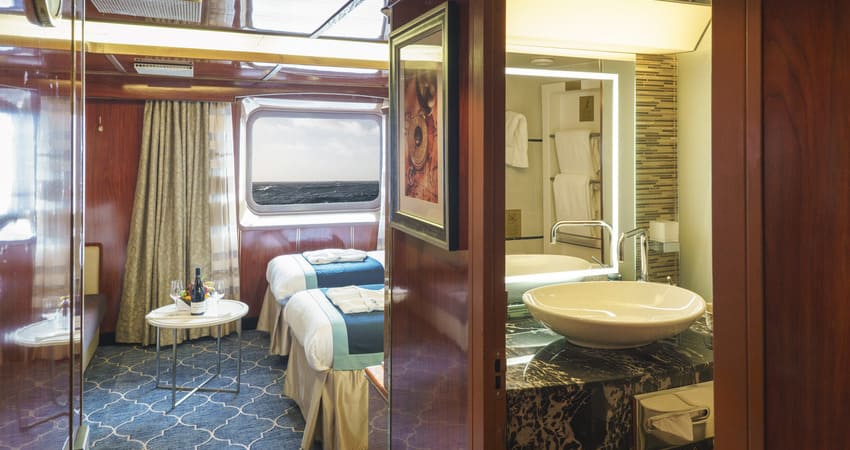 On polar cruises with Poseidon Expeditions, you'll be pleasantly surprised with the amenities our m/v Sea Spirit offers. This deluxe 114-passenger vessel is perfectly suited for exploring the Arctic and Antarctica in comfort and style. Following a series of renovations in 2015, 2017 and 2019, Sea Spirit represents a modern expedition vessel with spacious cabins, bright and airy public areas and stylish design. The vessel has a great range of cabin types, all generous in size and equipped with ensuite bathrooms. Sensible comfort combined with a generous amount of adventure always makes for a perfect expedition cruise! Arctic Ocean ice melting and refreezing, and how it has been affected by climate change; on the walruses we'd see hauled out on ice floes; and on the birdlife we'd see by the tens of thousands covering cliff faces, like a sort of living wallpaper, going about their business of breeding and feeding their young during the short summer season.