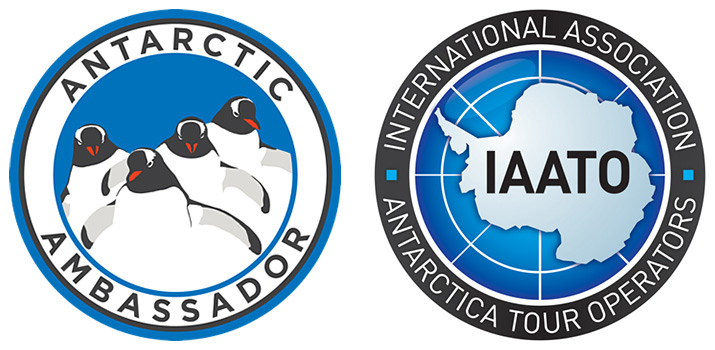 Tourism to the seventh continent has expanded in popularity over the years, but the perception that there is little regulation of the industry has persisted. When larger cruise ships started to arrive and, specifically, after the sinking of the GAP Explorer in November 2007 (thankfully, everyone was safely evacuated) some commentators feared catastrophic accidents and the potential for environmental damage.
Antarctica is governed by an international treaty that came into force in 1961 and which is now signed by more than 50 nations. While the treaty is very good at ensuring the continent is maintained as a natural reserve, and has the intention of preserving the last unspoiled continent in the world, the treaty system works on a consensus basis. Decision making can be an arduous process.
Enter the International Association of Antarctica Tour Operators, more commonly known as IAATO.
What is IAATO?
In 1991, seven independent travel companies operating in Antarctica took it upon themselves to create an organization to promote best practices in the field and self-regulate. IAATO recognized the potential environmental impacts that a growing tourism industry could have in Antarctica. The main purpose of IAATO is to insure safe, responsible, environmentally sensitive tourism in the fragile ecosystem of Antarctica.
Four ways IAATO fills the treaty's gap
IAATO supports the day-to-day field management for tour operators in Antarctica through communication and coordinated systems by acting as a conduit for information. This enables operators, which are competitors in all other respects, to work together and deal quickly with many issues that arise.
IAATO supports its members in developing and reviewing best practice strategies, guidelines and operating procedures that support the organization's mission statement. IAATO also works with its operators to build programs and mechanisms to ensure that Antarctic tourism is responsible and sustainable well into the future.
IAATO works with the treaty parties, as well as other government forums to provide data and information on Antarctic tourism activities, as well as contributing to discussions on the management and regulation of Antarctic tourism.
IAATO and its members support and contribute to research and conservation work in Antarctica, including participating in various research studies, providing logistical support, and through the organization working with various groups by contributing to studies and bodies of research related to traveling to the seventh continent.
One example of IAATO's conservation work are visitor guidelines – in many languages – focused on protecting Antarctic wildlife. These guidelines include:
Do not use aircraft, vessels, small boats, or other means of transport in any ways that disturb wildlife-either at sea or on land.
Be alert to the presence of wildlife and monitor its reaction to you. Take special care around animals that are breeding or molting. Be aware of the periphery of a rookery and remain outside of it. Never harass wildlife. It is illegal and can be dangerous.
Do not feed, touch, or handle birds or seals, or approach them in ways that cause them to change their behavior. Do not damage plants. Avoid stepping, walking, driving, or landing on extensive moss beds or lichen-covered scree slopes.
There are many more guidelines for visitors to the Antarctic that can be found on the IAATO website. Following these guidelines will help ensure a safe and enjoyable Antarctic experience for all visitors, resident scientists and, most importantly, promote the well-being of Antarctica's wildlife. There is also an informative Q&A section on the IAATO website that is valuable reading for anyone thinking about a journey to the White Continent.
Become an "Ambassador for Antarctica" and a steward of the global ecosystem…
"Experiencing Antarctica first hand is a privilege for anyone who visits, whether a tourist, scientific researcher, travel industry professional, ship crew member or national program employee. Having no native population, Antarctica needs ambassadors who will champion this unique environment in a global context."
Poseidon Expeditions has been an active member of IAATO since 2011. Several of the company's managers and field staff are active members on various IAATO committees.
If you have any thoughts about IAATO or questions about the organization, please do so in the comments box below!