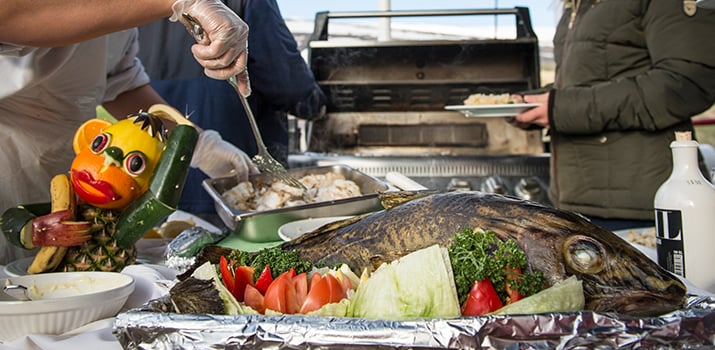 You never know what's going to happen on a polar expedition cruise. Things can change-day by-day due to weather, sea ice, or other unexpected challenges. However, if you have a good expedition team and staff, you'll rarely be disappointed.
Although Poseidon Expeditions does not advertise themselves as a cruise for people whose priority is fine dining, the food on the Sea Spirit in my humble opinion is wonderful! Even if you did not board the ship expecting gourmet cuisine, most guests will leave pleasantly surprised.
During one notable evening as we traveled north in one of west Greenland's many fjords, we had an extraordinary surprise.
Typically, aboard the Sea Spirit, Guests are given a menu with two or three dinner choices as well as vegetarian options. These menus are printed on the previous day, and are handed to each passenger at dinner. One may choose from several starters, main course entrées, and fine desserts.
On this day, there was a last-minute addition to the planned main course options. Fresh cod.
Being from Boston I've had cod ­– or as Bostonian's call it, Schrod – since I was a kid. Truth be told, I was never a fan and always thought of it as just flaky, white fish. Haddock, pollack, hake… it was all the same to me. A bland, cold water fish. I tend to lean towards more of a meaty, flavorful fish.
However, my thinking about cod changed dramatically on May 25th, 2017.
Earlier that day, our Hotel Manager Dmitar Potkonjak decided to go line fishing off the side of the ship. Dmitar has a very stressful job, and as he mentioned to me fishing relaxes him. As with most fishermen, some days are successful, and some days are not. On this occasion, Dmitar hit the jackpot.
With the help of some of the ship's crew, he brought in five rather large cod fish.
To put the experience in context, we're on a relatively small expedition ship carrying about 100 guests and 90-plus crew. Suffice it to say that the news traveled quickly.
As 1900 hours arrived, or 7:00pm, as I had to get used to Nautical time – Dinner was announced. As passengers made their way down to the dining room, a small crowd gathered around a small presentation table in the foyer to the dining room where a freshly caught cod in all its original glory, lay on a decorative platter. There was now an addition to the menu:
Pan Seared Fresh Caught Cod Fish, with a Mustard Beurre Blanc and Celery Root
Typically, I would glance right over this option. However, peer pressure got the best of me, and I ordered the fish with zero expectations. Remember, I grew up in Boston. Home of Legal Sea Food, and other lovely fish restaurants.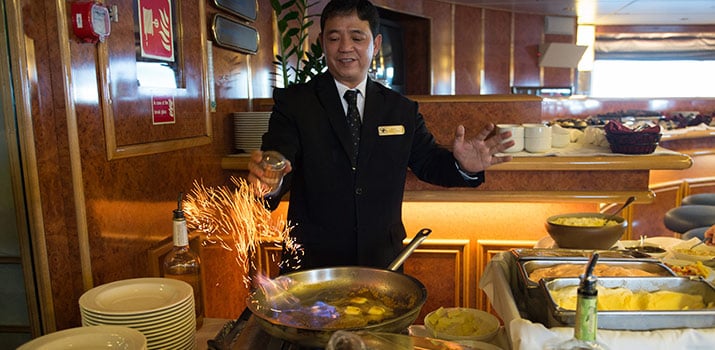 This fresh, line caught cod was some of the best fish I've ever had. Somewhat meaty, not as flaky as I would find back home, topped with a wonderful mustard beurre blanc. (I had no idea what that was, but it was delicious!)
As I said, you never know what's going to happen on a polar expedition. Whether it be the freshest catch there is, or disembarking via helicopter. You must just be willing to expect the unexpected.
All for the love of the expedition.
If you have anything to add about how something unplanned and unexpected on your holiday turned out to be memorable and special, please do so in the comments!