7 December, 2022
Since its discovery 150 years ago, Franz Josef Land has been the setting of some of polar history's most remarkable tales of exploration and survival. At the height of the brief Arctic summer, melting snow reveals relics from early adventurers who endured long, dark winters in icebound ships or makeshift stone huts awaiting frozen graves or serendipitous rescues. Read on to learn about the notable explorers who literally put Franz Josef Land on the map.
The remote High Arctic islands now called Franz Josef Land were probably first discovered as early as 1865 by Norwegian sealing captain Nils Fredrik Rønnbeck. However, the sealers' discovery was never announced. It was customary to keep newly discovered hunting grounds secret to avoid competition from rival companies.
Franz Josef Land was officially discovered in August 1873 by the Austro-Hungarian North Pole Expedition (1872–74), led by Julius von Payer and Karl Weyprecht. Their goal was to find the fabled Northeast Passage or, secondarily, to reach the North Pole. However, before they could accomplish either of these goals, their schooner Tegetthoff became locked in pack ice near Novaya Zemlya. As prisoners of the ice, they drifted slowly north for an entire year before sighting new land, which they named in honor of Austro-Hungarian Emperor Franz Joseph I (1830–1916).
The next spring, with their ship still locked in ice, the expedition team set off on foot to explore these uncharted islands. They walked for hundreds of miles through the perilous Arctic wilderness. They noted huge populations of walrus and other wildlife. Even as they were harried by polar bears and beset by brutal storms, they made important scientific observations and mapped much of the archipelago. They went as far as Cape Fligely—the northernmost point of land in the Eastern Hemisphere—before returning to their icebound ship.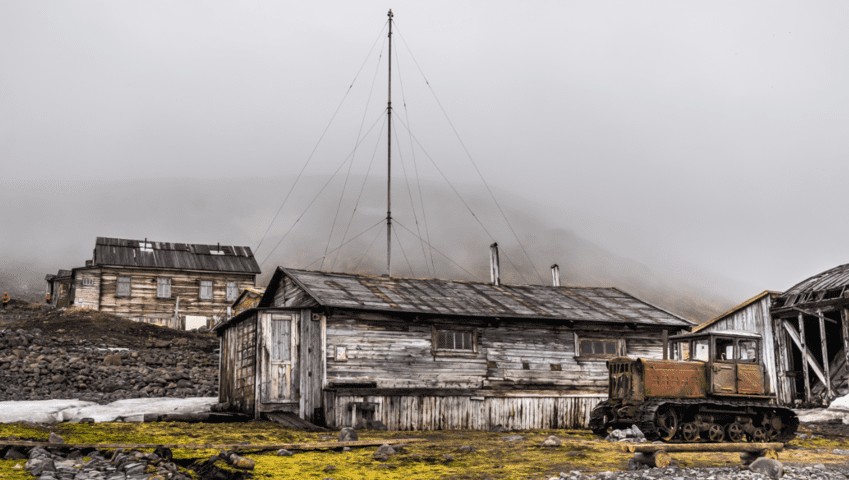 Finally, after almost two years in the ice, Payer and his crew abandoned the Tegetthoff and dragged their lifeboats south, hoping to reach open water across the frozen sea. Wind and ice conditions conspired to slow their progress, so that after three weeks of arduous marching they were still within sight of the abandoned ship. Eventually, the starving men reached open water and rowed back to Novaya Zemlya, where they were miraculously rescued by Russian fishermen. Even though they had not found the Northeast Passage or reached the North Pole, they were welcomed back to Vienna as national heroes for their discoveries and amazing feats of survival in a place beyond the edge of the known world.
Though the archipelago is now a nature reserve open to tourism, these are still among the least accessible islands in the world. Even today, only a small handful of companies have the experience and government permissions to attempt cruises to Franz Josef Land. With Poseidon Expeditions, you have two options. You can visit Franz Josef Land on the nuclear-powered icebreaker 50 Let Pobedy on a journey to the North Pole from Murmansk. Or you can enjoy an in-depth exploration of these starkly beautiful islands with the luxury expedition ship Sea Spirit on a direct voyage from Svalbard. If you are lucky enough to join an expedition cruise to these wildly remote Arctic islands, you will experience a raw polar wilderness that has barely changed since the time of early explorers.