7 December, 2022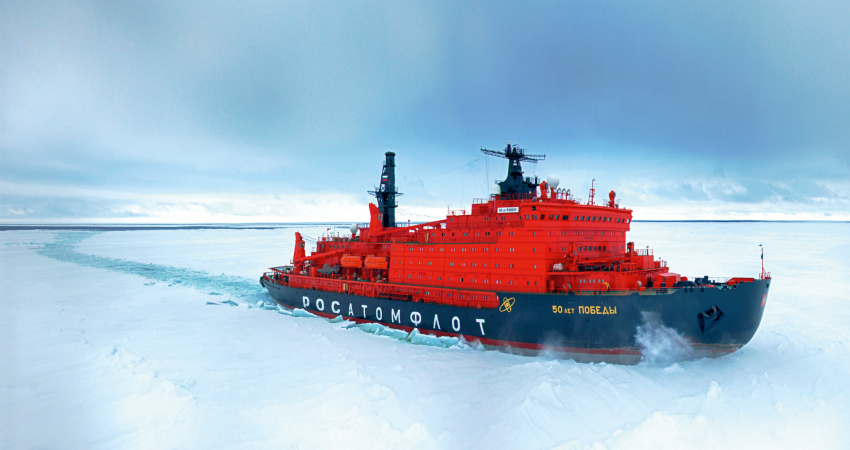 Our North Pole cruises take place aboard the most powerful icebreaker in the world, 50 Let Pobedy, which stands for 50 Years of Victory. This vessel is truly a masterpiece of engineering and an enduring symbol of Arctic shipping. But what is a day aboard an icebreaker like for our passengers? Let's take a virtual tour!
Welcome aboard When you look at 50 Years of Victory, it is hard to imagine it anywhere except in action. Her 75,000-horsepower nuclear engines and revolutionary spoon-shaped bow were designed to crush through sea ice up to three meters thick. But she also packs a punch - comfortable cabins for 124 passengers and everything a modern cruise liner should have, including a restaurant, bar, gym, library, and a pool with two saunas.
The library is a comfortable, cozy space to enjoy a good book and to organize photos. Active team sports such as basketball and volleyball are offered in the sports hall while the gym has exercise machines with breathtaking views of the polar wilderness outside.
Passengers gather for meals in the restaurant, where delectable contemporary cuisine is freshly prepared by our talented chefs. The extensive menu is constantly rotated for an international culinary experience.
If we swing by the Victory Bar in the evening, we will find fellow travelers and expeditions staff gathered for drinks and dancing to live music with the backdrop of panoramic forward-facing views. Deep inside the ship, there is a pool and two adjacent saunas perfect for relaxing after a day of exciting activities.
And when we step outside, several levels of open decks stretch along the length of the ship, where our passengers have plenty of space to observe the beauty of the Arctic and to witness the ship's awesome icebreaking power.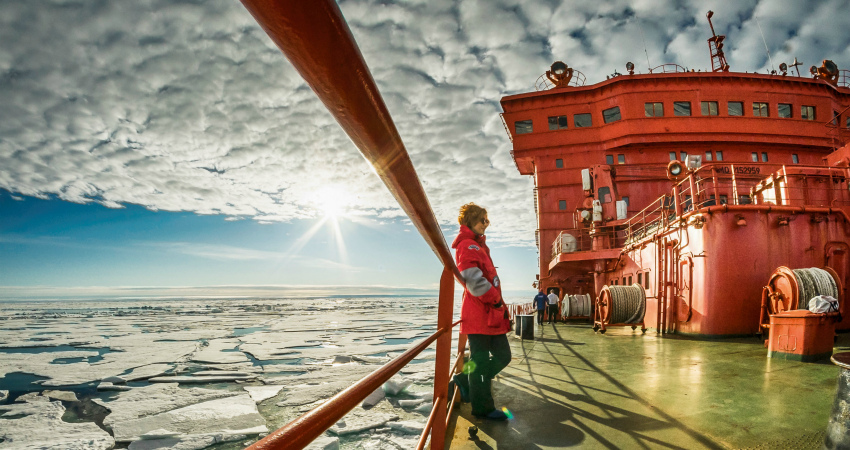 Edutainment on board Comprehensive interpretation of Arctic wildlife and polar exploration is given by our expert naturalists, scientists, and historians during riveting multilingual presentations and informal discussions on board. Our passionate expedition staff is always on hand to make sure the expedition experience is educational as well as entertaining.
During the voyage, we offer an engine room tour where the passengers can see the inner workings of a nuclear-powered icebreaker. Deep inside the ship, atomic fission is harnessed to take guests safely and cleanly through the solid sea ice to the North Pole.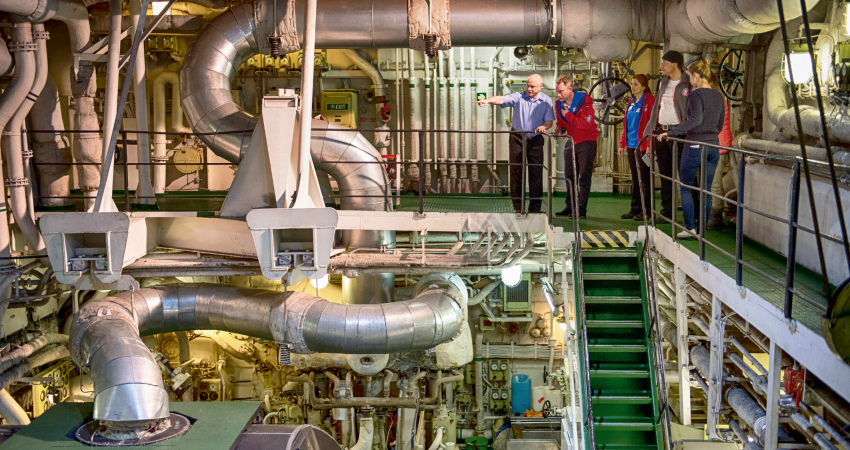 Included activities
50 Years of Victory is equipped with a fleet of Zodiac boats and a helicopter. With the extremely capable landing crafts, we can experience the Arctic up close during shore excursions and Zodiac cruises. Throughout the icy wilderness of Franz Josef Land and on the frozen seas all the way to the North Pole, we seize every opportunity to observe polar bears, walruses, and whales in their natural habitat.
One of the most memorable highlights of the cruise is the time aboard the helicopter, flying over and alongside the icebreaker while it plows through the frozen Arctic Ocean. The vast and ever-beautiful environment offers endless amazing photographic opportunities.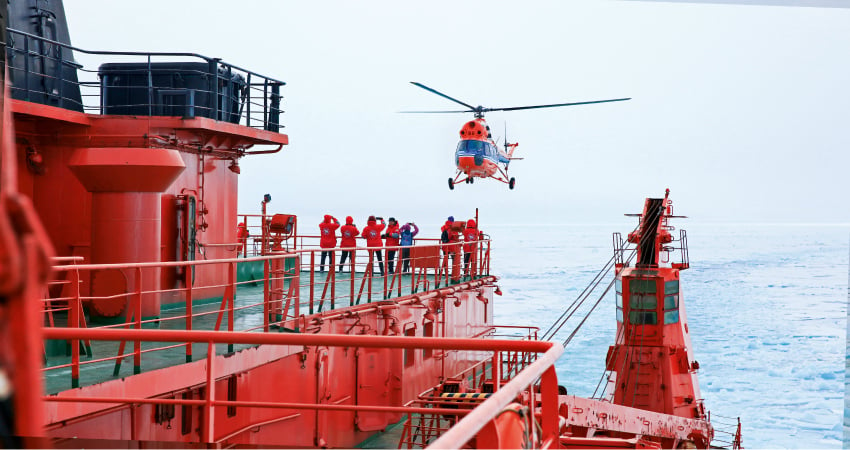 Now our virtual ship tour is complete! If you are looking to join one of our North Pole cruises next summer or were just wondering how the day goes by aboard a nuclear-powered icebreaker, we hope we have you covered. Any questions are welcome in the comments below!