7 December, 2022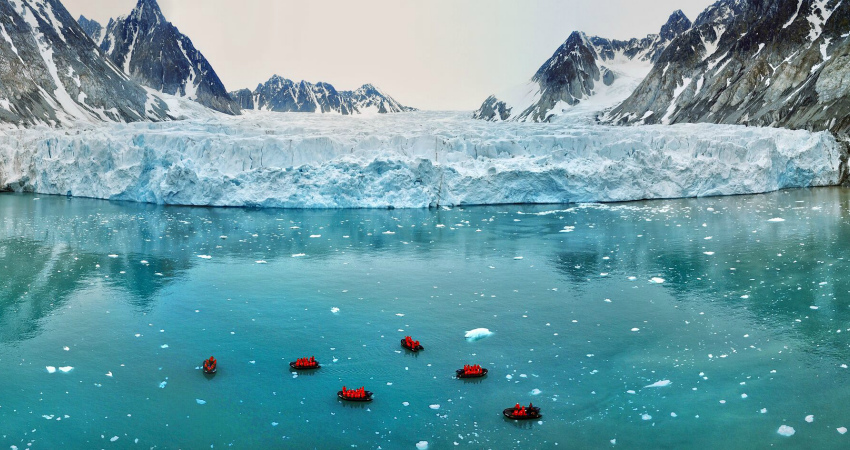 Those of us in the sales & marketing departments at Poseidon Expeditions sometimes take for granted that our prospective travelers know what to expect on an expedition cruise. Yup, we assume too much. Our brochures and website feature great photos and itineraries, focus on our talented team of expedition staff – marine biologists, ornithologists, polar historians and geologists – our comfortable 114-passenger Sea Spirit, and the wildlife that you can expect to see.
But we can forget that many of you have never experienced such an adventure, even though you've done your research and usually have a good idea what you're looking for. So, when we get the question, "Yea, that all sounds good. But what does the typical day look like? What will we be doing?", we must confess that we may not have done an adequate job in giving you a sense of how you'll spend your day "in the ice." In other words, we need to be better storytellers, allowing you to put yourself in the destination in a way that makes it seem, well, real.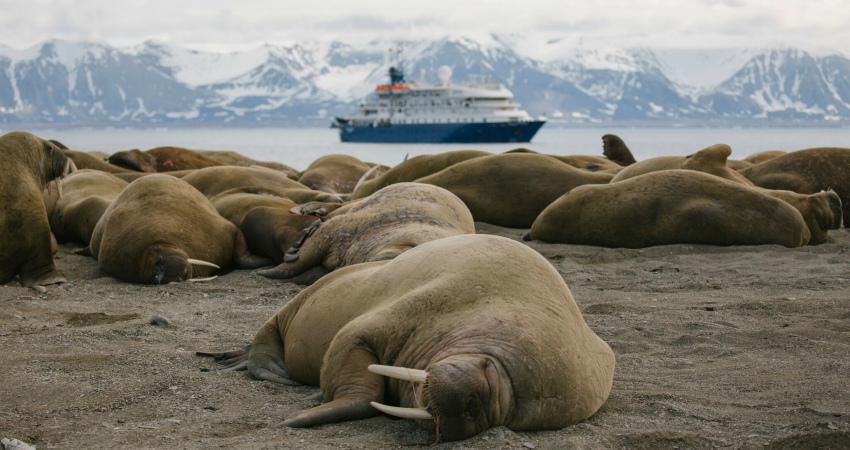 Okay, let's give it a shot! Imagine yourself in the High Arctic in June, just off the northwest coast of the Svalbard archipelago. It's Day 3 of our ten-day program, and light nearly 24 hours a day. Our destination is Virgohamna on Danskoya Island, where remains of 17th-century whaling activities can be seen, along with remnants of later expeditions to the North Pole. As you're getting ready for breakfast, an announcement comes from the bridge that a female polar bear and cub have been sighted on the ice 100 yards off the port side. As the captain brings the ship to a stop, throw on you parka and head out to the deck and spend the next 30 minutes in hushed silence with your fellow guests, taking photos or simply immersing yourself in this unique wildlife experience. These spontaneous events and the ability to pause and watch is what expedition cruising is all about.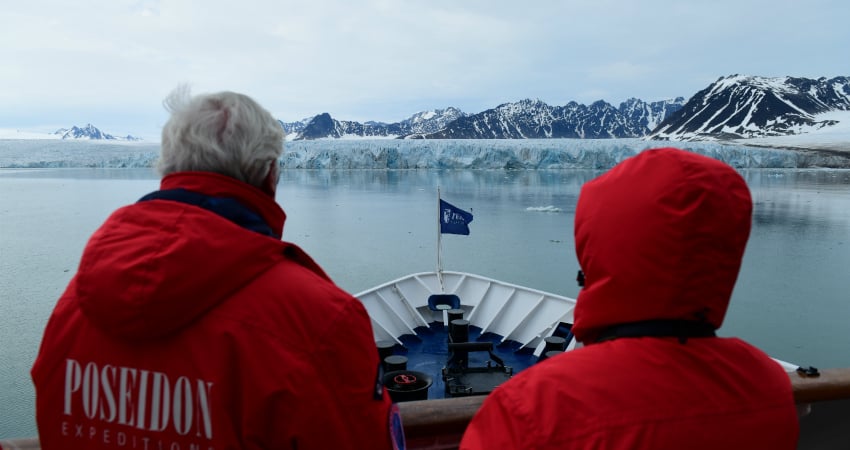 Following a buffet breakfast in the ship's restaurant, climb aboard a Zodiac for the short shuttle ride to Virgohamna, where you'll be guided around the site by our staff historian, who will talk about several failed air balloon attempts from here to reach the North Pole in the late 19th and early 20th centuries by Swedish and then American expeditions. On the way back to the ship, we'll pause to observe and photograph a huddle of massive walruses hauled up on the beach, lazily warming themselves in the sun.
Meanwhile, those who signed up for kayaking – eight seats available in four kayaks – head off for a few hours of paddling away from the ship. This optional activity provides a chance to immerse yourself even further into the Arctic environment, as you glide silently among the brash ice on the lookout for seals or even a possible Beluga whale.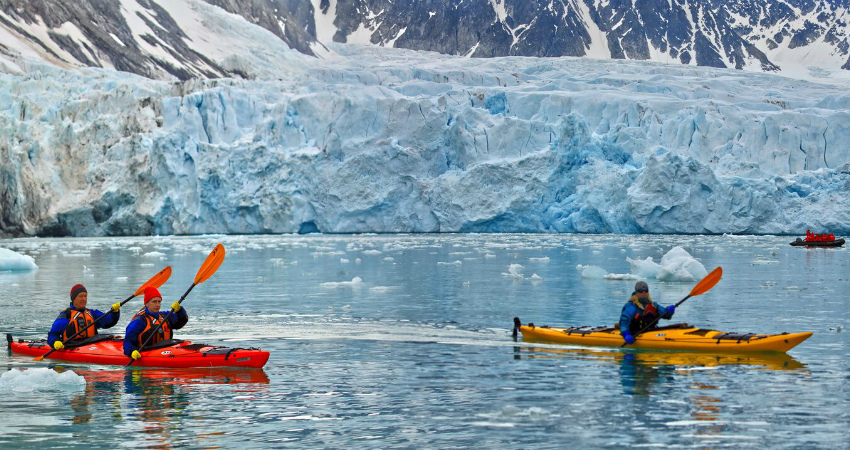 Time for lunch in the restaurant, or choose a lighter selection of salads and sandwiches at the Outdoor Bistro on the Club Deck. This afternoon, half the ship will stay aboard for a presentation by our marine biologist on "Arctic Whales" – the various species we can expect to see during our voyage, their migrating and feeding habits, etc. – while the other half heads to Smeerenburg ("Blubber Town") for a look at what remains of 17th-century blubber ovens. You'll then head back to the ship for your turn in the Oceanus Presentation Lounge to learn about whales while the other group visits Smeerenburg.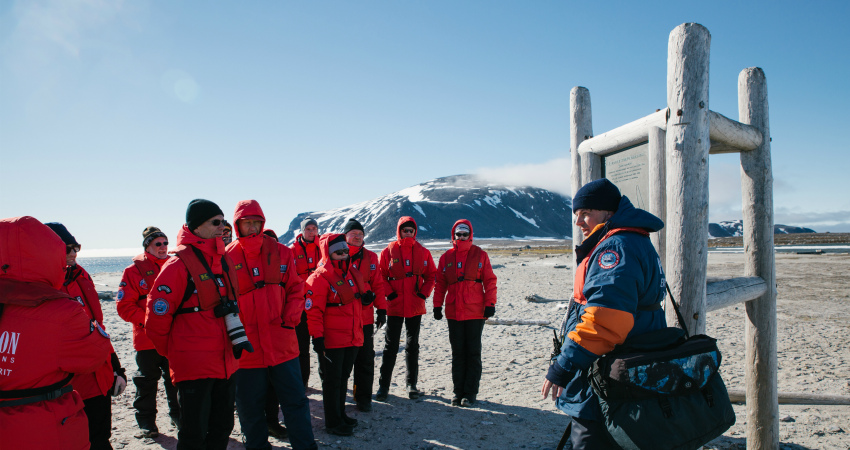 There's time to relax with a drink in the lounge, take a nap or maybe sit in the Jacuzzi on the Club Deck as the ship gets underway with everyone back aboard. Or, you might head up to the open bridge and help members of the expedition team scan the horizon for more polar bear. At 6:30 pm, join the expedition team in the Oceanus Lounge for a recap of what was seen today, time for Q&A and a preview of the beautiful scenery and icescapes anticipated tomorrow in Liefdefjordan ("Love Bay") and Monaco Glacier, where we might be lucky enough to witness some glacial calving from a safe distance.
It's dinner time! Open seating prevails, so you have a chance to meet new friends or dine with familiar ones. Enjoy a selection of delicious entrées, including fish and vegetarian selections, served at the table by our accommodating wait staff. By now, they likely know your preferences with the wine list!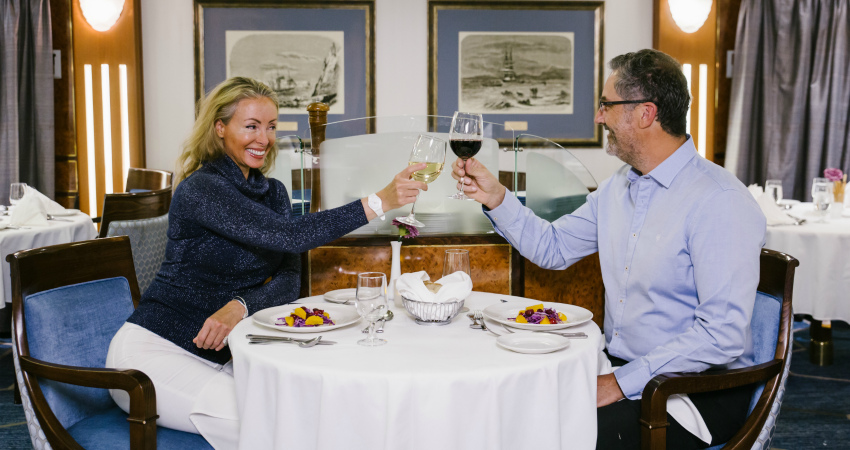 After dinner, with the steady hum of the engines propelling the ship further north and east, share a nightcap in the lounge with new found friends and members of the expedition team. There's plenty to talk about and anticipate for tomorrow – another day of adventure in the ice!