Wedding
If you're looking for an ultimate romantic escape or the most unusual place to get married, you might consider the polar regions as your wedding destination. An expedition cruise to the Arctic, Antarctica or the North Pole will have your honeymoon plans covered as well. Opt for a wedding ceremony in the polar wilderness, and the rest of your voyage will become a fantastic holiday to start off your married life.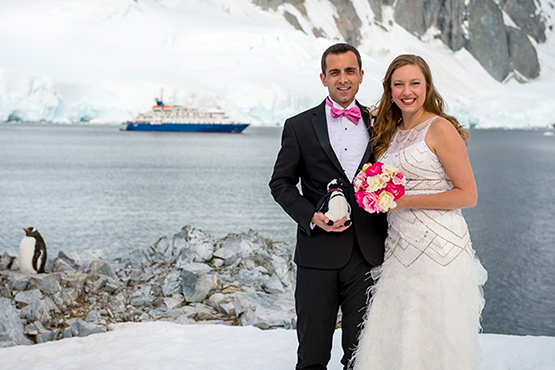 THE PERFECT LOCATION
You won't need to spend hours choosing the perfect location – there is no better backdrop for a wedding than dramatic mountain peaks, icy castles of icebergs and glaciers, sparkling white landscapes and magical snow.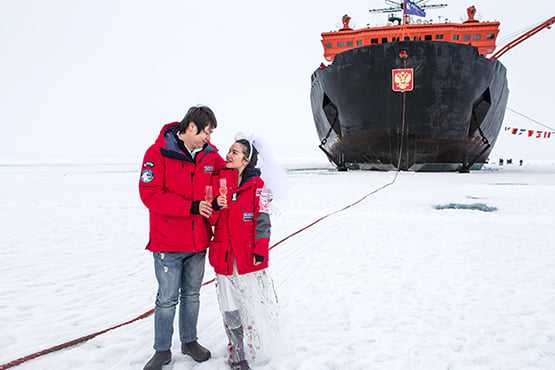 YOUR GUESTLIST IS TAKEN CARE OF
If you are getting married in Antarctica, most of the guests attending will be dressed for the occasion in their fines black-and-white attire: the curious penguins won't miss a chance to witness your special moment. Up in the Arctic, a polar bear cub might make an appearance at the top of the hill to observe from afar. And at the northernmost point in the world, the North Pole, you will literally lose track of time: this is the place where all time zones converge.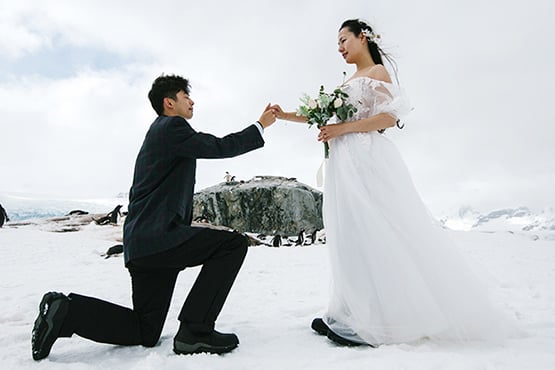 DRESS CODE - FORMAL OR EXPEDITION-STYLE
Getting cold feet is not an option here! You will most likely be sporting a pair of rubber Wellington-style boots, but, weather permitting, the look will be complete with a white dress or black suit. Our signature red Poseidon parka will not only keep you warm during the ceremony but will look perfect on the wedding pictures. After all, red is the color of love!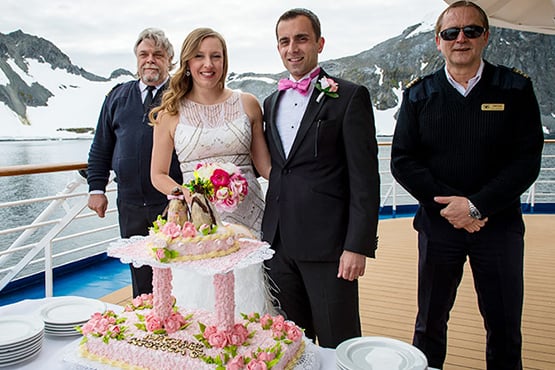 WEDDING PARTY OF YOUR DREAMS
Both vessels in the Poseidon Expeditions' fleet are perfectly suited to host a just-married party. Your invited guests, fellow like-minded travelers and our expedition team will share your joy. Our onboard photographer will snap a perfect picture of the newlyweds. Later in the evening, you will have a celebratory meal in our restaurant, and your spacious suite will provide the much-needed comfort and privacy after a long day.
And if you've had a traditional ceremony back home before the cruise or maybe even several decades ago, there is still something very special in renewing your vows at a place where they become frozen in time.