PROVIDENCE, RI, June 1, 2017 — Poseidon Expeditions, anticipating the potential landscape challenges of icy West Greenland in the spring, used its experience and contingency planning to successfully transfer more than 200 guests via helicopter on Wednesday.
Following a short Zodiac cruise fr om the MV Sea Spirit, anchored in Ikertoq Fjord in West Greenland, the transfer took place on a grassy field near the abandoned village of Sarqardlit, about 35 nautical miles west of the intended disembarkation point in Kangerlussuaq.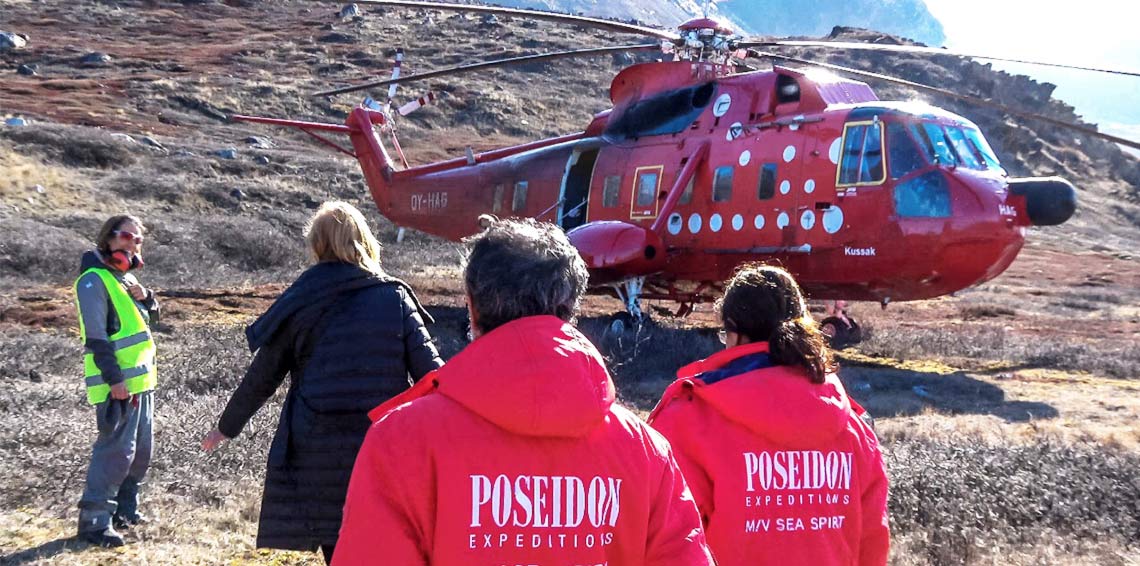 The initial morning helicopter transfer involved 90 passengers. This transfer by helicopter was necessitated by sea ice blocking the final miles of eastern Søndrestrom Fjord. The ice prevented the planned disembarkation of the vessel's first cruise of the Arctic season in Kangerlussuaq, from wh ere passengers were to fly home. West Greenland's only international airport, Kangerlussusq sits at the far eastern end of Søndrestrom Fjord.
Planning for this operation (not an emergency) had been underway for the previous 10 days by the Poseidon Expeditions' operations team and Greenland service providers. The cruise began in Nuuk, Greenland on May 22 and was not shortened in any way due to the ice situation. Guests explored intended coastal areas including Disko Bay during the cruise, visiting small Inuit villages and taking advantage of expedition activities such as nature hikes, Zodiac cruising and kayaking.
Similarly, but in the reverse direction, the 114 guests who planned to embark the Sea Spirit Wednesday afternoon in Kangerlussuaq for a May 30-June 6 voyage were flown via helicopter from the airport to Sarqardlit. During both morning and afternoon operations, guests and their luggage were transferred via Zodiac landing craft between the Sea Spirit and the makeshift helicopter pad in Sarqardlit.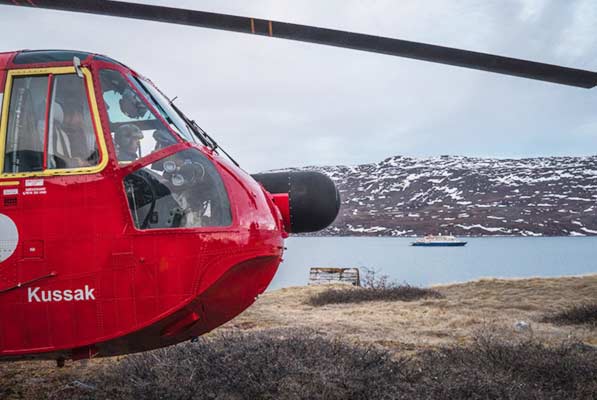 For the transfer, Poseidon Expeditions contracted with Air Greenland to secure the services of a 19-seat Sikorsky S61-N helicopter. Passengers were flown in small groups on the approximately 30-minute flight each direction, with luggage carried on a separate flight.
Nikolay Saveliev, president of Poseidon Expeditions, gave high marks to all involved in the successful completion of the helicopter transfers. «I want to thank our operations team as well as the ship's captain and expedition staff, all of whom made this happen without a hitch in Sarqardlit. We also had great cooperation from Air Greenland and our ground operator, World of Greenland, both of whom partnered with us in a most professional way to make 'Plan B' a complete success.»
According to World of Greenland and Air Greenland, this was the first such passenger transfer via helicopter between an expedition vessel and Kangerlussuaq, and involved more than 200 guests.
«Cruising in the polar regions usually has some unplanned twists and turns; this is what expedition cruising is all about. We have more than 15 years of experience using helicopters in the high Arctic, and so were able to effectively integrate this into the operation. We're happy to report that the passengers took the change of plans in stride, and considered it an unexpected bonus of their Greenland adventure,» Saveliev said.
Ice conditions in Søndrestrom Fjord will continue to be monitored during the next week to determine if disembarkation on June 6 will take place in Kangerlussuaq as scheduled, or if the Sikorsky S61-N helicopter will again be called into action.
According to Anja Erdmann, the ship's expedition leader who has more than 15 years of experience in Greenland cruising, sea ice is always a factor along the island's western shores and fjords in May. «We enjoyed ice-free conditions last year — same week, same place — but there are never any guarantees and a realistic, objective appraisal of the situation beforehand is always required. We know the risks and just have to be prepared for them,» she said.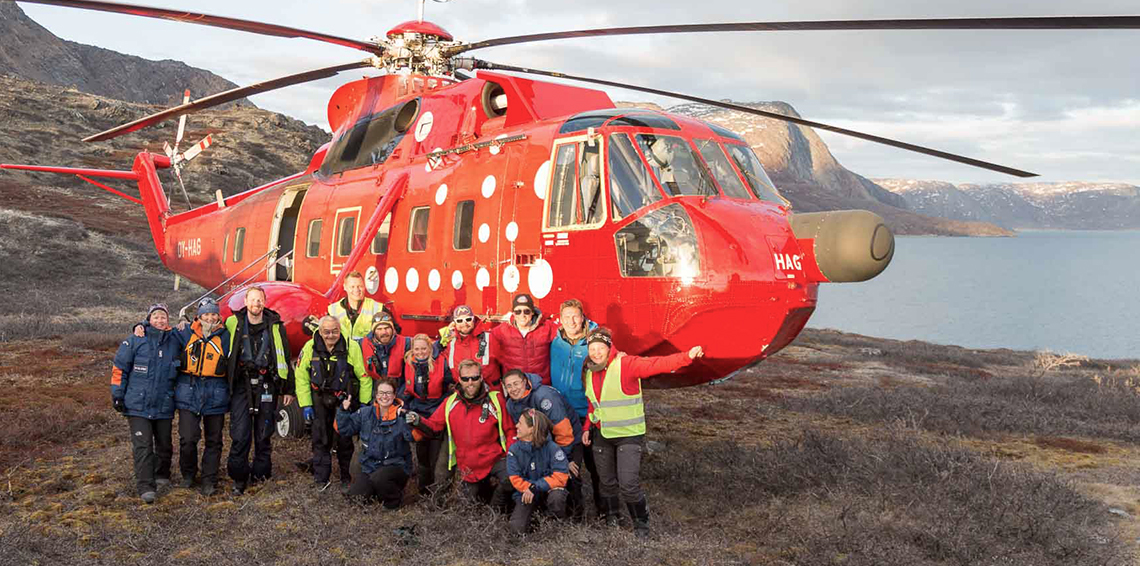 # # #
About Poseidon Expeditions
With offices in the US, UK, Germany, Russia and China, Poseidon Expeditions is a leading provider of polar expeditions in the cruise industry. In addition to the M/V Sea Spirit, the company provides guests with the unique opportunity to travel to the geographic North Pole aboard the I/B 50 Years of Victory, the largest and most modern nuclear-powered icebreaker in the world. Fourteen-day, top-of-the-world programs are scheduled for both the 2017 and 2018 summer seasons. The company is committed to safe and environmentally responsible polar travel. It is a member of the International Association of Antarctica Tour Operators (IAATO) and the Association of Arctic Expedition Cruise Operators (AECO).
The company's complete 2017-2018-2019 Arctic and Antarctic schedules, rates and special offers can be found at https://poseidonexpeditions.com/. A new 80-page catalog detailing the company's ships and activities is also available, and can be requested online or through any of the Poseidon Expeditions offices.
For inquires and reservations in North America, or to request a catalog, individuals and agents can contact the company's Providence, RI, sales and reservation office at SalesUSA@poseidonexpeditions.com or by telephone at 347-801-2610.
In Germany, Austria and Switzerland, contact Poseidon's Hamburg office — Anfrage@poseidonexpeditions.com or telephone +49-40-7566-8555. In the UK and elsewhere on the globe, contact Sales@poseidonexpeditions.com or telephone +44-870-068-9142.
Follow Poseidon Expeditions on Social Media:
Facebook: https://www.facebook.com/poseidonexpeditions
Twitter: https://twitter.com/poseidonexp
YouTube: https://www.youtube.com/user/pxpeditions
Instagram: https://www.instagram.com/poseidonexpeditions/
Website: https://poseidonexpeditions.com/
PR Contact: Widness and Wiggins PR — http://www.travelnewssource.com/
Sara Widness / sara@widnesspr.com / 802.234.6704
Dave Wiggins / dave@travelnewssource.com / 720.301.3822