PROVIDENCE, RI, March 27, 2018 – Poseidon Expeditions, specialists in expedition cruising in the Arctic and Antarctic regions, has announced its sponsorship of an April 5-6, 2018, symposium at Brown University that will address issues impacting the polar regions.
Polar Opposites: Creative Interventions in the Arctic and Antarctica is under the auspices of The Brown Arts Initiative (BAI). Two days of panel discussions, presentations and exhibitions – all free and open to the public – will be held at the Perry and Marty Granoff Center for the Creative Arts on campus. Advance registration is required.
An exceptional group of innovators and practitioners including artists, scientists, activists, researchers and scholars will address issues impacting the polar regions. Polar Opposites is part of the BAI's three-year Arts & Environment program addressing a diversity of topics related to natural and man-made issues with a focus on raising awareness of and creatively addressing the impact of climate change. The breadth of the symposium's topics is designed to highlight collaborative experimentation, scholarship and problem-solving across disciplines.
"We are honored to sponsor this event," said Nikolay Saveliev, president of Poseidon Expeditions (https://poseidonexpeditions.com/). "A hallmark of our company is its long-term commitment to science and the arts as they relate specifically to the polar world. Frequently among our cruise guests are citizen scientists and international photographers and artists whose works continue to engage the greater public with these frozen environments.
"Like this symposium's participants and attendees, we share the environmental imperative and responsibility for conservation of the Arctic and Antarctic habitats. A key part of our mission is to help our guests understand the importance of preserving polar regions for future generations," he said.
Founded in 1999, Poseidon Expeditions is a recognized leader in icebreaker cruises to the North Pole and Franz Josef Land, expanding its products and services in recent years to include deluxe expedition cruises to the Arctic destinations of Svalbard and Greenland, and to Antarctica, South Georgia and the Falkland/Malvinas Islands.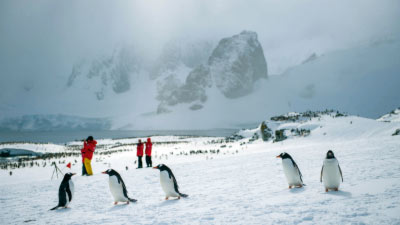 The company operates two vessels, the 114-guest Sea Spirit and the 128-guest 50 Years of Victory, purpose-built as an icebreaker for venturing to 90º north latitude – the top of the world.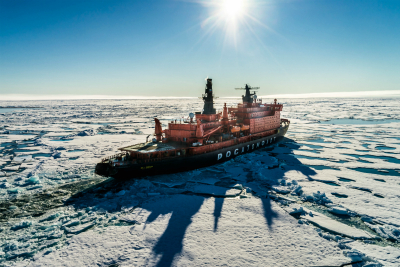 The company maintains offices in the US, UK, Germany, Russia and China and is committed to safe and environmentally responsible polar travel. It is a member of the International Association of Antarctica Tour Operators (IAATO) and the Association of Arctic Expedition Cruise Operators (AECO).