Book by Nov. 1, 2018, Receive Discounts of up to 15 Percent on Most Itineraries
PROVIDENCE, RI, Jan. 18, 2018 -- Poseidon Expeditions, the go-to company for Arctic and Antarctic cruises, has a jump on the 2019 and 2020 seasons with new destinations, additional departures of favorite journeys and if booked by Nov. 1, 2018, discounts of up to 15 percent on most itineraries.

The company maintains two vessels, the 114-guest Sea Spirit, recently fully refurbished, and the 128-guest 50 Years of Victory, purpose-built as an ice breaker for expedition cruising. Both are in northern climes in the North American summer; Sea Spirit moves south in the winter for explorations of the Southern Ocean and Antarctica.
New 2019 Sea Spirit Itineraries
A brand-new itinerary launching for 12 days June 3-14, 2019, is
From Scotland Highlands to Arctic Glaciers
. Guests depart on Sea Spirit from Leith (Edinburgh), Scotland, and cruise to Norway's Longyearbyen (Spitsbergen), tracking routes of Vikings who invaded Scotland's (among other) coastlines in search of arable land – and gold. Guests visit:
Skara Brae, a 5,000-year-old village and UNESCO World Heritage Site in the Orkney Islands
a birder's paradise (over 345 species recorded) on Fair Isle (think sweaters) in the Shetland Islands
Denmark's Faroe Islands (think salmon) that National Geographic Traveler has designated as "Authentic, unspoiled and likely to remain so"
Norway's stunning and wild Jan Mayen
and the High Arctic wilderness of Svalbard, with ghosts of whaling camps and trappers' cabins and very present polar bears, reindeer, walrus, whale and more, all frisky in Nature's 24-hour days.
The per person double rate is from $5,396 in a Main Deck Suite, after the discount.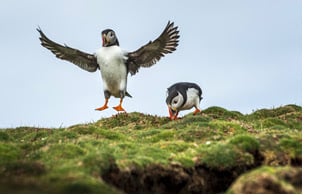 A second brand-new Sea Spirititinerary, a 12-day May 21-June 3, 2019, Best of the British Isles cruise (web link and more details to come), is also a new direction for Poseidon Expeditions because this adventure has nothing to do with either the Arctic or Antarctica. This trip begins in Plymouth, UK, and proceeds along the magical Scottish coast among legendary islands of both Scotland and Ireland, ending in Leith (Edinburgh), Scotland. Many stops will introduce designated birding – including puffin -- habitats. Like all of its journeys, an expedition team that specializes in exploration of the natural world will be aboard to curate the adventure for guests. Also figuring into this journey:
the high cliffs of Scotland's St. Kilda (think sea bird eggs harvested for human fodder)
the basalt columns of Ireland's Giant's Causeway
castles and monasteries (including Iona Abbey)
Waterford (crystal)
Snowdonia National Park and a 13th century castle in Wales
Shetland ponies
a Highland distillery
The per person double rate is from $5,795.
Expanded Sea Spirit Departures in 2019
Poseidon Expeditions has added a second departure of
East Greenland
Under the Dome of Northern Lights
. This 11-day trip departures in 2019 Sept. 6-16 and Sept. 15-25. This cruise – round trip from Reykjavik – has sold out for four consecutive seasons. The per person double rate inclusive of an early booking discount is from $7,556.
There will also be two departures of the unique Franz Josef Land Archipelago - Russian High Arctic cruise, a 14-day program exploring the Russian High Arctic that is not available through any other expedition ship operator. Departures in 2019 are Aug. 1-14 and Aug. 13-26. The per person double rate inclusive of an early booking discount is from $12,056.
Sea Spirit in Antarctica 2019-2020
For the 2019-20 Antarctic season, Poseidon Expeditions again offers a variety of classic Antarctic Peninsula programs as well as three longer Antarctica, South Georgia and the Falkland Islands voyages, all utilizing Sea Spirit. The season begins with the 23-day
Falklands, South Georgia & Antarctic Islands "Antarctica Awakening"
program Oct. 20-Nov.11, 2019, embarking in Montevideo, Uruguay, and ending in Ushuaia, Argentina. The final voyage of the season, also 23 days, includes the same Southern Ocean destinations,
February 25-March 18, 20
embarking in Ushuaia and disembarking in Montevideo. Please see:
https://poseidonexpeditions.com/antarctica/
for itinerary and information on early booking offers.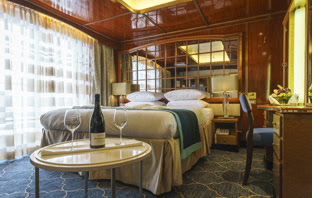 Sea Spirit guests enjoy the freshness of a brand-new $1 million refurbishment of all 55 guest suites (square footages up to 463) and public areas. There are two multi-purpose lounges for educational programming and entertainment, a restaurant that can accommodate all passengers in one seating, a well-stocked library, and ample outdoor deck space to enjoy the polar landscapes and wildlife. Activities directed by a team of experienced polar guides and educators include Zodiac excursions, hiking and optional kayaking and camping, along with informative presentations aboard. The ship's expedition staff-to-passenger ratio of 1:9 is one of the best in the business.
50 Years of Victory and 2019 at the North Pole
Poseidon Expeditions will offer three prime season departures in 2019 – July 7, July 18 and July 29 – of its signature
Expedition to the Top of the World
, a 13-day voyage to the North Pole aboard the nuclear-powered
50 Years of Victory
. The gateway is Murmansk, Russia. The voyage north includes sightseeing helicopter flights across a frozen land and seascape. After celebrations at the North Pole, on the south-bound voyage Poseidon Expeditions brings passengers through Franz Josef Land, an archipelago of 191 uninhabited, volcanic, mostly glaciated islands (part of the
Russian Arctic National Park
). The per person double rate inclusive of an early booking discount is from $28,495.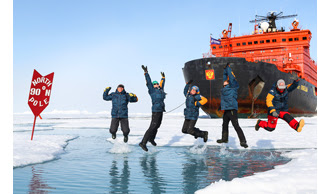 Powered by two nuclear reactors generating 75,000 horsepower and capable of crushing a clear path through multi-year ice up to three meters (10 feet) thick, 50 Years of Victory is the largest and most powerful icebreaker ever built. This 525-foot working vessel offers comfortable accommodations, all with exterior views and en suite facilities; a dining room; aft salon for lectures, presentations and socializing; a bow-facing bar and lounge; library; a gym, two saunas and swimming pool with heated seawater. The ship is equipped with a modern clinic and physician.
For inquires and reservations in North America, or to request a catalog, agents can contact the company's Providence, RI, sales and reservation office at
SalesUSA@poseidonexpeditions.com
or by telephone at 347-801-2610.
In Germany, Austria and Switzerland, contact Poseidon's Hamburg office –
Anfrage@poseidonexpeditions.com
or telephone +49-40-7566-8555. In the UK and elsewhere on the globe, contact
Sales@poseidonexpeditions.com
or telephone +44-870-068-9142.
About Poseidon Expeditions
With offices in the US, UK, Germany, Russia and China, Poseidon Expeditions is a leading provider of polar expeditions in the cruise industry. The company is committed to safe and environmentally responsible polar travel. It is a member of the International Association of Antarctica Tour Operators (IAATO) and the Association of Arctic Expedition Cruise Operators (AECO).
# # #
Follow Poseidon Expeditions on Social Media:
Facebook: https://www.facebook.com/poseidonexpeditions
Twitter: https://twitter.com/poseidonexp
YouTube: https://www.youtube.com/user/pxpeditions
Instagram: https://www.instagram.com/poseidonexpeditions/
Website https://poseidonexpeditions.com/