PROVIDENCE, RI, March 28, 2017 – Poseidon Expeditions announces early booking savings of $1,435 to $2,255 per person on three 2018 voyages aboard the only passenger-carrying vessel in the world that can attain 90º north, the geographic North Pole.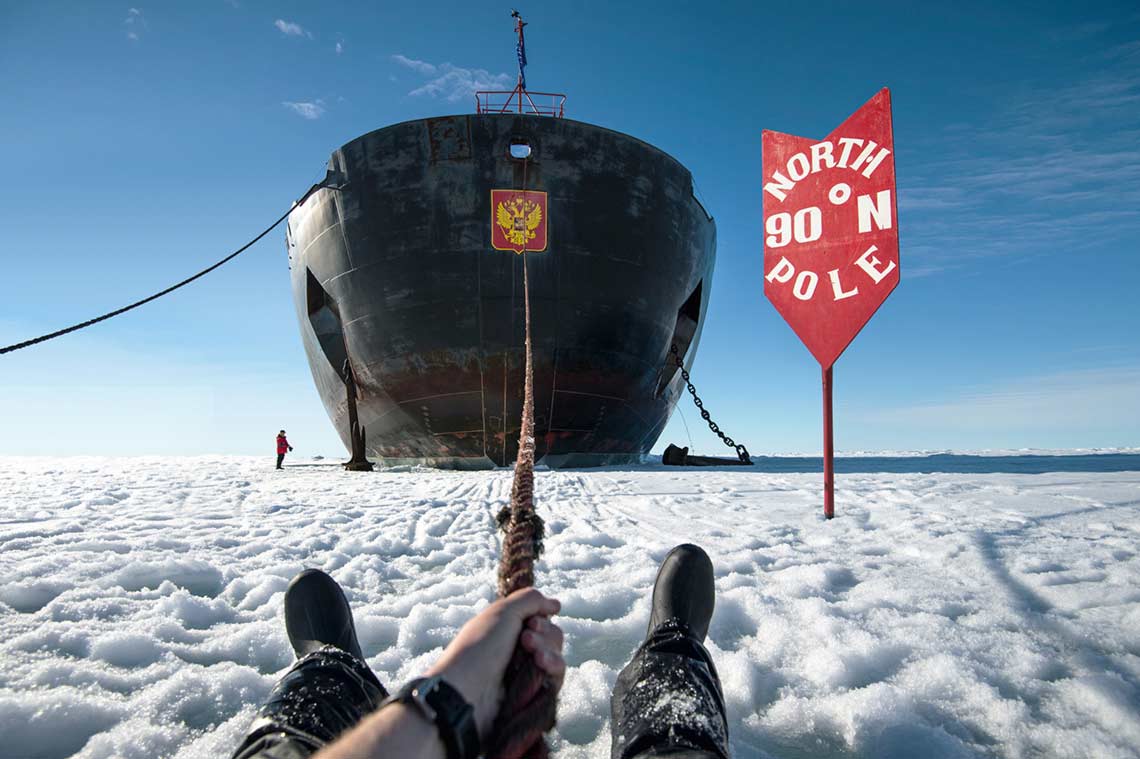 With rates starting at $27,260 per person (double occupancy), this singular adventure starts in Murmansk, Russia. There, guests embark the nuclear-powered icebreaker 50 Years of Victory for a roundtrip voyage to the geographic North Pole. Anticipation heightens as the most powerful icebreaker ever built smashes through Arctic Ocean ice up to three meters in thickness.
In addition to the exhilaration of cruising aboard a state-of-the-art icebreaker and the thrill of standing at the top of the world, passengers also have the opportunity to explore the rarely visited Russian Arctic Archipelago of Franz Josef Land. This remote wilderness is home to a variety of iconic High Arctic wildlife, including polar bears. In the surrounding icy waters, it is possible to spot seals, walrus, and the elusive bowhead whale. The archipelago also hosts an abundance of nesting Arctic seabirds such as the rare ivory gull.
Activities throughout the journey are centered on discovery, history and wildlife. Seasoned guides help guests spot puffins, gannets, guillemots and other bird life on excursions ashore. While on deck, everyone has an eye out for whales -- humpback, fin and minke. walruses and seals -- harp, bearded and other species – are often seen on ice floes. And, of course, sightings of Ursus maritimus or the polar bear is a highlight in a wonderland of glaciers, fjords and waterfalls, all created by the terrific force of the island's massive ice cap. Guests explore climate and environmental issues affecting the regions and seasonal ice cover.
An included activity on all Poseidon Expeditions North Pole cruises is flightseeing aboard the icebreaker's onboard helicopter. From aloft guests have a unique and exciting perspective from which to witness the ship plowing its way through the ice and to experience the surreal beauty of the vast frozen ocean.
The helicopter is also utilized to achieve landings in Franz Josef Land when conditions prevent landings by Zodiac, giving unparalleled access to this remote and hard-to-reach Arctic wilderness. Weather permitting, flightseeing tours and landings by helicopter are included complimentary on all North Pole voyages.
The vast, intricate, and ever-changing icescape of the Arctic Ocean offers a unique and challenging world of subjects for photographers of all backgrounds. A free photography program gives guests the chance to learn and practice photography skills alongside an expert photographer.
Primeval landscapes, intriguing geological features, poignant historical remains, and charismatic Arctic wildlife in Russia's Franz Josef Land also provide a wealth of inspiration for the photographer.
Early booking rates are available for 13-day departures July 8 - July 20, July 19 - July 31 and July 30 - Aug. 11, 2018. Per person, double occupancy rates with applicable discounts are from $27,260 to $42,840. To qualify, reservations need to be made by July 31, 2017.
Rates include one pre-voyage hotel night; group transfers from airport to hotel before embarkation and to the ship on day of embarkation plus a trip to the airport or central location upon disembarkation; shipboard accommodation and all meals while at sea; tea and coffee station 24 hours daily; all scheduled landings/excursions; expert interpretation throughout the voyage by Expedition Leader and Team; branded Poseidon Expeditions parka; use of rubber boots for shore landings; welcome and farewell beverages; all port fees; pre-departure materials; digital voyage log; medical insurance covering the risks of evacuation and repatriation.
The complete 2018-19 Arctic schedules, rates and special offers can be found at https://poseidonexpeditions.com/. A new 80-page catalog detailing the company's ships and activities is also available, and can be requested online or through any of the Poseidon Expeditions offices.
For inquires and reservations in North America, or to request a catalog, agents can contact the company's Providence, RI, sales and reservation office at SalesUSA@poseidonexpeditions.com or call 347-801-2610.
In Germany, Austria and Switzerland, contact Poseidon's Hamburg office – Anfrage@poseidonexpeditions.com or telephone +49-40-7566-8555. In the UK and elsewhere on the globe, contact Sales@poseidonexpeditions.com or telephone +44-870-068-9142.
About Poseidon Expeditions
With offices in the US, UK, Germany, Russia and China, Poseidon Expeditions is a leading provider of polar expeditions in the cruise industry. The company offers guests the unique opportunity to travel to the geographic North Pole aboard the 50 Years of Victory, the largest and most modern nuclear-powered icebreaker in the world. Fourteen-day, top-of-the-World programs are scheduled for the 2017 and 2018 summer seasons. Poseidon also offers Arctic and Antarctic expedition cruising aboard the 114-passenger luxury expedition ship Sea Spirit. The company is committed to safe and environmentally responsible polar travel. It is a member of the International Association of Antarctica Tour Operators (IAATO) and the Association of Arctic Expedition Cruise Operators (AECO).
# # #

Follow Poseidon Expeditions on Social Media:
Facebook: https://www.facebook.com/poseidonexpeditions
Twitter: https://twitter.com/poseidonexp
YouTube: https://www.youtube.com/user/pxpeditions
Instagram: https://www.instagram.com/poseidonexpeditions/
Website https://poseidonexpeditions.com/
PR Contact: Widness and Wiggins PR - http://www.travelnewssource.com/
Sara Widness / sara@widnesspr.com / 802.234.6704
Dave Wiggins / dave@travelnewssource.com / 720.301.3822