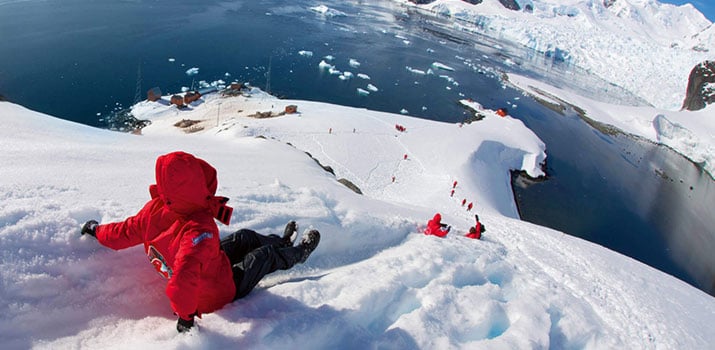 The Best Time To Take A Trip To Antarctica
Antarctica is a dream adventure travel destination, but much of the continent's appeal lies in the time you visit and what you want to see. If you've never been to Antarctica, it might be hard to imagine the continent experiencing seasons, but it does, and each new season brings different highlights.
However, you won't be disappointed if your travel schedule is confined to a particular month or season, as Antarctica is a bucket-list destination that never disappoints. This guide will help you choose the best times to visit Antarctica so you can experience all of the adventures you've been dreaming about.
Antarctica in January
It's easy to forget that summer isn't during June, July, and August in every part of the world. In Antarctica, January is the heart of the austral summer, and that means more than 20 hours of daylight per day. Thus, more time for outdoor exploration each day, as well as more time to admire the penguin chicks and seals, which are abundant during this month.
Antarctica weather in February
February is a bit later in the summer season, which means much of the pack ice has been melted by the strong summer sun, making adventures across the Antarctic Circle possible. Penguin youngsters are still abundant, and whales are often seen more frequently in the waters of Antarctica.
Antarctica in March
March brings the warmest months of the year to a close as temperatures drop below freezing. However, fur seals are playful, penguin chicks are present and molting, and this (late February and March) is often a good time to see and snap photos of whales breaching the Antarctic waters.
April Through September
April, May, June, July, August, and September are known for temperatures that reach minus-58 degrees Fahrenheit. During this time, winds can be treacherous, and darkness prevails. Needless to say, it's not a popular time of year for tourists to venture this far south, and there aren't any tour operators offering departures during these cold austral winter months.
Antarctica in October
The cold and darkness of the Antarctic winter begin to lessen in late October. Elephant seals are breeding and Antarctic seabirds are abundant. Gentoo, chinstrap and Adelie penguins also come ashore to begin nesting — and watching the courtship process is an unforgettable experience. Many programs this time of year include stops in the Falkland Islands/Malvinas and South Georgia, both of which are well into the springtime wildlife cycle.
Antarctica in November
November means warmer temperatures as spring crawls across the Falkland Islands. Penguin watchers are always pleased during this month, as king penguins inhabit South Georgia and females can be seen laying eggs. Male penguins are hunting offshore, elephant seals are courting, and fur seals dot the shore lines.
The end of November is an ideal time to embark on our Antarctic Peninsula Cruise, introducing visitors to the land of penguins and icebergs. Mountain peaks, blue icebergs, massive glaciers, marine mammals and penguin encounters make this one of the best tours for those seeking an abundance of natural scenery and wildlife.
Antarctic weather in December
In December, the daylight hours are long, and temperatures are often at their highest, making this one of the best times to visit Antarctica. Photographers enjoy roughly 20-24 hours of daylight for snapping photos of the wild scenery, and the flora and fauna.
Penguin chicks begin to hatch in mid-December, seals continue to seek mates, and their pups inhabit the beaches of South Georgia. Toothed and baleen whales can be spotted regularly, and photographers can capture icebergs as they begin to break in the warmer temperatures on direct sunlight.
If you're merely wondering, "What are the warmest months to visit Antarctica?" — The answer is during December and January. However, there's no shortage of unforgettable experiences to have in the shoulder months of October, November and February as well. At Poseidon Expeditions, our experienced expedition team and captain will work hard to ensure you enjoy the best cruises and adventures during the month of your visit, so you can book your Antarctic expedition cruise and leave the rest to our experts.